Submitted by Whatcom Transportation Authority
Whatcom Transportation Authority (WTA) is excited to announce that all bus trips within Whatcom County will be free of charge from August 11 through August 20, 2022, as part of their Free Fare Days promotion.
WTA Free Fare Days will be running alongside Northwest Washington Fair, making it the perfect opportunity to hop on the bus to Lynden and check out the fair without the added cost of gas and parking.
WTA's Route 26 bus provides regular service to the Lynden fairgrounds, dropping off riders at the Front Street entrance of the fair. This route runs between the hours of 6:30 a.m. and 8:00 p.m. on weekdays, from 8:30 a.m. to 6:30 p.m. on Saturdays, and 8:05 a.m. to 6:05 p.m. on Sundays.?
Plan to stay late and enjoy the fun! For riders headed home from the Northwest Washington Fair, WTA will be offering a special 10:00 p.m. bus from the fairgrounds back to Bellingham. This late-night bus is available on weeknights and Saturdays only. It will depart from a bus stop across the street from the fairgrounds, between Bank of the Pacific and Fairside Drive, and stop at Cordata Station and the Downtown Bellingham Station.
Like all rides during Free Fare Days, rides on this special 10:00 p.m. bus are free.
In addition to free rides on fixed route buses, all rides are free for paratransit and Lynden Hop riders.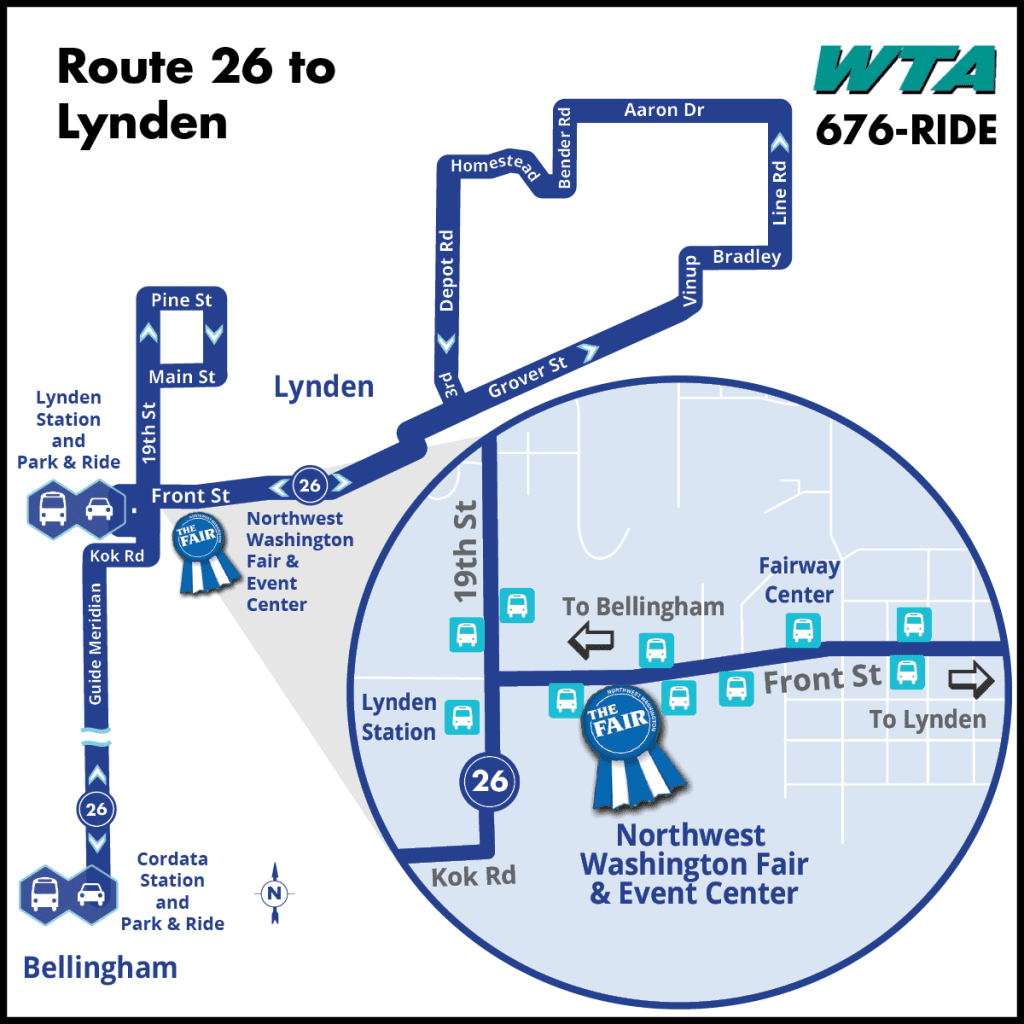 This year's Grandstand Entertainment Series for the Northwest Washington Fair includes:
Demolition Derby, 7:00 p.m., Thursday, August 11, and Friday, August 12
Granger Smith, 7:00 p.m., Saturday, August 13
Jaripeo Baile, 4:30 p.m., Sunday, August 14
Lynden PRCA Rodeo, 7:00 p.m., Monday, August 15, and Tuesday, August 16
For King & Country, 7:00 p.m., Wednesday, August 17
Flo Rida, 7:00 p.m., Thursday, August 18
Big & Rich, 7:00 p.m., Friday, August 19
Pat Benatar & Neil Giraldo, 7:00 p.m., Saturday, August 20
For more information on bus routes in Whatcom County, please visit www.ridewta.com. To purchase fair tickets or view a schedule, visit www.nwwafair.com.