COVID-19 changed life in many ways for many people. But it was especially tough for performing artists, who make their living because large groups of people show up to watch them.
Still, silver linings and workarounds emerged. For comedians, it was virtual shows.
Using Zoom and other video conferencing platforms, many comics were still able to entertain groups of people, now in the comfort of their own homes, and even make money while doing so.
One of the most successful virtual comedy productions in the country is Nowhere Comedy, a virtual club that has hosted shows featuring Bill Burr, Greg Proops, and even Monty Python's John Cleese. The brain child of stand-up comedians Steve Hofstetter and Ben Gleib, Nowhere Comedy was featured prominently in a New York Times article last year about livestreamed stand-up.
As a digital media experience, graphics make up an essential part of Nowhere Comedy: the club's logo is a skyline comprised of worldwide landmarks including Big Ben, the Sydney Opera House, Canada's CN Tower and the Space Needle.
The man behind this logo is Bellingham-based graphic designer Hayden LeMaster. The 2016 Western Washington University graduate runs his own graphics company, LeMaster Graphics, and began working with Hofstetter in 2017.
"It's so cool," he says of being part of Nowhere.
LeMaster, 29, grew up in Sumner, Washington, and moved to Bellingham to attend WWU. He began doing graphic design part-time to help pay bills while pursuing a marketing degree. Eventually, LeMaster got more serious about it, obtaining a business license, and reducing his quarterly college credit load. He also picked up a part-time gig doing newsletter and graphic work for a local e-commerce company to help pay rent.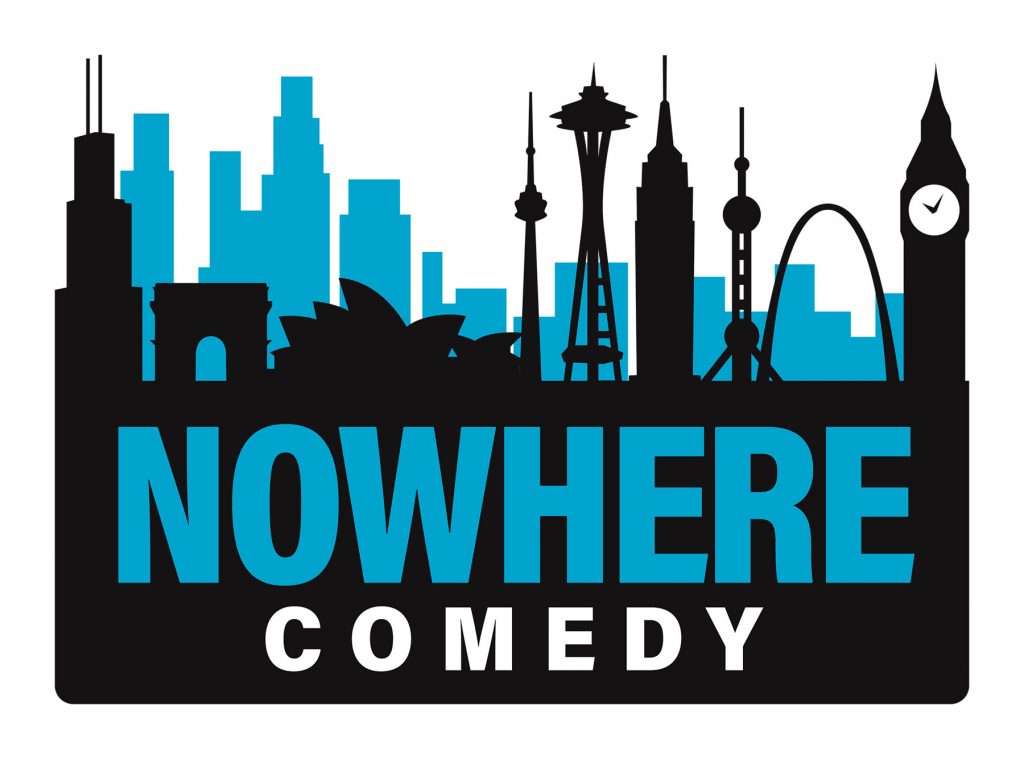 After graduating, LeMaster transitioned to full-time work. Local clients have included the Bellingham Bells baseball team, Old World Deli, Downtime Taps, and Ferndale Food Bank, among others. He's also done website and merchandise design for a number of bars, breweries, and restaurants across the U.S., specializing in logo-based stickers.
As a big comedy fan, LeMaster was always interested in being professionally involved in the industry.
"I reached out to Steve for that exact reason," he says. "I'd been a fan of his well before that. I'd seen him, I liked his comedy, and I knew he was a comedian with a business sort of mind."
After introducing himself and his work to Hofstetter via email, LeMaster was hired to help Hofstetter with his 2017 tour posters. He continued in this capacity in 2018, and in 2019 began creating flyers for individual shows. He was set to do the same thing in 2020, but then the pandemic hit.
What Hofstetter and many assumed would be a several weeks pause on normal shows quickly turned into an uncertain timeline. It didn't take Hofstetter long, LeMaster says, to take up virtual shows.
"It was pretty much immediate," he says. "If Steve sees an opportunity to do something with comedy or business, he just does it. Which I think is part of why Nowhere was so successful, because they kind of had the first move advantage."
Hofstetter created "Laugh From Home," a Zoom-based fundraiser to help up-and-coming comics who'd suddenly lost their incomes. After that, the "Social Distancing Social Club" — a weekly group comedy hangout — was born. The show has now logged about 380 episodes and is still going strong.
Nowhere Comedy Club officially launched on April 1, 2020, and LeMaster designed the welcome and introduction screens, as well as the general Zoom backdrop.
The situation was convenient for LeMaster, whose work with Hofstetter became a stop-gap from the loss of work from traditional small business clients, many of whom suspended advertising or closed due to COVID-19.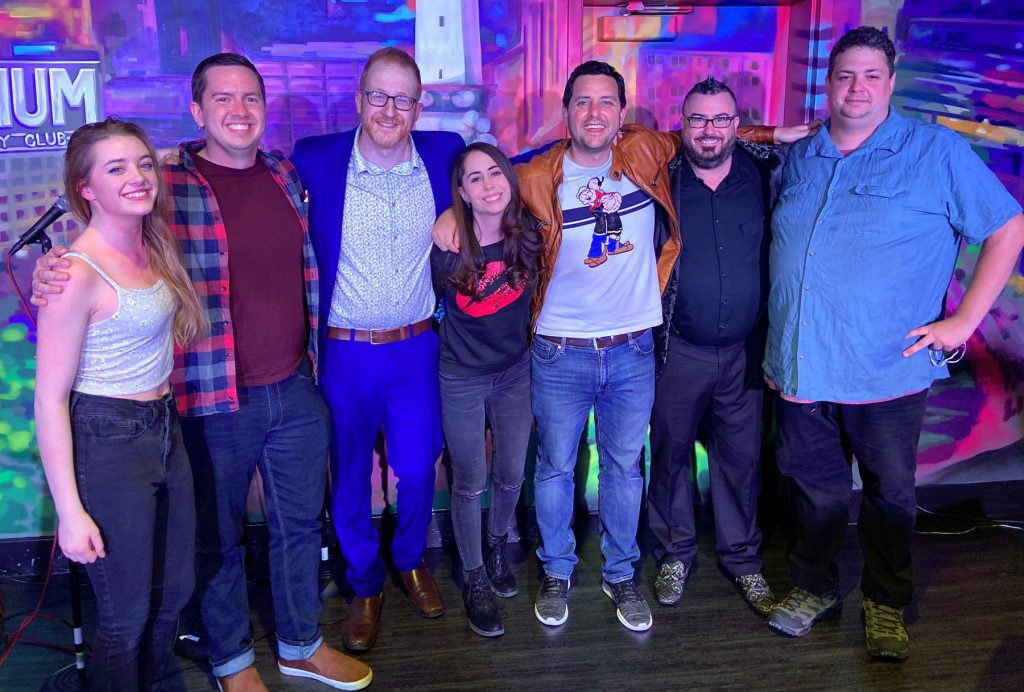 Most Nowhere shows are just $10 to watch, and LeMaster says the club has managed to do something unexpected: reach new comedy fans. Suddenly, those who wouldn't or couldn't get to traditional shows — whether due to disability, distance, or affordability — could experience live professional comedy without leaving their couch.
"It really made comedy accessible to a lot more people," he says. "A lot of people who are regulars now on Nowhere Comedy had never been to a comedy show."
Performers have two options for Nowhere shows, either zooming in from home or using the Nowhere Comedy studio in the Los Angeles area. The latter is actually Ben Gleib's garage, converted into a space with a stage, 4k cameras and three large projection screens that allow a performer to see up to 150 audience members in front of them.
Among the more unique shows Nowhere has hosted was a 2020 New Year's Eve party hosted by Gleib and Proops. The duo welcomed guests Ryan Stiles and Dave Foley to the show and held an after-midnight cocktail class for VIP ticket holders.
Another highlight: a one-man show from John Cleese. The 82-year-old comedy legend heard about Nowhere from his daughter Camilla, a stand-up comic, and wanted to get involved, LeMaster says. Cleese wound up doing a one-hour show from his home in Dubai, telling jokes and stories.
Those who paid for $60 VIP tickets got to ask Cleese questions in a Q&A after the show, something that LeMaster and his father were excited to be part of.
"It was just the coolest thing ever," he says.
In addition to Nowhere, LeMaster has designed the branding and logo for Steel City Arts Foundation, Hofstetter's Pittsburgh, Pennsylvania, project to create a live/work/play environment for comedians. Transforming a former church property, Steel City will feature a dormitory, podcast studio, comedy library, and live and virtual stages for up-and-coming comedians and other artists.
Even with the pandemic seemingly in retreat across the U.S., LeMaster says Nowhere Comedy remains viable; another virtual show featuring Cleese took place March on 18.
LeMaster's non-comedy work is also picking up again. Although the last two years have thrown him a few curveballs, he's happy how things have turned out.
"The part of my job that involves people being in-person is profitable again, and the part that involves people being locked down at home is still doing okay," he says. "It's a nice place to be at."