Troy Petz, a multi-sport athlete at Lynden High school currently in his junior year, has just come off a football season where he and his teammates won the state title in a 21-7 victory over Tumwater. "A big reason why we were so successful last year is because of our friendship more than actual individual skills," says Petz. "We play for each other instead of ourselves." It was a young team, many of whom have played together since elementary school, creating that bond Petz believes led to their success.
There's no doubt that chemistry on the field matters, but winning a state title is no easy task, and athleticism and hard work are also critical components. The Lions had those pieces last season to accompany their chemistry, and Petz was a big part of that.
Petz was honored to be named all-state first-team punter for the state of Washington along with his linebacker teammate Taivin Van Dalen. A spot on the all-state team means the athlete is recognized as the top player at that position in the state, regardless of school size.
Petz averaged 40.1 yards per punt for the season and averaged 43.8 yards per punt in the state championship game. The longest punt of his career rolled to a stop 64 yards downfield. Petz also served as the team's kicker, where his longest field goal was from 32 yards out. On JV, he kicked a 47 yarder, and in practice, he pushed that distance out to 55 yards.
While booming punts have drawn attention to Petz, his overall athleticism is impossible to ignore. In Lynden's game against Ferndale, Petz set a school record by returning a kickoff 98 yards for a touchdown.
During the season, he also saw a little time on the field as a wide receiver and cornerback. He hopes to do much more of that in the future. Petz sees his athleticism as one of his strengths when punting "I'm pretty good at rolling out of the pocket and getting punts off under pressure," he says, "getting it off every time.
Petz is currently in his off-season, anticipating the start of track and field, where he's also seen success. Last season he broke the sophomore long jump record for Lynden with a jump of 21'4" and wants to keep setting records. "The overall school record is 23'4", so I'm going for 23'5"," he says. If Petz can pull off jumps near those distances at the correct meets, he'll find himself at the state meet with an opportunity to place in the top three.
On the track, Petz also competes in the 100m and 200m sprints and the 4×1 relay. Having speed is something that runs in the family. "My mom went to Washington State to run, and my dad went to Western Washington to run," says Petz. While at this point Petz is focused on pursuing punting and kicking in college, if the opportunity were there, he would participate in track, as well.
While he's already spoken with some colleges, as a junior he's holding off on making any decisions. He still has two high school track and field seasons ahead of him and another football season—where he's focused on more team success. "Our defense was outstanding; they were definitely best in the state. Our offense was also state champion worthy. Nine of our eleven offensive starters are returning, and we have a lot of big defensive players returning. I think we have a really good chance for next season, too," he says.
Petz wants to do all he can to contribute to that success, which he understands will take hard work in the off-season. With the desire to get more snaps at multiple positions, he's focused on overall athleticism but will also be putting in the time to improve his kicking and punting game. He has and will continue to attend camps that attract the best high school kickers in the country.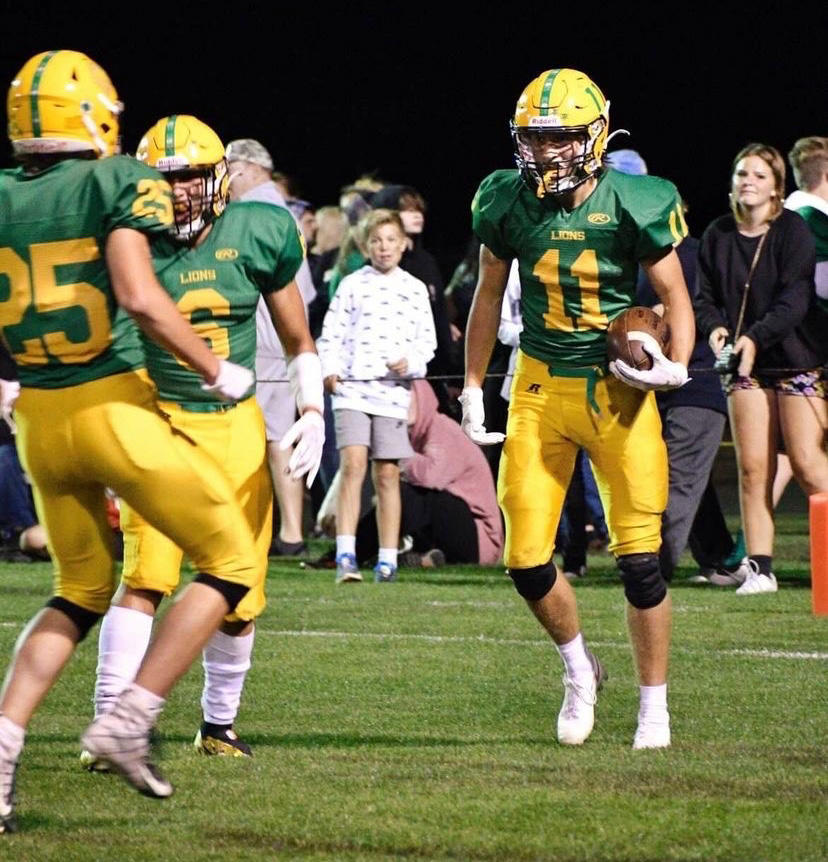 He appreciates that he has people around him supporting him in pursuing his athletic endeavors. "My parents have definitely been my biggest supporters," Petz says. "My dad and mom both have put a lot of time and money into developing me as a kid or getting me out to camps and all that fun stuff; getting me to Vegas for kicking camps. My coaches have been really supportive with all my dreams and aspirations. They've always been there to help me, and they've always just been trying to do what's best for me."
Petz begins his junior track and field season at the end of February and will be back on the football field next summer in preparation for the 2022 fall season.
Featured photo by Randy Small Photography