Tucked into a storefront amid downtown's Hotel Leo, NW Corner Goods sells merchandise themed around the natural and cultural heritage of Bellingham and Whatcom County. Visitors who drop by this gift shop will find logos and other designs representing the City of Subdued Excitement and its distinct features.
Longtime friends Kevin Misiuda and Bradley Lockhart co-founded NW Corner Goods in fall 2019. Misiuda is a logistics manager and Whatcom Young Professionals board member, Lockhart a graphic designer who created Bellingham's official city flag in 2015.
A professional logo designer, Lockhart has rebranded everything from multi-million-dollar companies to popsicle stands, always learning more about graphic design, illustration, and typography along the way. "I take those skills and design something that's hyper-local and really personal for people."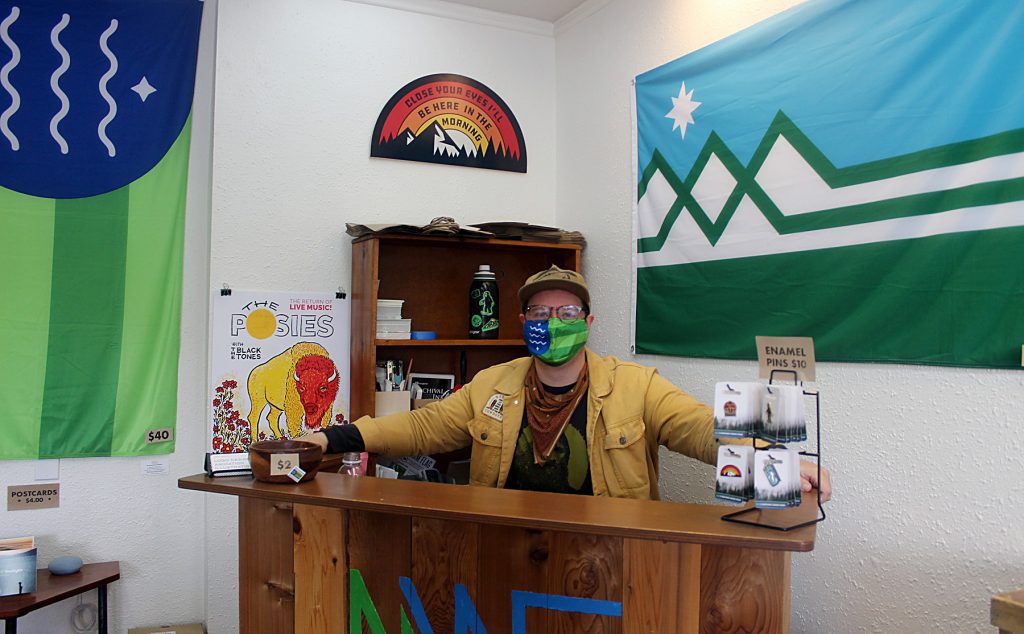 Before opening NW Corner Goods, Lockhart had success selling his Bellingham-themed designs at the Community Food Co-Op, antique malls, and other local gift shops.
"We've got sticker designs for Oyster Dome, Whatcom Falls Park, things that are familiar in our lives that have this really beautiful image to represent them that I don't necessarily think people have done before," Lockhart says.
Based out of the historic Hotel Leo building since June 2021, NW Corner Goods offers symbols of Bellingham pride to locals and tourists alike.
Original Pacific Northwestern Designs
NW Corner Goods' top-selling item is its Northwest Bandana Game, a wearable board game originally funded through Kickstarter. Players navigate through Washington-themed obstacles using dice and cards in a drawstring bag they can carry on the go.
"It's like a board game, that has Mount Baker on it," Lockhart says. "It's something you wouldn't see anywhere else: original, beautiful, fun."
The store's hat press prints both standard and custom designs that visitors won't find anywhere else. NW Corner Goods' designs portray local features and the Bellingham flag on shirts, enamel pins, magnets, stickers, and more.
"They're all printed in Bellingham," Lockhart says of the locally themed stickers. "So, when you buy a sticker, you're supporting me as an artist, you're supporting the store; but you're also supporting Stickers for Days, another Bellingham company that printed the sticker."
Giving Back to Bellingham's Community
NW Corner Goods spotlights local artists every month and collaborates with local businesses to create products.
"Every first Friday we try and bring in at least a dozen or two dozen products from one specific artist," says Lockhart. "Stickers for Days do our sticker printing, Iron Street Printing print our bandanas, and Blue Collar Printing print all of our apparel, like bags, t-shirts, sweatshirts. We make our own hats."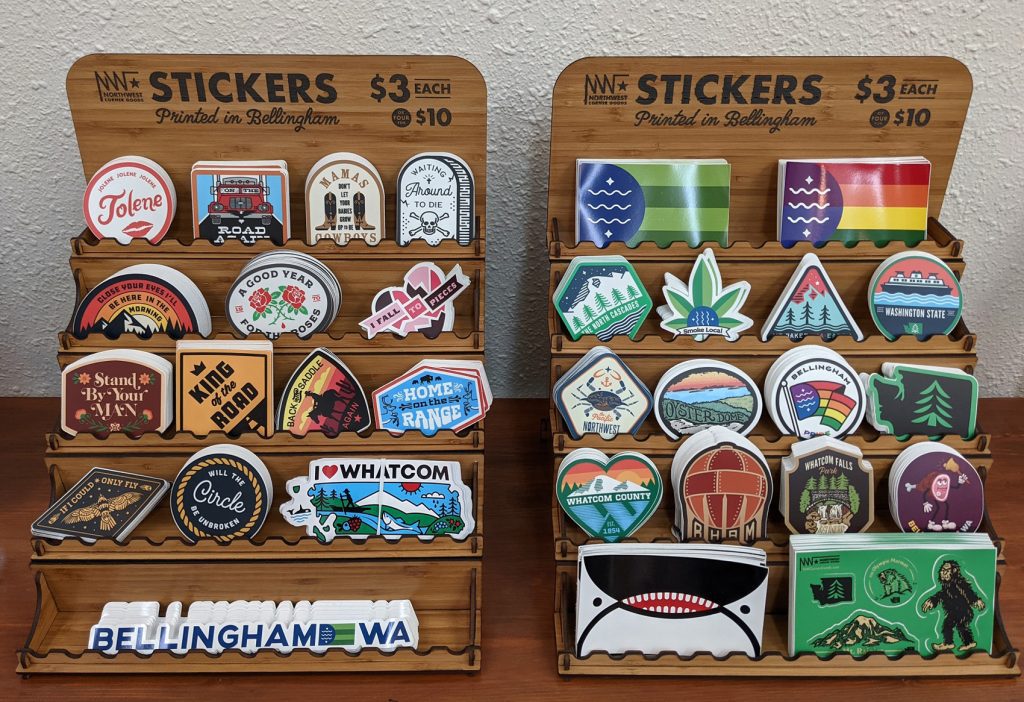 Lockhart also provides graphic design services—namely, "logo design and animation"—for local businesses, both individually and on behalf of NW Corner Goods. Businesses can contact them through their website for both graphic design and branded merchandise.
"We have been helping businesses make really great merch," Lockhart says. "If a coffee shop opens up and they're selling coffee but, hey—they want a hat, they want a t-shirt—I use my graphic design skills to either design them a new logo or take the logo they have and get it printed on a shirt or embroidered onto a patch."
Sharing Pride in Bellingham
NW Corner Goods appears at seasonal events throughout Bellingham, including Downtown Sounds, night markets, and pop-up art events.
"People like showing their pride in Bellingham and Whatcom County with the nice, beautiful, original things we make," Lockhart says. "The support has been awesome and very positive."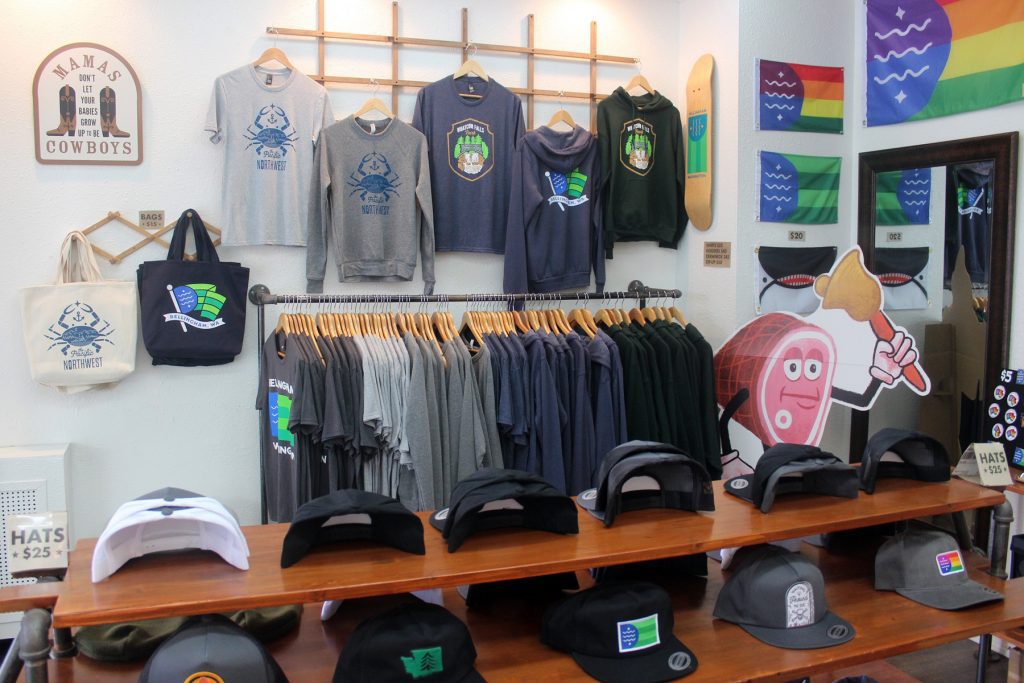 NW Corner Goods will continue to experiment with new merchandise as the seasons change and local artists collaborate with them.
The most rewarding part of running NW Corner Goods? "Probably meeting people," Lockhart says. "A lady just came in who moved back to Bellingham after living in Wyoming for 20 years. We got to talk about the things that have changed, the things that have stayed the same. And then she bought all these little bits and pieces of things here, and I got to tell her all about them because I made all of them."
Fans of the Pacific Northwest and graphic design can follow NW Corner Goods on Instagram and Facebook.