The way agile feet skip almost effortlessly through a hopscotch court, that's how Miles Harris' fingers maneuver along a guitar's fret board. He's a wizard, a classic face-melting rock soloist with chops rooted in the blues and a real passion for the instrument.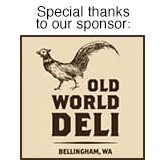 For Harris, it's a window as much as it is a thing that makes sounds. Through it, he's climbed into a life defined by what he wants to create, bolstered by the many ears who enjoy what he does. Harris, who recently shared the stage at the Wild Buffalo's first show back (with the Posies and the Black Tones), is a local staple. From recently playing the national anthem at a Bellingham Bells game to entertaining hundreds on the Buffalo's stage, Harris is a conjurer set for more.
"I want to make music that moves people to do something," Harris says. "That's a big concern of mine, how the music I'm making is moving people. I'm trying to figure out how to just give people something really visceral."
Philosophically, Harris wants to rattle the minds of audiences. Practically, he wants to play big rooms, like Seattle's Benaroya Hall, and its 2,500-person capacity. Over the years, he's participated in a number of bands, from the wilder Yogoman Burning Band to the lush Bellingham band Baby Cakes. But as Harris looks to the proverbial horizon, he says he's trying to get his own trio set for more. Harris is also leaning into arrangement and composition as much as he is shredding on the six-string.
"I'm currently playing in quite a few groups," Harris says. "Which is great. With my own trio, I'm cultivating that, working towards my own stuff."
While the goal-oriented Harris regularly finds himself obsessing on something—whether that's guitar playing, records, writing, arranging—he has a strong support system, which starts with his mother. Harris and his mother are close. She was in the audience at the recent Wild Buffalo show and, Harris says, she's been encouraging her son since day one to follow his instincts and do all he can.
"She's everything," says Harris. "She's never discouraged me from doing anything that I love. All the things that make me a hard worker or a good musician and person, I do think they come from her."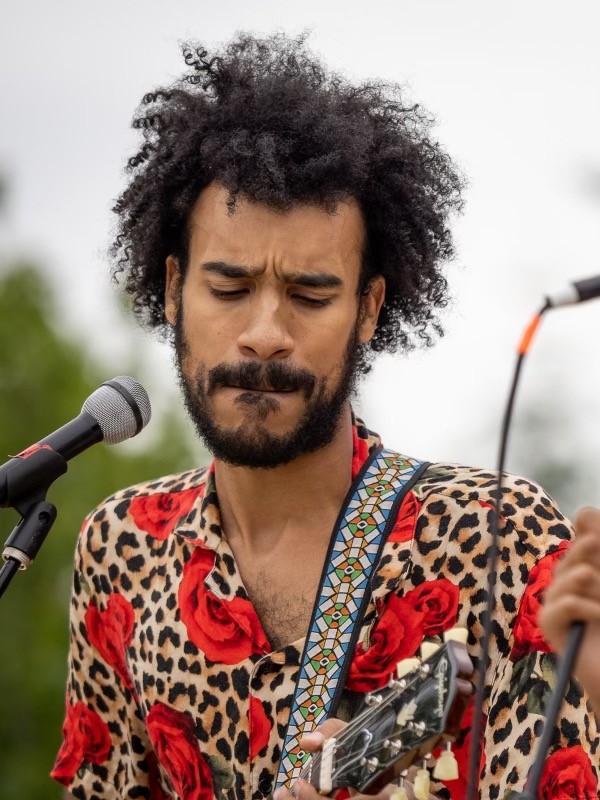 While she's not a musician herself, Harris' mother made sure to teach her son how to talk to people, how to be respectful and open. A single mother, she raised Harris and his sister in northern Washington. Through tough times, they kept their chins up. And Harris is now instilling those same behaviors in his own 14-month-old.
"All the human stuff matters," he says. "If you're easy to work with, how to read a room, how to be friendly or go the extra mile. Since becoming a recent parent, I've been reflecting on just how much my mom has shaped my journey, how she got me to where I am."
His mother took him to shows, introduced him to art. But it wasn't until Harris was in middle school that he realized he could be one of those people who could make music. It was then a teacher entered his life who he'd remain close with through high school, and even through today. Harris' choir teacher showed him how music could unify a room, the impact it could have one a group of people in mere moments, how it was a tool as much as it was something lovely to listen to.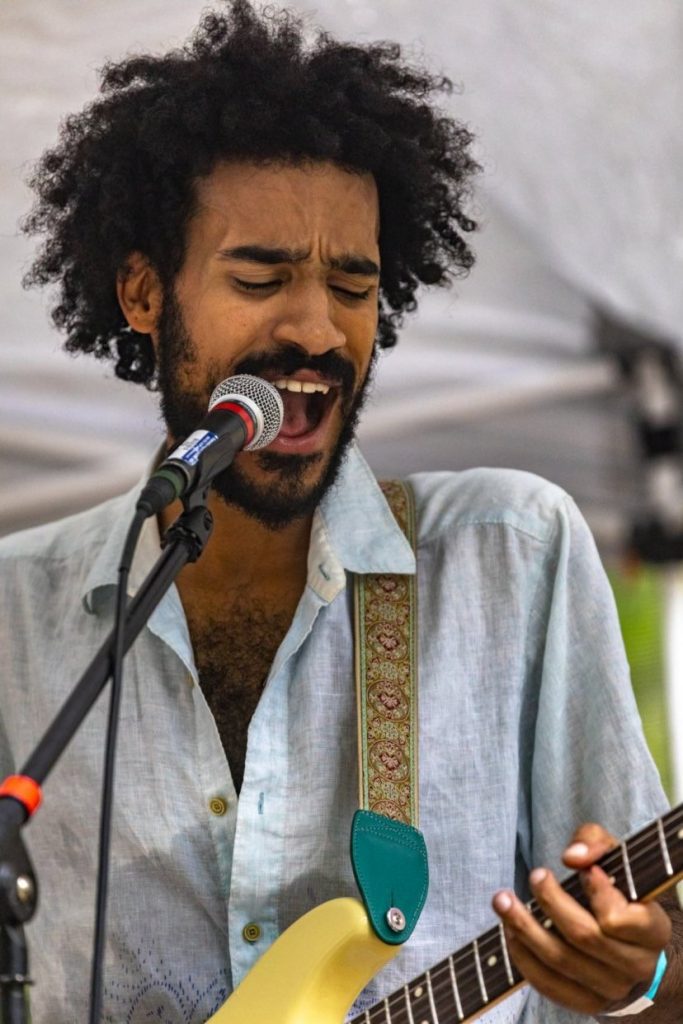 "She was one of the greatest people I've ever met," Harris says, remembering his teacher. "By a country mile!"
Harris fell in love with guitar in a single moment as a young teenager. Already interested in choir and the concept of song, he remembers walking into a friend's room and hearing Rush's "Fly By Night." Boom.
"I heard that song," he says, "I heard that riff and I said, 'I need a guitar. That. I want to do that.' It woke me up. After that I listened to Rush for a whole year."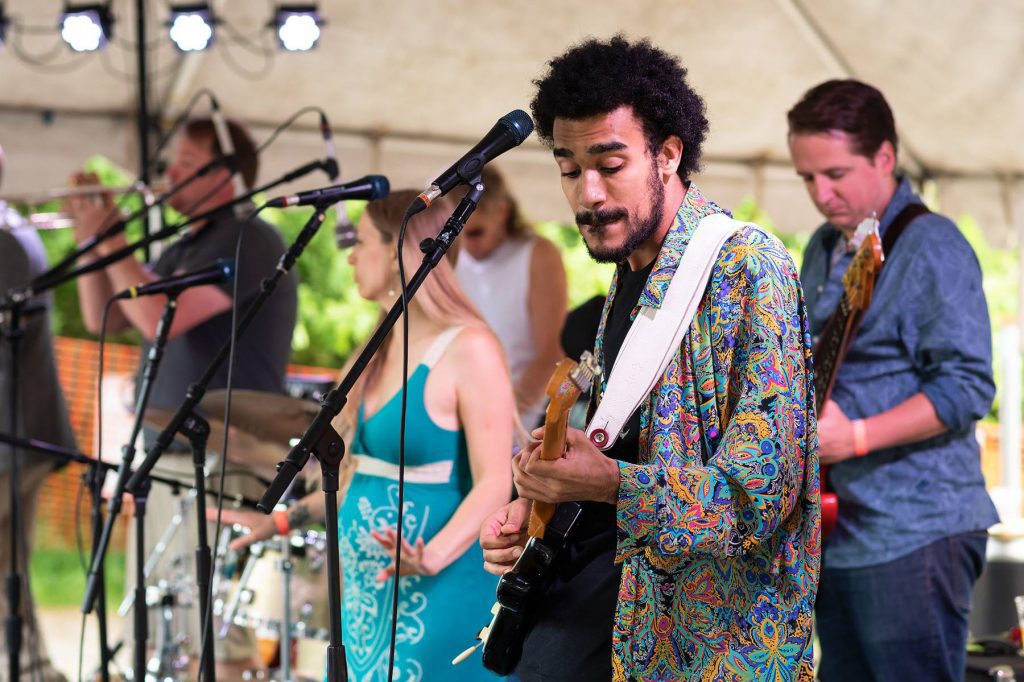 When he first began playing the cheap Squire guitar his mother eventually bought him after much good-hearted pestering, Harris would keep the amplifier turned down as low as possible ("To a whisper," he says). Embarrassed, he didn't want anyone to hear him. One day, though, he told himself, "You're going to want to play in front of people eventually, you better get used to being loud in front of people." So, he opened his garage door, turned the amp up and played.
"After that," he says, "I did it every other day!"
Harris practiced for hours a day, diligently. He sought out friends who played, he became friends with them, jamming at lunch, watching the fingers of the best players, soaking up as much as he could. While there's a lot to the instrument, from pedals to amps and books and tablature and songs and histories and acoustics and electrics and all that, Harris stuck with it. Now, he's a sought-after player in the Northwest.
"Music is just sounds," Harris says. "Yet it can bring out so much, so many different emotions and feelings. To me, that's one of the most magical things that exists."