If you've kept an eye on the hotel business around Bellingham in the last few years, you've noticed a couple noteworthy changes. First, the Heliotrope replaced an old motor inn in the neighborhoods north of downtown, and then the Hotel Leo transformed the historic Leopold Building in the heart of the downtown. Both projects involved Peter Frazier, who is happy to share the evolution of both businesses.
A native of Whatcom County, Frazier has a background in technology and design. "I grew up in Bellingham and lived here all my life, and I have such a special feeling about this place. I want to share it, and I find myself in the best business to do that," he says. "I had a career in user experience design for technology – medical equipment, websites, digital devices. It was really interesting to start applying all that I learned about branding, design, and user experience to hospitality, and to start designing spaces in three dimensions."
Frazier's first large-scale opportunity came in the form of an existing motel. "In the 1950s, when people started to travel by car in large numbers, little roadside motels popped up—Bellingham probably had 10 or more—and one of them was the Lion's Inn. But by 2015, it was not doing well. The police and the fire department medical personnel were there a lot dealing with problems. It was a scourge to the Fountain District, Columbia and Cornwall Park neighborhoods," says Frazier. "The owner at that time didn't live in Bellingham and was very hands-off—it wasn't a great fit. My wife Aimee and I have a number of Airbnbs, and by that time I'd fallen in love with hospitality and designing spaces for people to relax, enjoy, and connect with the community. With a partner we bought it and we designed this new, cool, boutique hotel and hospitality business."
He decided the Heliotrope should focus on adaptive reuse, attractive functionality, PNW features and art, and made great use of Edison's Smith + Vallee woodwork throughout. "We provide travelers inviting social spaces like the firepit, the yard to play games, and the Hub which has couches, coffee, great local art, and a fireplace," says Frazier. "The emphasis on local and on clean comfortable design, on simple authentic hospitality, really proved out, and it's now a neighborhood asset. Many of the houses in those neighborhoods are two-bedroom; you put a family in there and you don't have a guest room, so people use us as their spare room."
And some of its features prove that it is truly geared toward life in Bellingham. "From the beginning, we wanted to be pet friendly. Even more than pet friendly, we're really enthusiastic about hosting people and their pets," Frazier says. "Also, since we have world-class mountain biking at Galbraith, great skiing at Baker, kayaking in the San Juans, and hiking in the Cascades and foothills, we focused on outdoor adventurers. We put in a bike wash area and have secure storage for mountain bikes, for instance."
But none of this is possible without excellent staff and management. One of the first employees was Jamie Verkist, who soon became Heliotrope manager, and has been instrumental in building Heliotrope's warm, friendly culture.
With the Heliotrope in its third year and Verkist on board, it was time to turn his attention to a higher profile project that also saw the renovation of a well-known space. "Three years into the Heliotrope, Bob Hall [of Daylight Properties] bought out the ownership of the Leopold and the Heliotrope from my former business partner. His plan was to make it apartments, and I said, 'You and I talked for years about how any great downtown needs a hotel, and Bellingham just doesn't have one. How about we work together to start a hotel in the Leopold?'" says Frazier. "It has a great history. Built in 1929, it was the grand hotel of Bellingham and was its social center for decades, before it became senior living. Bob and I were very interested in bringing it back to being an asset for the community."
The beautiful old building provided a great opportunity for a makeover. "The design challenge was to employ our clean and lovely modern style while also doing justice to the classic Georgian and Moorish features from the original build," Frazier says. "It was very exciting to create a higher-end hotel Jamie and I felt people needed—we worried every design detail, every amenity, every furnishing, each piece of art and sign. We focused intently on our style of hospitality, how our hotel and staff would deliver a great experience to our guests, and to do the building justice and Bellingham proud. Bob and Daylight Properties were great to work with and backed us up all the way. Bob knows historic buildings like no one else and really wanted a great hotel for the Downtown."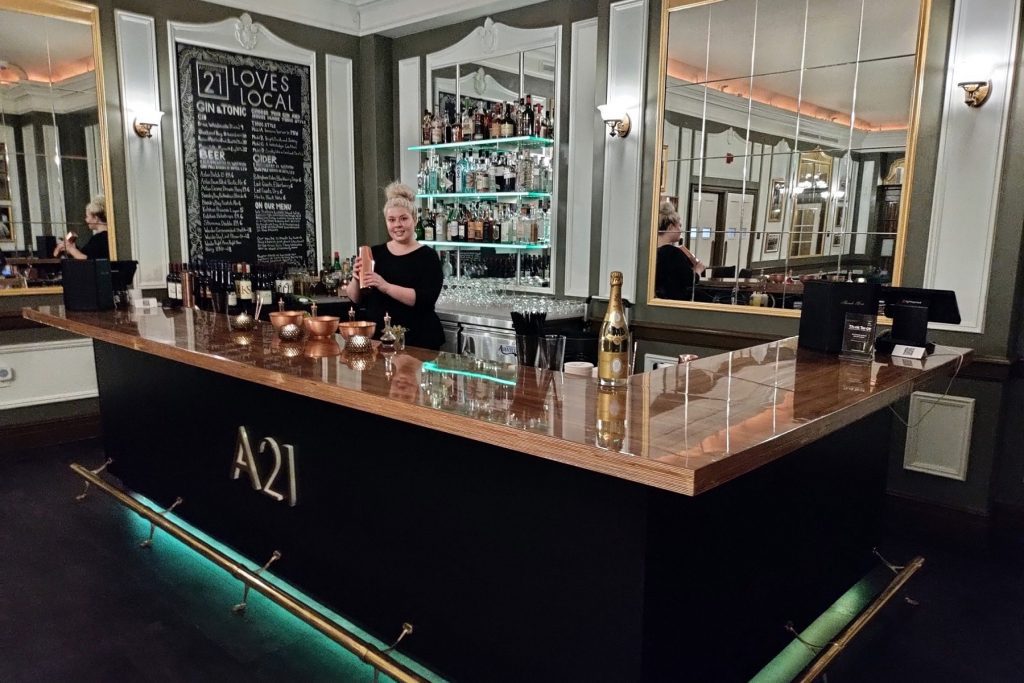 As fate would have it, they were ready to open just as the global pandemic hit. "Here we are, 16 months since the beginning of COVID, and things are really coming back to life. People are traveling again and filling the building. We're now experiencing a flood of events booking in our Crystal Ballroom and Rose Room. This spring we opened our prohibition-era bar and restaurant, Amendment 21, and it's so gratifying to hear all the lively voices and live music ringing through the main floor of the building."
Along with Heliotrope, the Hotel Leo shows a dedication to supporting the local economy. "The majority of our furnishings come from the Greenhouse, we have purchased lamps and chairs for our Social Lounge and Library from Ideal, just across the street. Our huge gym was outfit by Fitness Gear and Training. Our coffeeshop is owned by Evolve, the coffee in our rooms is from Tony's, our gift shop features Ideal, Wink Wink and NW Corner Goods products," Frazier says. "Chuckanut Bay Distillery makes a gin and whisky that we use, and there are so many local purveyors that we're able to feature in the bar. All our beers come from a one-mile radius, ciders from within two miles, we work with Lummi Island Wild for our seafood, and we get our cheese from Samish Bay Cheese."
The commitment to local vitality also extends to their neighbors.
"During COVID, we put a lot of time and effort into helping the restaurants around us. We were able to help shut down a block of Holly as a plaza and see those restaurants spread outside, and also worked to help the restaurants on Grand Avenue to be able to use a traffic lane," says Frazier. "We're concerned about issues downtown and want to help all of our great non-profits and human services groups that work with the homeless population, and folks with mental health issues or drug problems. I've always thought that if any community can solve these problems, it's going to be Bellingham. We have such a great population of people who love this community and work well together to move things forward and take care of each other."
Frazier's experiences with the public have led him to a very personal sort of philosophy. "Hospitality is a way of life, a way of being in the world, and it involves opening your heart," he says. "Every single day I get to meet people who are here to enjoy themselves, to find a comfortable place to stay while working, or to consider Bellingham as a temporary or permanent home. It's a real pleasure to get to know them, to help them discover and appreciate this community we've built and this ecosystem we're responsible for, find all the best restaurants, the best bars, the best hiking trails and parks. To be able to share that with visitors, our staff, and create all this with Jamie (who is soon to be a partner) and with Bob and the people at Daylight, is meaningful work."
Sponsored