For Bellingham residents Amy and Chris Roselli, vaccinating their 15-year-old daughter Alexis and 12-year-old daughter Alyssa for COVID once they were eligible wasn't an immediate, foregone conclusion. The couple had both been vaccinated, but this felt different.
"I was a little anxious," says Amy, a third grade teacher at Happy Valley Elementary. "I was just thinking: Is it safe for my kids?"
So she did some reading and checked in with trusted friends she knows in the healthcare profession. "Then Chris and I talked about it and it took about half a second to decide it was the right choice—for the benefit of the girls' safety and the added safety to our community."
Bellingham family physician Joy M. Welty, M.D. has experienced little hesitancy when it comes to teenagers wanting to be vaccinated. "I've seen parents of teens definitely full-bore straight ahead," she says of their response to the vaccine becoming available first to older teenagers, and now to 12- to 15-year-olds. "They realize, like everyone else, that if they're vaccinated they can safely go back to school and sports and all of those things."
Dr. Welty began her medical careers as a surgeon in Pennsylvania, and then switched to primary care and has been a family physician since 2012. She's been at Family Care Network's Squalicum Family Medicine, in Bellingham, since 2017.
She does, however, anticipate more reluctance from younger parents of babies and younger children, down the road. "There is still a concerning amount of parents that don't want to vaccinate at all," she says. "We have a pretty high percentage of patients who, even with just normal childhood vaccinations, we have to be very persuasive."
But the teens and parents of teens? "I haven't seen anyone really skeptical or hesitant, as a group."
Amy Roselli says her girls felt a little nervous about getting a shot. "But only because that's their least favorite thing ever," she says with a laugh. "In terms of being able to get the vaccine, they both screamed with excitement when I told them they were eligible and I had gotten them appointments."
Alexis and Alyssa were thrilled for the freedom the vaccination would bring—being able to safely see family and friends again and participate in sports. "Especially for Lexi," Amy says, "being 15 and who she is as a person, it just gave her another layer of comfort and peace of mind about being back at in-person school."
Of course, not all parents (or kids) are as excited about the prospect of a COVID vaccination. When presented with reluctance to vaccinate, Dr. Welty first finds out exactly what is worrying the parent. One common misperception is that the vaccine actually transfers the virus into the body. "That's still a very rampant rumor," says Dr. Welty. "Once I know what they're afraid of or their obstacle, I try to educate them as to why those things are not scientifically based."
Most often, a lightbulb goes off and they happily agree to inoculation.
Dr. Welty shows hesitant patients evidence and shares articles they can look over together, pointing out: "This is what we used to think…this is what is no longer true," she says. "I show them that their fear is valid, but maybe that rumor is not."
Another common misperception is that this is a brand new kind of vaccine. "It really isn't," she says. "We've been using these adenoviruses and mRNA for years in cancer research. It's not a new technology, it's just never been used in this widespread of a way before."
We all know someone who argues against vaccinations for youth because children who contract COVID, generally, don't get all that sick.
"Kids who get COVID can and do get very sick, although not as high of a percentage as older adults," says Dr. Welty. "And those who do get sick can get serious complications, like multisystem inflammatory syndrome (MIS-C)."
"We could make the same argument for chicken pox," she continues. "We vaccinate for it not for the chicken pox rash itself but for the few who can get serious complications like encephalopathy. Just like COVID, a small percentage of kids will get seriously ill—but if it's your kid and it was entirely preventable, it would be devastating to have it happen."
Another concern for parents unsure about vaccinating their kids is the possibility of side effects.
For Alexis and Alyssa, the only side effect was a slight soreness at the injection site; Dr. Welty's 16-year-old daughter had the same experience.
If your son or daughter develops a side effect after receiving their shot—a headache, slight fever or body aches—just reach for the Tylenol, Dr. Welty says. "The younger you are, it does seem you have fewer symptoms."
For folks who worry that vaccine testing occurred too quickly, Dr. Welty assures that the trials—while they were very fast—involved no corner cutting. "These companies are really making sure this is safe and they're doing batches of trials in different age groups with kids on purpose. The research is very good. Everyone's working together to get this done as quickly and safely as possible."
With the huge numbers of people being inoculated, there will always be a few who outliers, but for the vast majority, Dr. Welty says, these vaccines are totally safe. She expects elementary-aged children and younger will be eligible for vaccinations by the fall and is excited to reach that milestone.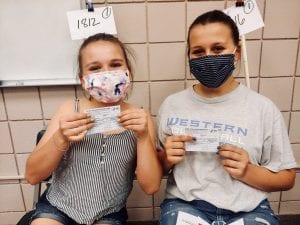 "The sooner everyone is vaccinated," she says, "the sooner we are back to normal."
The Rosellis took their girls to PeaceHealth's vaccine clinic at the St. Luke's Health Education Center on the first day appointments were available for 12- to 15-year-olds.
"It was the coolest experience," Amy says. "From the parking guy telling us where to park and clapping and cheering for us as we drove in, to just the celebratory nature of it. There was music playing and it was just full of kids their age, so they saw friends."
In terms of organization, Amy says the clinic was a well-oiled machine, with someone at every turn, pointing them where they needed to go. "It was so organized and so easy. It was also easy to sign up online."
Amy raves about the experience with the nurse who administered her girls' shots. "She was so kind patient with them, really caring. And when they were done, she said, 'Congratulations!' and I was just crying." Her voice starts to crack. "It was a beautiful thing, as a parent, to watch my babies get protected from this scary thing. It felt great to be doing our part not only to help our kids but to help our community—that feels just as important."
To find one of the many locations where your child—or you—can receive the COVID vaccination, please visit www.vaccinelocator.doh.wa.gov or call 1-833-VAX-HELP (1-833-829-4357).
Looking for more information? This infographic answers many of the questions parents of minors may have when considering vaccinations for their children.
Sponsored