On April 3rd, I walked into Building G at Bellingham Technical College. That Saturday, it had assumed a new identity as the Community Vaccination Center, where 800 people were to be vaccinated against COVID-19.
The Community Vaccination Center is a multi-partner effort that focuses on vaccinating as many Whatcom County residents as possible, thanks to the help of Unity Care NW, Sea Mar, PeaceHealth, the Whatcom County Health Department, Whatcom Unified Command, Family Care Network, Bellingham Technical College, Whatcom Community College, and Hoagland Pharmacy.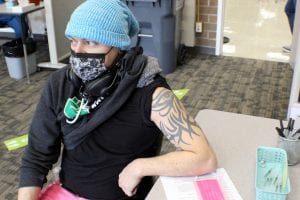 What I didn't realize was just how much 'community' would be a part of the experience. I walked in feeling a whole spectrum of different emotions: gratitude, relief, anxiety, curiosity. I had heard so much about vaccines as the light at the end of the pandemic tunnel, and here I was, about to be a part of it all.
I had been following the news about different vaccines and their trials for a while, and encountered an initial hesitation after early reports of allergic reactions; I have a history of anaphylaxis and was nervous that it might affect the way that I got the vaccine. However, after talking with my doctor and brushing up on current research, I felt confident I would be safe. Allergic reactions were extremely rare, and mostly occurred in people who had a history of allergies to vaccines, not food (like myself).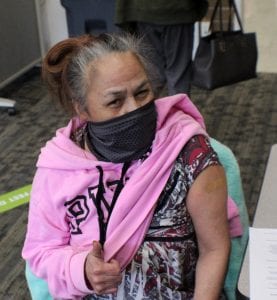 Despite all the promising statistics and data rattling around my brain as I sat down to get the shot, I couldn't help still feeling a little afraid. I practiced some deep breathing, and the nursing student administering my vaccine was kind, funny, patient, and informative. She reassured me that I would be okay, and as I looked around the center, filled with people in various states of gratitude, relief, and nerves, I knew I would be too.
I waited 15 minutes after my shot in a room with about 50 other people, all six feet apart. It became clear to me that all was, indeed, well, and I took the waiting period to absorb the significance of the experience. Here we all were, having weathered the same storm, now receiving a chance to get to the other side.
It's one of the few bright spots of the COVID-19 pandemic: an empathy, an awareness of how your actions shape not just your life but the lives of those around you.
Brittany Fuentes, a public health nurse at the Whatcom County Health Department, is certainly aware of the effect that our actions have on others.
"I work as a home visiting nurse to first-time moms in the Nurse-Family Partnership program," she says. "Since COVID, I have worked in the role of Latinx Liaison. I work with community partners and community members to ensure that cultural and linguistic considerations are included in our outreach, development of materials and access to services. I serve as a Spanish-speaking point of contact within the Health Department for the community."
Fuentes knows how important access to accurate information from trustworthy sources can be. "Everyone deserves to be fully informed when making a decision about their health and that of their family," she says.
For those who are hesitant or nervous about the COVID-19 vaccine, she recommends speaking with knowledgeable people you trust. "I know I did," Fuentes says. "Even as a nurse, it took me some time to decide to receive the vaccine, but after reviewing the safety data and speaking with many colleagues, I decided it was safe and important."
Regarding safety, she says, "The vaccines are safe, they have a proven track record of millions and millions of people around the world. The technology for these vaccines has been studied and in development for many years. The possible side effects of having COVID are more of a concern to me and my family than those of the vaccine."
When one receives the vaccine, they're not just protecting themselves, they're also protecting their community. "As a nurse home visitor, I felt it was my responsibility to protect my clients and their children by getting vaccinated," says Fuentes.
Immunization is teamwork, as I was reminded during my own vaccination experience. Yes, I protected myself against COVID-19. I also protected my family, my friends, my neighbors, those who are more vulnerable than myself, and strangers who are part of this community that I love.
Sponsored