Breastfeeding can be an important part of a baby's development, as well as a powerful bonding experience for the breastfeeding parent and family. However, there are many things that can impact the way a baby breastfeeds, as well as the level of comfort for their breastfeeding parent.
Lactation consultant Lisa Follet of Honeysuckle Lactation knows just how important this process and practice can be, which is why she's dedicated her career to helping families navigate their unique breastfeeding journeys. Together, Follet and Dr. Sawyer of Bellingham Pediatric Dentistry support breastfeeding parents, babies, and their families.
There are many benefits to breastfeeding. "Babies have a reduced risk of infection and illness and lower rates of hospitalization, as they grow a lower risk of diseases such as obesity, diabetes, food allergies and some digestive issues such as Crohn's disease," says Follet. "For the breastfeeding parent, there is bonding, faster postpartum weight loss for some people, and obviously cost savings as formula is very expensive. Over time, there is a lower risk of female cancers such as breast, uterine, and ovarian cancers, and for gestational diabetics there is a lower risk of developing Type 2 diabetes." 
Tongue and lip ties affect fascial mouth tissues (a frenulum, or small fold of skin, that secures the motion of the tongue) and can be a major factor in a baby's ability to breastfeed. In some children, the frenulum can be more prominent and more restrictive, which can impact their ability to breastfeed effectively.
"Everyone has multiple frenula in their mouths. Just because you have one doesn't mean you're tongue or lip tied," Dr. Sawyer explains. "When newborns or infants have trouble nursing or latching, they often see a lactation consultant. These well-trained consultants will assess not just the mom and child's position but also what the child's lips and tongues look like. At that point, they might refer the child to my practice. I'll do an oral evaluation and try to assess the issues."
If the tongue and/or lip ties affect the baby's ability to breastfeed, a frenectomy can help. Dr. Sawyer releases the ties with a laser. "It can relieve the mother's potential pain when nursing," he says, "and help the babies have a more of a complete latch."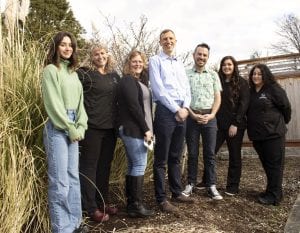 Both Dr. Sawyer and Follet know how rewarding it can be for the breastfeeding parent, their baby, and the whole family when a procedure like this works. "It's so rewarding to meet a mom who has struggled to get her child fed—and has bounced around from practitioner to practitioner, not being heard or getting help—end up in my office, and hear the mom say, 'Wow, my child has never latched like this,'" says Dr. Sawyer.
Dr. Sawyer describes a family he saw recently. "We had an infant come in last week who was bottle fed, and after the tongue and lip tie release he finished four ounces in four minutes instead of 45. This makes a huge difference for the child and the parents, and seeing that result is heartwarming. These moms often don't feel heard, or they get blamed when the infant isn't gaining weight."
Dr. Sawyer requires seeing a lactation consultant before coming to him; Follet describes it as a "team effort." She began her career as a nurse, working in obstetrics and supporting families there. "When I had my first baby, we had a lot of breastfeeding struggles," Follet says. "It made me fall in love with breastfeeding even more. I was happy when Dr. Sawyer came to town. We work together. If I diagnose a baby with a tongue and lip tie, I can refer them to him, and he'll treat them and send them back to me to follow up."
Follet loves to see families be able to reach their goals. "It's rewarding to get an email or text and they say, 'We were able to breastfeed as long as we wanted to.' Or I see families on their second or third baby that I helped in the beginning. It's important that people know there's support available."
Sponsored