Rosewood Villa has always provided exceptional care to the residents of their assisted living community. They are committed to their foundational belief in the infinite worth of each individual. This belief runs through all the work they do as they take action to support residents with kindness and respect.
This past year has been no different. The COVID-19 pandemic turned our world upside down, with senior living centers particularly affected. Through it all, Rosewood Villa has not only been completely COVID-free, but they have also helped their residents adapt to this time with grace, ease, and deep compassion.
Melinda Herrera, executive director of Rosewood Villa, says that her work focuses on creating "a loving environment for older adults to age in place. We provide them with assistance in all their activities of daily life. That's everything from getting up and dressed to getting ready for bed at night. We keep an eye on their medications and maintain good communications with families and doctors to get them the best care."
When COVID-19 hit, Rosewood Villa had to change their operations almost overnight. "Like everyone else in the world, it's been really hard," Herrera says. "We're really fortunate that we have such amazing residents and families that respected the guidelines we put in place to keep their loved ones safe. Our residents are so extremely resilient. They adapted really well."
Safety and security measures prevented the spread of the disease, and Rosewood Villa's team also worked to implement activities that help lift the residents' spirits. "We had to find meaningful activities for everybody," Herrera says. "We used to all meet for donuts in our dining room; that would bring 50% of residents, which is a lot for an activity in any setting. Since we couldn't do that anymore, and we knew how much they loved donuts and coffee with Melinda, we did room service. We went to their apartments, and spent a few minutes with each resident while we gave them donuts and coffee. It was the highlight of their day."
Hererra notes that this has been a time of reflection and growth, in addition to the inevitable challenge. "I, like most people, had never experienced anything on this level," she says. "I was able to grow as a leader as I learned to be flexible and understanding when people were having a hard time. They were missing their families, so we encouraged window visits and tried a lot of FaceTime. Our residents grew, too. We have 20 residents in their nineties, and it was amazing to see how resilient they are. We have a couple residents who are going to be 100, and they want to live to see 100!"
It's been a team effort to ensure the health and safety of everyone at Rosewood Villa. "We've been COVID-free this entire time," says Herrera. "My team is the most phenomenal group of people I've ever worked with in my life—they're all willing to step up to the plate. They're on the front lines, real heroes being put to the test. A lot of them are young people, and it's been amazing to see their passion and dedication. I couldn't be more proud to work with amazing group of people. We have a unique culture. When I leave every day, I check out with my team. We talk and debrief from the day, and we walk out of the room saying 'I love you.'"
And while plenty of things are still up in the air, a light is beginning to shine at the end of this very long, unknown tunnel. "One hundred percent of our residents are vaccinated," Herrera says. "That helps, knowing that we have some sort of protection. We're going to keep our same practices up, screen everyone who walks through the door, ask for vaccinating records, and quarantine if we need to. It's all for the greater good."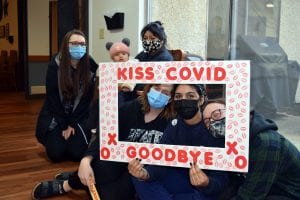 Herrera and the team at Rosewood Villa have provided exceptional, compassionate care at a time of unprecedented uncertainty and difficulty. "It's been so rewarding to see my residents feel safe and comfortable," says Herrera. "They know that they are cared for. And I know that we've all sacrificed a part of our lives, too. My team didn't go hang out with their friends when maybe other people were. Our residents trust us, and know that they are loved."
The families and loved ones of the Rosewood Villa community appreciate their hard work, too. "I started sending out emails a couple times a month to family members, just little updates because I know they're missing their families. It's incredible to get responses saying, 'Thank you for doing what you do, thank you for keeping my mom safe, I know that her living at Rosewood Villa was the best decision.'"
If there's ever been a time to live your belief, it's this current one, and Rosewood Villa has done just that. Their care and dedication demonstrate their deep commitment to honoring the infinite worth of each individual.
Sponsored