Submitted by the Bellingham Regional Chamber of Commerce
The fact that the Bellingham Regional Chamber of Commerce was unable to hold its annual awards ceremony in 2020 does not mean that no one was worthy of recognition.
Just the opposite is true.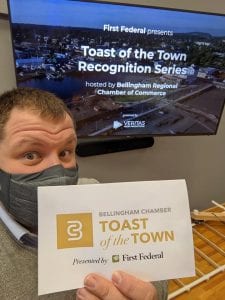 In a year defined by trauma, as Chamber president and CEO Guy Occhiogrosso puts it, there was plenty of excellence to honor and recognize.
Over the next five weeks, the Chamber will be rolling out video recognitions of 15 businesses, entities and people who helped Whatcom County navigate the pandemic. The "Toast of the Town: A Celebration of Community Resiliency" video series, presented by First Federal, is a way to recognize the incredible effort of so many during the past year, Occhiogrosso said.
"Our community is ready for something positive," he said. "This series recognizes that many resilient people, entities and businesses in Whatcom County have banded together to support their community through the past year. As we begin to reopen, we are where we are — and we are as hopeful as we are — because of these honorees."
As the pandemic spread to Whatcom County more than a year ago, sudden lockdowns and quarantines upended lives, abruptly changing just about every aspect of community life. Workers were unexpectedly in search of childcare, and parents had a sudden need for home learning support. Businesses needed help navigating new loans, and frontline workers were faced with dire shortages of safety equipment. Many in our community were looking at empty cupboards — if they even had cupboards at all amid a surge in homelessness.
The honorees in the "Toast of the Town" series rallied — each in their own ways and within the contexts of their roles in the community — to meet those needs and more. Despite the difficulties of the past year, community members worked hard in support of each other — as Whatcom County tends to do, Occhiogrosso said. The series aims to recognize and promote that spirit.
"This virtual event series will give credit where credit is due," said Troy Wills, VP regional retail manager at First Federal, which is the presenting sponsor of the series. "To outstanding members of our community who did amazing things in 2020."
A new video will be posted online each Monday, Wednesday and Friday until all 15 have been published. The first video goes online Wednesday, March 24, with the series set to conclude on Monday, April 26. The videos, produced by Veritas Media Productions, feature candid conversations between Occhiogrosso and the honorees that shed light on what many in Bellingham and Whatcom County have had to overcome in the past 12 months.
Partner sponsors include VSH CPAs, Banner Bank, BP Cherry Point, Phillips66 Ferndale Refinery, The Inn at Lynden, Puget Sound Energy and Unity Care NW. The video sponsor is Veritas Media Productions, and WhatcomTalk and US Bank are supporting sponsors.
Find the Toast of the Town videos on the BRCC website or on the Chamber's social media outlets: Facebook, Twitter, LinkedIn and YouTube.
About the Chamber
The Bellingham Regional Chamber of Commerce has contributed to the success of the local business community for over 110 years. As a not-for-profit membership organization, the chamber advocates for its members by convening leaders and influencers, serving as a catalyst for business growth and advocating for policies that bring about positive change. Visit https://bellingham.com/ to learn more.