For many out-of-towners, Western Washington University defines perceptions of Bellingham. It designates Bellingham as a "college town" and is alma mater to many public figures. However, Western's collection of over 30 sculptures spreads influence nationwide.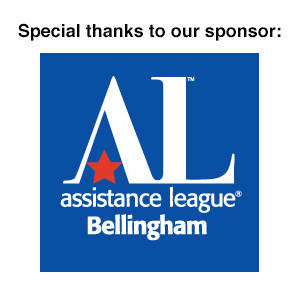 Western established its percent-for-art construction budget in 1959 and the State Legislature's 1974 public art program added to its collection. Concurrently, Seattle philanthropist Virginia Wright donated Western's most famous sculptures on a mission to showcase prominent art in Washington.
"This was a movement that really developed in the sixties and seventies as a lot of artists were moving to create work in the outdoors to try to break away from galleries," says Western Gallery Museum Educator Tami Landis. "They wanted to break boundaries and connect with the earth a bit more and connect with people and their experiences outside."
These efforts paid off, as Western Gallery now receives national recognition in the field of art history.
"There are people who travel here from long distances, from New York to here, from Vancouver and Seattle, to see the sculpture park because we have so many important works here," says Director Hafthor Yngvason. "It's probably one of five best university sculpture collections in the whole country."
And yet, not all Bellingham locals know about the outdoor gallery on South Hill—and that it's available for free self-guided tours year-round.
Storied Sculptures
"To students, I think the appeal is often that they can interact with the work; they don't just walk around it," says Yngvason. "It's there and they climb on it, they walk through it, it's part of the environment—and it's a beautiful campus. So I think that's very important, too; these are sculptures in a beautiful environment."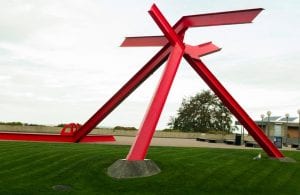 Mark di Suvero's iconic "For Handel," outside the Performing Arts Center, is among several impressive sculptures that command interaction.
"Some people call it the mosquito," says Landis. "It originally involved a tire swing, but a week or two after it was installed and displayed, the Western football team all decided to climb on top of the swing that was attached to the piece and it collapsed."
Nancy Holt's "Stone Enclosure: Rock Rings" allows spectators to walk through schist archways aligned with the North Star.
"People just love that. It's anything that they can imagine; it can be a castle," Yngvason says. "That would probably be the most popular sculpture."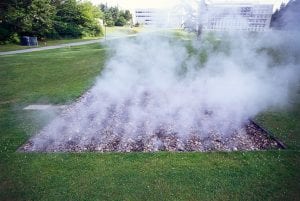 Several sculptures provide vistas into campus scenery—including Isamu Noguchi's "Skyviewing Sculpture," constructed concurrently with Red Square and Miller Hall.
"It was literally driven up I-5 on the back of a semitruck," says Landis. "So there's these really fantastic images of this sculpture just making its way up I-5."
Water features in works such as Robert Morris' "Steam Piece for Bellingham," and Western's first installation, "The Rainforest," by James FitzGerald.
Proliferation of the Arts
Western's small campus features a wealth of prominent artists.
"I think the biggest names are Donald Judd, Richard Serra, Bruce Nauman, Mark di Suvero, Isamu Noguchi, and Robert Morris," says Yngvason. "These are contemporary artists who are in art history books now."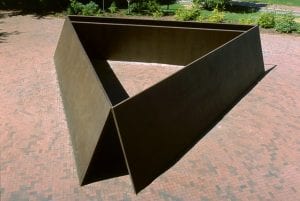 Sarah Sze's 2019 "Split Stone" is among the recent additions by contemporary artists.
"A lot of people know of the collection more than they know of Bellingham or Western, in general," says Landis. "Especially people that work in the arts sphere or outdoor sculpture collection sphere. Western's collection is brought up in various literature as an example or model."
Sculptures such as Bruce Nauman's "Stadium Piece" have become venues for concerts, dances, and other performances.
Western Gallery features indoor works in Wilson Library, SMATE, Miller Hall, and Communications. Discovering every sculpture takes visitors outside buildings and through the woods.
"You don't need a ticket to get there, you don't need to pay for it; you can access the sculptures as you please," says Landis. "And that has really helped harness a unique community and a larger breadth of individuals that connects to this work."
Art Stewardship
Western Gallery receives funding from grants and endowments, allowing them to restore sculptures such as Donald Judd's "Untitled" in 2019.
"That's very important to us because the university is not in a position to necessarily give us the funds to do major construction," says Yngvason. "Although they are very understanding and generous, it's very important for us to find other funding."
Such funding supports Western Gallery's frequent exhibitions on its growing site-specific collection.
"We will invite artists to come up to campus to come to the area and create works that are specific to our community, and our space, and our architecture, and our landscape and environment," Landis says. "We hope to bring in a global network of artists and ideas that relate to what's going on in the world today, to offer our students a space to see what's going on in the world outside of Bellingham."
Meanwhile, inside Bellingham, it just takes a trip to Western to walk around—and inside—one of the most celebrated campus sculpture collections in America.