There is an inner strength and resilience in us all that, despite challenge and hardship, is always ready to ignite. That's the belief that drives the incredible work of She Leads Me, an organization inspiring women to think, succeed, and connect abundantly.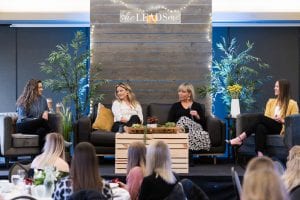 Heather Simpson founded She Leads Me to create a network of women that could share support, guidance, and motivation. "I was born and raised in Bellingham," Simpson says. "I became a mom at a pretty young age, and started going through the different things I thought I should try to accomplish, like getting married, having another kid, buying a house, getting that career job."
That process brought her to a CEO position at just 30 years old. Despite her success, Simpson found her work was missing a community of like-minded women. "I truly felt the lack of network with other women, and the lack of support for a woman in a male-dominated industry," she says. "I didn't know where to turn to for the resources I needed to continue to grow and become more educated."
Simpson's search for answers brought her to a turning point. "The biggest pivotal moments have been the moments when I was losing so much. These were my biggest growth moments: going through a divorce, the financial fallout post-divorce, almost losing my house, watching my car be repossessed. I was able to leverage these experiences and use them to catapult me into growth, instead of staying stuck."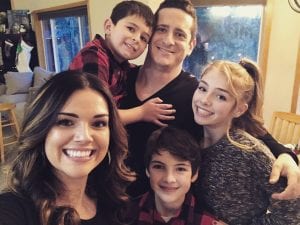 And that's just what She Leads Me does for women throughout Whatcom County and Washington State. She Leads Me creates a community that truly supports women, whether just starting out on their business journey or well-established in their field.
"We live in a limitless universe, but we put limits on ourselves," Simpson says. "She Leads Me harbors a community that is really there for each other, even if they're in the same industry. We can still lift each other up. We can have a room full of realtors, and every one can be successful. That doesn't take away from someone else's success."
She Leads Me speaks to the way that women connect. They shake up the mold and focus on relationship-building so women can have powerful support systems as they embark on their personal and professional journeys. "When we show up in that kind of space, business relationships flourish more and are so much easier," says Simpson. "We're invested when we know who people are."
The holistic focus of She Leads Me has been so impactful for the women who are involved, they're expanded their network to reach multiple counties. "We had people coming all the way to Whatcom County from Seattle for a 7 a.m. breakfast meeting," Simpson says. "That's when we knew we were really striking a chord with women."
She Leads Me is always looking through a lens of what women want and need—connection, community, resources, and a safe space with like-minded people. "We have workshops. We help business owners develop their plans and strategies," Simpson explains. "We also have a podcast where people can learn from inspiring women who have built careers and businesses."
Some truly inspiring women will be featured at SheIGNITES, a conference on March 19th that will showcase the very best of what She Leads Me is all about. In years past, this has been an energetic, powerful gathering in Seattle that gives women the tools and resources they need to achieve their dreams and ignite their inner strength. This year is no different, except that it's moved online.
Simpson knows that virtual gathering isn't the same as in-person, but also recognizes a deep need both within herself and her community for that sense of connection and mutual empowerment. "I've been feeling the heaviness of this year, in my own life and from the women in our community," Simpson says. "I knew we had to do this, and do it in a way that actually serves and breathes life into women again."
SheIGNITES will bring people together again to reconnect and remember that they're not alone in their journey. "We can ignite our strength and move forward," Simpson says. There will be incredible speakers at the event, from Kara Goldin, who built a $150 million business, to Lauren Lake, a legal and lifestyle expert. Lydia Fenet, a top auctioneer in New York City and author of The Most Powerful Woman in the Room Is You will also take part.The conference will also feature Kavita Patel, a love and relationship expert who will speak to creating intentional communication strategies.
"We need to remind ourselves of our inner strength," says Simpson. "We've had a long, hard season, and we need to tap into what we have."
The SheIGNITES conference will bring together powerhouse women sharing their hard-earned insights so that all can learn, grow, and take the next step towards true empowerment.
Register here for the event.
Sponsored