The Bellingham at Orchard brings personalized care to people living with memory loss—and its team members are specialists when it comes to programs and activities that improve residents' lives. When the COVID pandemic brought restrictions that kept residents inside and their families outside, staff created two new groups to keep residents engaged, both of which are seeing wonderful results.
Men's group
Lynden native Adam Parker began as a caregiver in 2007, worked his way up to resident care coordinator, and ultimately executive director. His position allows a broad perspective of who's coming into the residence, and he always keeps an eye out for like-minded individuals.
"In memory care, you don't always have people that can communicate on the same level, but we just had an influx of gentlemen that seemed appropriate to get together in a group," Parker says. "We have a pretty big community, and two different sides to our building. So if someone spends their time in their hallway and the TV room, they might never see that there's somebody on the other side that they may enjoy spending time with."
So, Parker formed a group around something he knew they all had in common: playing cards.
"Some men may enjoy doing flower arrangements and painting [with the women], but there's that camaraderie you get with just a group of fellas, and that was the goal for me," he says. "We typically start out our group by chatting about things happening in the world. When the conversation starts to slow down, that's when the cards come out."
In their version of the poker game Five Card Stud, the group plays with cards face up, and high cards and strong hands are rewarded with chips. The player with the most chips wins a grand prize furnished by Parker, but the real reward is seeing the positive changes in the members of the group. "Now several of those men communicate with each other in the community on days where we're not doing the men's group," Parker says. "Where before they may have just passed each other in the hall, [now] you find them sitting at a table having a conversation."
Women's group
You'll hear a similar story from Jaedyn Joers, Lifestyle Assistant at The Bellingham at Orchard. Raised in Clallam County, Joers came to Bellingham to pursue a teaching certificate. "Most of my background is in elementary school and working with afterschool programs," says Joers, who was also an educator in preschools. "It's been a big change for me as far as the age group goes, but it's been a really fun experience."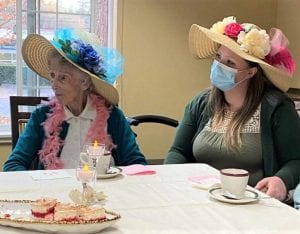 Joers noticed the success of the men's group, and saw the opportunity to improve even more lives. "I was inspired by Adam's men's group and thought women should have a group here," she says. "The community is suffering a bit from the inability to gather with their loved ones, so we really wanted to work on building a community within the space we're in."
The group has been meeting for a few weeks and are still learning how to structure their time together. "We'll have tea, sandwiches,cakes and whatnot. We'll have classical music playing, and chat about what we've been doing this week, about our pasts and things we have in common," Joers says. "One resident mentioned painting and many of them were excited about that, so we'll be doing tea and paint time. We'll bring in other specific activities too, but mostly it's a place for women to come together in a relaxed and caring environment, and engage in conversation."
Already, the women's group is seeing similar success to the men's group. "It's been fun to invite people who may not usually engage with one another because they're not in the same area of the building," says Joers. "It's been wonderful seeing them excited to learn about each other, and even when we disperse throughout the rest of the week, we see them engaging with one another closer than they had before the women's group."
While you might glance at a group of gentlemen looking to build their winning poker hands, or ladies reminiscing over the songs they danced to in their teens, it's easy to recognize that something much more profound is happening along the way. "I really do think it's about caring and engaging at a deeper level, getting to know who they are in this moment, and the pasts that they love to share," Joers says. "It's just a caring and safe place for them to be themselves."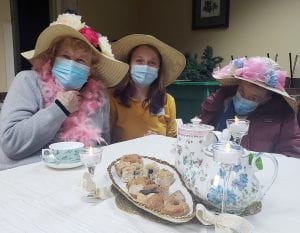 Sponsored