On a wooded stretch of northbound Interstate 5 leaving Lake Samish, visitors to Bellingham encounter a peculiar local landmark: a painted rock opposite the highway. This natural canvas for roadside artists has long been a testament to the City of Subdued Excitement's quirky local character.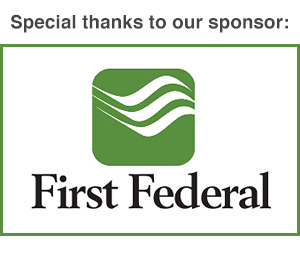 Bellingham's rock-painting ritual began shortly after the I-5 corridor's completion in 1966. According to the Bellingham Herald, Seattle resident Dan McNamara first painted "Sealth '70" in 1969 to commemorate his Chief Sealth High School graduating class. More than 50 years and several inches of paint later, many locals have driven by the rock their whole lives.
The Bellingham Rock Facebook page provides a showcase of community-submitted photos. Keith Cook, lifelong Bellingham resident and Real Estate Team Leader at RE/MAX Whatcom County, has run the page alongside coworkers since 2009.
"I started the page because I've seen a variety of things that people have posted there—either in life or death or success or defeat or an accomplishment," says Cook. "It seemed dedicated to something that was large in their life, to want to memorialize it on the rock and be part of that."
Stories set in stone
Layers of Bellingham stories unfold as you canvass the Bellingham Rock page's photo collection,.
"If you look at the history, at least what we have, it seems like an important moment in people's lives [is] why they felt compelled to paint it," says Cook. "People don't paint their grocery list, they paint it for happiness and sadness. And I'm interested in both. There's some political stuff, there's humor, there's tragedy, and a lot of celebrations. It's a pretty diverse rock!"
Locals often address loved ones through the rock, commemorating birthdays, weddings, departed loved ones' memories, and well-wishes for good health. Other messages greet the whole community with humor, promotion of popular culture and local events, political slogans, and—above all—art.
Sports fans often bring their team spirit and rivalries to the rock. Honoring the rock's original use, students frequently paint the rock to commemorate graduations, class reunions, and school spirit.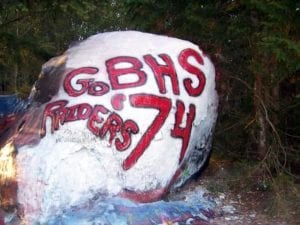 "I think it's been painted by every school in Whatcom County—every high school or college," Cook says. "I think it means a lot to a lot of people or they wouldn't go to the effort of painting it or sending in pictures or having any interest in it."
A time-honored local tradition
The graffiti rock has received attention from various publications in addition to enchanting the Bellingham public.
"If you mention the rock on the freeway to people in Bellingham, most know where they've seen it," says Cook.
The Bellingham Rock page has more than 1,800 followers. According to Cook, out-of-towners with connections to Bellingham often recognize and paint the rock.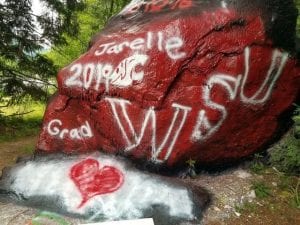 "People have reached out from out-of-state because there's a local tie," says Cook, adding, "They can just keep tabs, as far as what the vibe is of the town at the time, based on the rock."
Like many public canvases, the rock has faced controversy due to hate speech or other inappropriate graffiti. Nevertheless, the majority of paint jobs have helped bring Bellingham together. In one newsworthy addition, the rock bore a face and tarp "mask" to raise morale during the COVID-19 pandemic.
"Pulling into town, that's what I love about Bellingham—coming through and the rock is one of the first things you see," says Cook. "My whole life, that rock has been there. It's kind of like a welcome home, welcome to Bellingham."
Rock down to Bellingham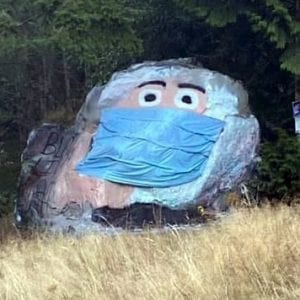 Because the rock is directly off the highway, visitors must exercise caution. The State Patrol asks that motorists be dropped off rather than park in the shoulder. Alternatively, visitors may walk on the shoulder from nearby Lake Samish Park and Ride.
While many people spray-paint the rock, professional artists often take multiple trips to paint it.
"They'll paint the whole base, and then they'll come back and paint specifically what they want painted on it," Cook says. "And I don't consider that really graffiti— that's more [of] a statement."
Signs posted at the rock provide instructions for submitting photos to the Bellingham Rock page.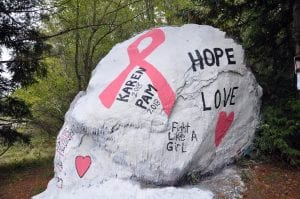 "We'll get an email and someone will say, 'All right, we just painted the rock. Here you go,'" says Cook.
The Bellingham Rock page automatically sets submissions as either profile or cover photo.
"We would love it if more people reached out to [share] any of their older stories, because we would like to have it as a showcase for every time the rock was ever painted," says Cook. While each work of art disappears under new layers, additions to the graffiti rock have altogether left lasting impressions.