At the turn of the twentieth century, social clubs helped define a newly consolidated Bellingham. Local and branch organizations provided prominent locals with opportunities to socialize, recreate, engage in community affairs, and practice philanthropy.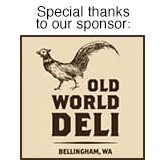 While most clubs moved between multi-use buildings, three built permanent clubhouses—all of which remain today.
The National Register of Historic Places lists two Bellingham clubhouses; Fairhaven Historic District is a source of others. They all attest to early Bellingham's social sphere and distinguished architecture.
Aftermath Clubhouse
Built in 1904, the Italian Villa-style Aftermath Clubhouse was likely the first women's clubhouse in Washington. It belonged to one of the most influential women's clubs in Bellingham.
The Aftermath Reading Circle began in 1895 with 12 women in New Whatcom, a merger of Whatcom and Sehome. The literary and social club, named for a "second gleaning," built the clubhouse after formally becoming Aftermath Club. They branched out toward charity, community involvement, and intellectual development. They raised money for Whatcom Family YMCA and annually awarded $25 to "most improved" lawns.
The two-story wood frame building features one of Bellingham's most popular ballrooms. The Mission Revival architecture, evident in the arches and rounded towers, is rare in the Northwest. The club and architect Frank C. Burns took influence from Italian Villas popular in California. Aftermath Clubhouse was Bellingham's first member-owned clubhouse, and clubwomen paid off the property debts amid charity work.
Aftermath Club sold the building (now Broadway Hall) in 1977, and the National Register listed it in 1978. The club dissolved in 2003, providing Western Washington University scholarships as a final philanthropic venture. Today, Westford Funeral Home rents out Broadway Hall for weddings, funerals, dances and other events.
B.P.O.E. Building
Built in 1912, Neoclassical-style B.P.O.E. Building has been called the most handsome fraternal lodge in Washington. Its construction coincided with a real-estate boom on historic Dock Street (now Cornwall Avenue). Hosting the Benevolent and Protective Order of Elks for 67 years, it also demonstrates the influence fraternal orders have had on Bellingham. Others have included Masons, Fraternal Order of Eagles, and Odd Fellows.
The B.P.O.E. began as a New York social club in 1868. Several U.S. presidents, politicians, and celebrities have been members. The B.P.O.E. historically had discriminatory white-exclusive membership until 1973 and raised funds through minstrel shows, including the Bellingham chapter. Today, the B.P.O.E. is both a recreational and philanthropic organization.
Bellingham Bay Lodge #542 began with 20 members in 1900. They met at the Masonic Lodge before moving to Rice Block on Dock Street in 1906. As membership increased, the Elks voted, in 1909, to build their own clubhouse. They commissioned Bellingham architect William Cox.
The B.P.O.E. Building's unusually light Romanesque exterior features blond bricks, stone arches, and sandstone steps. The interior featured offices on the first floor and a meeting room and kitchen on the second. The basement featured a gymnasium, bowling alley, and cardroom. Renovations from the 1930s through '60s removed the bowling alley and moved the kitchen.
The Bellingham Elks made parade floats and held high school graduation parties. At the 1951 Elks Convention, Bellingham mayor J.W. Mulhern gave them the keys to the city. They sold the lodge and relocated to Samish Way in 1971. The National Register listed the B.P.O.E. Building in 1992. It has hosted a dance studio, a teenage nightclub, and restaurants, among other transient uses.
Mason Block and Kulshan Club
Added to the National Register in 1977, Fairhaven Historic District includes two buildings notable for hosting businessmen's clubs. Cascade Club occupied Mason Block and its successor, Kulshan Club, built its own clubhouse.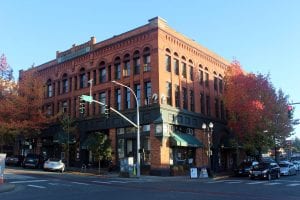 Constructed in 1890, Richardsonian Romanesque-style Mason Block stands three stories and spans a quarter of one block. The brick exterior features arched windows and a stone foundation. The interior features an ornamented light well, staircase, and balustrades. Cascade Club met on its third floor, while lower floors hosted shops and investment bankers Roland G. Gamwell and Charles F. Warner.
Cascade Club is notable mostly for its famous members and visitors. Charge of the Light Brigade survivor Captain W.C. Grahame managed it and Fairhaven investor James F. Wardner founded it. The club's bar hosted Mark Twain and President William Howard Taft during their brief visits to Bellingham.
Kulshan Club incorporated from Cascade Club in 1904 and voted to build their own clubhouse in 1908. They commissioned William Cox and F. Stanley Piper, who built the Bellingham Herald and National Bank buildings. Built in 1909, the Arts & Crafts bungalow-style façade featured wood panels on the first story and cedar shingles on the second. The interior featured dining and meeting rooms, billiards, and a bowling alley.
After Kulshan Club's 1928 dissolution, the building was moved from 12th and Columbia to Finnegan's Way. It has housed Seaview Apartments ever since. Mason Block continued to house businesses through Fairhaven's mid-century decline. Developer Ken Imus purchased and renamed it The Marketplace in 1973. It is now Sycamore Square. The building's revival helped bring back Fairhaven's business district, thriving in its second life as do all these former clubhouses.