First Federal has announced the winners for its second Proudly PNW Community Photo Contest. The bank received submissions across its many branches: Bellingham, Seattle, Port Townsend, Port Angeles, Bainbridge Island, Silverdale, Sequim, and Forks.
"We have 10 locations throughout Western Washington, and that's where it was being promoted," says Community Engagement Manager Jen Swanson. "People come to me and say, 'Oh, you work for First Federal? I saw your photo contest. That was so neat, that was so beautiful. Thank you for featuring local artists.' Hearing that feedback out in the community, not just at work, has been very rewarding."
First Federal ran an internal employee photo contest for several years before adding a community contest in 2019. Western Washington locals submit photos for the chance to win cash prizes and spots in a First Federal desk calendar. This year's contest had a $150 grand prize and 12 secondary prizes of $50. The Fan Choice Award was a #ProudlyPNW gift basket valued at $100.
The 2020 contest received greater engagement than ever before. The Fan Choice Award, "Sequim Lavender Farms" by Susan Parr, received 1,178 votes.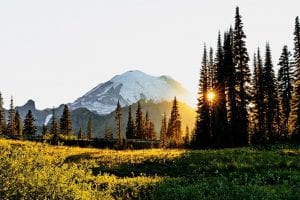 "It's exciting to see the participation from the community," Swanson says.
Desk calendars will be available at all First Federal branches after Thanksgiving. Their photos showcase Washington landscapes and wildlife across the seasons.
"It's also very rewarding to be able to give a portal and a thought form to these photographers—whether they've been photographers for the last decade or they're new photographers, or they're new to the area," Swanson says.
First Federal's contest winners include photography enthusiasts such as Hailee Saul, who submitted photos of Mount Rainier National Park.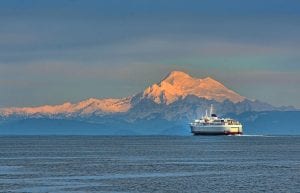 "Photography has been the hobby that stuck with me for about three years now," Saul says. "I'm generally a serial hobby jumper. Photography is so enticing because there always seems to be something to learn or a way to improve. You can see how far you've come with each photo captured; it is such a fun process."
Saul entered the contest days before it closed, but won with support of Facebook friends. "I was so unbelievably excited to know that my photograph had been chosen," she says. "I'm so thankful for everyone that made it happen." Saul's desk calendar photo accompanies such locales as Snoqualmie Falls, Mount Baker, and Fort Worden.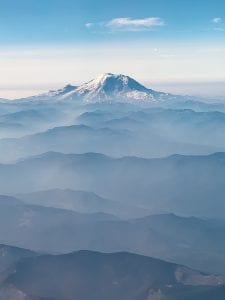 "The Pacific Northwest offers such a wide array of amazing landscapes," Saul continues. "My camera is my excuse to go out and adventure. I love finding those hidden spots, capturing their beauty, and sharing them with the world. We live in such a beautiful area: from the sunrises and sunsets on the water, the hidden waterfalls in the woods, and the mountains surrounding us."
For Jen Swanson, the contest's main draw is "the ability to see Washington State through the eyes of others." First Federal's panel has chosen calendar images with a photographer's eye.
"To capture a photo is to live in that moment, hearing and smelling the simplicity but the complexities of nature, feeling the weather on your skin, and seeing the incomprehensible beauty," says Saul. "With just one click, I try to capture the everlasting beauty, forever having a souvenir to remember exactly what that moment was like."
Other winners have expressed appreciation for the contest. "I'm very thankful to be included in this amazing group of photographers," says Jay Cline. Willadee Worthington-King adds, "All the photos are so beautiful. We're so fortunate to live in such a beautiful place."
First Federal anticipates an enthusiastic turnout in more #ProudlyPNW contests to come.
"It brings people together," Swanson says. "No matter what's happening in the world, we're all looking at something beautiful, we're looking at something that resembles our home, and just the beauty and nature of where we live."
"Sequim Lavender Fields," by Susan Parr

"Sunset at Tipsoo Lake, Mount Rainier National Forest," by Hailee Saul

"Flying High in the Sky – Mt. Rainier," by Willadee Worthington-King

"Coho and Mt. Baker," by Jay Cline

"Neowise from Hurricane Ridge," by Jesse Major
Sponsored