Submitted by Piece of Mind Cannabis
Looking for something to do while you're spending so much time at home these days? Cooking is a great way to get creative, feel productive, and maybe even learn a thing or two about yourself along the way.
We can't all be chefs on Bong Appetite, though. And while weed and food are a match made in heaven, cooking is not always a stoner's strong suit.
We've put together a list of five easy, stoner-proof recipes that are simple to pull off. Read on if you're looking to spice up your mealtime.
Weed-infused grilled cheese
This is a great stoner staple that's tough to mess up. Even better, this recipe can easily be adjusted to be gluten-free and/or vegan. Just swap out the regular bread for a gluten-free version and/or swap out the cheese with your vegan cheese of choice. We recommend Chao's vegan cheese for this recipe.
Ingredients:
Two slices of bread
Cheese
Cannabutter (recipe can be found at the bottom of this post)
Instructions:
Use a butter knife to coat both pieces of bread with cannabutter. Be sure to cover the entire surface and apply it to both sides of the bread.
Bring a skillet to medium heat and scoop a small coating of cannabutter into the pan.
Once the butter has melted, place one slice of bread on the skillet.
Add as much cheese as you'd like to the bread.
Place the other slice of bread on top of the cheese.
Flip the sandwich once the bottom slice has reached a golden brown.
Add more butter if needed and continue to fry until both sides have reached a golden brown.
When the sandwich looks adequately fried and the cheese is melted to your liking, take it off of the skillet, slice in half, and enjoy!
This is a stoner-proof recipe if we've ever seen one. Just be sure to watch your bread as it's cooking because the easiest way to mess up a grilled cheese is to burn it.
Marijuana mashed potatoes
Who can resist fluffy, creamy mashed potatoes? This staple is delicious on its own, but infusing the recipe with weed makes for a next-level experience.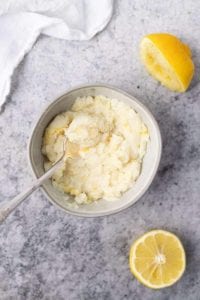 Serves 4.
Ingredients:
2 lbs of potatoes
4 tablespoons cannabutter
4 tablespoons sour cream or plain cream cheese
Salt and pepper
¼ to ½ cup of milk
2 cloves of garlic minced or 1 tsp of garlic powder
Instructions:
Cut the potatoes in half or quarters to make medium-sized pieces.
Place the potatoes in a saucepan filled with water and bring to a boil. Cook until fork-tender, between 20-30 minutes.
Drain the potatoes and remove their skins.
Add the cannabutter, garlic and sour cream to the bowl along with a splash of milk (don't add it all at once.)
Mash the contents, adding just a splash of milk each time until you've reached the desired consistency.
Stir in salt and pepper to taste.
This mashed potato recipe is simple and versatile. We recommend cutting potatoes to a size that will fit in the palm of your hand. Keep in mind the smaller you cut the pieces, the quicker it will boil. This can help speed up the process but you don't want to make too small of pieces and accidentally overcook them.
This dish can easily be made vegan by swapping out the cannabutter with an infused vegan butter alternative and non-dairy milk. We'll go over how to make cannabutter later on.
Vegan Weed-Infused Chili
It doesn't get any better than a pot of chili and some good old fashioned cornbread. This recipe is a tasty play on a classic, easy to make dish.
Serves 4-6.
Ingredients:
Ground cannabis
Olive oil
1 yellow onion
3 cloves of garlic
1 tsp oregano
2 tsp cumin
2 tsp chili powder
1 tsp smoked paprika
1 cup of carrots, zucchini or any other veggies of choice, chopped
1 can black beans
1 can pinto beans
1 (15 oz) can diced tomatoes in juice
1 (6 oz) can tomato paste
½ cup vegetable broth
Cilantro and vegan sour cream for garnish (optional)
Instructions:
First, decarboxylate the cannabis. Preheat your oven to 225 degrees Fahrenheit. Line a baking sheet with foil, add your ground cannabis (not too finely ground), and evenly spread it across the baking sheet. Bake for 25 to 30 minutes until nicely browned. Check occasionally and remove from the oven if it looks like it's getting too dark.
About 5 minutes before removing the weed from the oven, heat up a large saucepan with 2 tbsp of olive oil.
Chop and add onion, carrots, zucchini, and other veggies to the saucepan at medium heat. Saute for 5-10 minutes until the onion is translucent and tender. Don't forget to take the weed out of the oven and set aside.
Add garlic, oregano, chili powder, cumin, salt and pepper. Stir for a minute or two until fragrant.
Add the diced tomatoes and tomato paste to the sauteing vegetables.
Stir in the cans of black beans and pinto beans.
Add the ground, decarboxylated cannabis to the mix.
Stir in the ½ cup of vegetable broth slowly. Gauge if the chili is too thin or thick and then adjust the amount of broth you add accordingly. Add more if it seems too thick or put less than ½ cup in if it appears to be too watery.
Stir well and leave on medium heat for at least 30 minutes.
Serve chili with a dash of vegan sour cream and cilantro.
We're leaving the amount of cannabis you add to this dish up to you. Everyone has a different tolerance. Stick to ½ to 1 gram of cannabis per person/serving if you're not sure what to expect.
Elevated Instant Ramen
Instant ramen may just be the ultimate stoner food. It's quick to make, tastes delicious, and doesn't require a lot of effort. There are many ways upgrade instant ramen to make it tastier and we like to take it to the next level by infusing it with cannabis.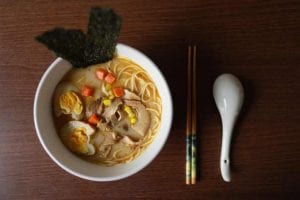 Ingredients:
1 pack of instant ramen
Vegetable or beef broth (use the amount listed on the package for water)
Frozen peas, carrots, and/or corn
Dried seaweed
Sesame seeds
One egg or tofu
Cannabis tincture
Instructions:
Follow the instructions on your ramen package, but swap out the water for vegetable or beef broth.
Add the frozen vegetables when the broth gets hot.
Crack an egg in it and stir for a few minutes. You can also add a pre-boiled egg to the soup. If you're using tofu instead, just chop it into small pieces and add it uncooked.
Drop as much cannabis tincture into the soup as you'd like. If you're not sure, stick to 1-2 drops.
Top soup with dried seaweed and a coating of sesame seeds.
This recipe is incredibly easy and does a great job of spicing up an ordinarily plain dish. You don't have to follow our additions, though; spice it up with whatever you have on hand. We've had great success adding kimchi, coconut milk, and even peanut butter to our ramen. Get creative!
Extra Green Guacamole
Guacamole is not an intimidating dish. You mash up some avocados, appropriately spice them, and you've got yourself a delicious snack or topping to a meal. We like to step it up a notch with the addition of cannabis tincture.
Ingredients:
Three avocados, peeled and pitted
One medium-size tomato, chopped
½ of a medium-sized onion, chopped
1 clove of garlic, chopped
2-3 tablespoons of lime juice
Salt and pepper to taste
Cannabis tincture
Cilantro
Instructions:
Mash the avocado until creamy.
Add all other ingredients.
Mix until well-combined.
Add as much cannabis tincture as you please, paying close attention to how much you'll be eating per serving. Figure half an avocado per person or serving but you may struggle to stop eating this tasty snack!
How to make a simple cannabutter
Many recipes with cannabis require cannabutter. It's a versatile staple that will make cooking with weed dangerously easy. Don't have any on hand? Here's how to make it:
Line a baking sheet with foil
Coarsely grind cannabis and spread evenly across the baking sheet.
Bake at 225 degrees Fahrenheit for 30-40 minutes. Keep an eye on it while baking and don't let it get too dark.
Remove from oven and allow to cool a bit before grinding into a finer texture.
Melt the desired amount of butter on low heat in a saucepan.
Keep the heat on low and slowly add your ground cannabis. Stir frequently.
Keep at a low simmer for at least an hour, stirring often and preventing any scorching.
Remove from heat and pour through a fine strainer such as cheesecloth.
Cool and store your cannabutter in an airtight container.
The longer you can keep your cannabis in the low heat mixture, the better your chances of getting a potent cannabutter. If you have extra time to dedicate to making cannabutter, we recommend leaving it on the stovetop for 2-3 hours. Only do this if you will be available to stir often to prevent burning.
And there you have it! Five easy, stoner-proof recipes. Stop by our Bellingham dispensary to get all of the goods you need to make an infused dish.