As the season turns to fall, Kaegan Gudmundson knows he will soon depart Blaine Harbor on his small commercial crabbing boat Njordor, named after the Norse God. His vessel—at 25 feet—is one of the smaller boats in the fishery. But for Gudmundson's style, it works well.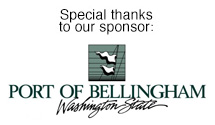 He often operates a one-man crew and never has more than one other person crabbing with him. "There's not very many people that crab alone with two permits," Gudmundson says. "There's a few of us, but inherently it's a lot more dangerous; if you fall off, there's no one there to help you get back on."
His boat is built for speed over size, allowing him to quickly travel between his pot locations. Picking locations where the Dungeness crab will be plentiful is as much art as science, so on days when one area is slow, he can swiftly move on and check pots elsewhere.
As a fourth-generation fisherman, Gudmundson finds it fun to have a local fishery to work out of. His life has been filled with summers in Alaska fishing for salmon, which he continues to do—but Puget Sound crabbing lets him spend time in Whatcom County, where he was born and raised.
Although crabbing has its challenges, the opportunity to do what he loves while getting to sleep in his own bed every night is a nice change of pace from living on the boat while fishing in Alaska.
Gudmundson's days start at 4:30 a.m. with coffee and breakfast before heading to the harbor. On some days he can be done as early as 1:30 p.m., but he often "double turns," picking pots twice in one day, which keeps him out until 4:30 p.m. He ends his day at Starfish Inc., where he sells the day's catch; approximately 80% of the crab will then be shipped to China.
The beginning of the season, which starts October first, is intense with fishermen making approximately thirty percent of their season's income in the first seven days. The reminder of the season, Gudmundson says, is a grind. "You can't really take any days off if you want to make money. You have to get up every day—if it's snowing, if it's windy, if it's raining. Eventually you just start wearing out."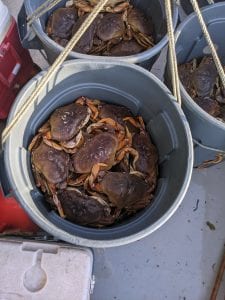 Crabbing for Gudmundson is a balance of the stress of the unknown and the fun of the chase. The season is filled with much of both. From the length of the season to the price of the crab, it's filled with variables determined by the population of the crab and the value in the market. The season's length can vary by months and the price per pound can range from $3.00-$7.50.
Then there's the uncertainty inherent in any type of fishing. Is whatever you're looking for where you're looking? This part of the job keeps Gudmundson motivated on frigid fall and winter days.
"It's a really exciting job—I wake up excited to go to work," he says. "And I've never been much of a gambler, but pulling up a pot is a lot like pulling the arm on a slot machine; you never know what you're going to get." The slot machine that is crabbing varies greatly from day to day with daily takes ranging from 100 to 2,000 pounds.
Gudmundson accepts the uncertainty of the job knowing that it's tied directly to the sustainability of the species. The total quota for the entire fishery is set by the state at 1,500,000 pounds for this season. The quota is monitored daily to ensure accuracy. Only large male crabs are harvested, while females and smaller males are left to reproduce.
Commercial crabbers are limited to 50 pots per license, with most boats carrying one to three licenses, and have designated areas where they can place those pots. There are 248 licenses in the state, which allows for a lot of pots, but this fishery goes above and beyond to protect the population. They self-regulate based off conditions, this year limiting pots to 35 per license.
As a generational fisherman, Gudmundson grew up eating from the sea. When eating crab on its own, he's a big fan of crab cakes. But, when paired with his time in Alaska, he has a secret recipe: combining Halibut and Dungeness Crab. He cans it for later in the year, and then uses it as a dip or sandwich fixings.
Now in his fourth season of crabbing, Gudmundson is proudly building on his family's lineage of fisherman—just like his father, grandfather, and great grandfather before him.
Starfish Inc. unloads the days catch from Gudmundson's boat with a crane attached to the dock. Photo credit: Tony Moceri

Gudmundson grabbing his squid, which will be his bait for the next day's crabbing. Photo credit: Tony Moceri