Bellingham Bay Swim Team's Gavin Jones has been named to the USA Swimming Scholastic All-American Team for a second consecutive year.
To be considered for the Scholastic All-America Team, swimmers must maintain a 3.5 grade point average for the current academic year and swim a time equal to a 2019 Winter Junior National Championships qualifying time in any event during the qualification period.
The 17-year-old Jones, who is a senior at Bellingham High School, maintains a 4.0 GPA and posted qualifying Junior National times in both the 100 and 200 breaststroke.
"It's an honor to have both myself and Bellingham Bay Swim Team be recognized by USA Swimming," Jones says.
Jones competed at the Speedo Winter Juniors West in December, finishing 79th in the 100 breaststroke and 35th in the 200 breaststroke. He posted personal best times in each event—57.93 seconds (100 breast) and 2:02.92 (200 breast). In addition, he swam a personal best time in the first 50 of his 100 breast and time trailed in the 200 breaststroke, ending the event with a best time and a Winter US Open cut.
Becoming a two-time USA Swimming Scholastic All-American was not the only accomplishment Jones enjoyed to kick off his senior year—he also verbally committed to swim at Denison University, an NCAA Division III program, beginning in the 2021-2022 season.
Jones joins a powerhouse Denison program, which has won five national championships since 2011, including twice posting back-to-back titles in 2011-2012 and 2018-2019. The Big Red have been one of the nation's most dominant programs over the last two decades, winning 11 consecutive North Coast Athletic Conference titles between 2009 and 2019 and placing among the top 5 at the national championships 17 straight years (2003-2019).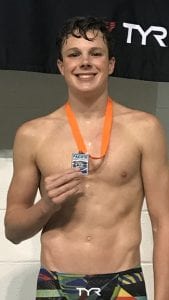 "I'm really looking forward to going after some national titles and taking my swimming and studies to the next level," says Jones. "It's an awesome team and culture that I'm excited to get to be a part of."
Denison University first showed up on Jones' radar last fall. He initially started to reach out to schools before the start of his junior season, casting a "pretty wide net" while communicating with schools all over the country.
Over time, his list narrowed down to four schools—Denison, University of California San Diego, Kenyon College and University of Utah.
"I actually don't remember who made contact first, but a really good line of communication was established pretty quickly," Jones says about his recruiting process with Denison. "It was a lot of phone calls, emails, and research, but after visiting Denison in August I was pretty confident it was where I wanted to be. Getting to know some of the guys on the team and visiting campus was definitely the deciding factor for me. You can only get so much over a phone call or video, so meeting the coaches and seeing the campus in person was really important."
And what type of individual are the Big Red getting in Jones?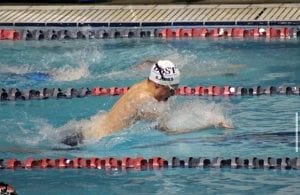 "Denison is getting a driven student-athlete who knows how to be a part of a team," Jones says. "I'm looking forward to improving all aspects of myself and becoming a better learner."
Jones will join the Denison University roster beginning in the fall of 2021 and will enter the program as one of the Big Red's top breaststrokers the moment he steps on campus; his top 200 breaststroke time would have ranked him third fastest on the squad this year, behind only junior Richie Kurlich, who finished second at the 2020 NCAC championships and was a 2020 CSCAA All-American in the event and Piotr Kurleto. Jones' best time in the event would have placed him in the A-Final of the 200 breast at the 2020 North Coast Athletic Conference Championships. Jones would have also posted the fifth fastest time on the team in the 100 breast.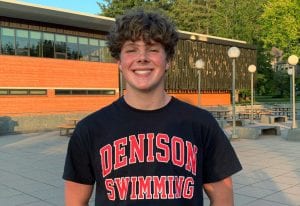 However, before he heads off to Denison University, which is located in Granville, Ohio, Jones has set several lofty goals for himself this year.
"This year I'm really trying to go after an Olympic Trials cut," Jones says. "That's been one of my long-term goals since I was just starting out. So, it's super cool that I'm finally in reach of attaining it."
Jones has been a member of the Bellingham Bay Swim Team for nine years and is the club record holder in the 200 breaststroker.
"I definitely wouldn't be where I am right now without the support that I've had from friends, coaches, and my teammates.