We've all seen the aged, black-and-white photos: old-timey loggers, posing with felled portions of the massive, old-growth trees they've harvested. While you might think enormous trees like this have all but faded into the history books, there are still places in Whatcom County where trees of similar size can be found and admired.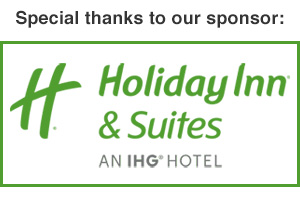 Some of these places are challenging to get to, but one area in particular is easy to visit. At several unmarked turnouts along the Mount Baker Highway, small and unmaintained trails bring one face-to-face with trees that likely pre-date the Pilgrims' journey aboard the Mayflower.
Logging, of course, has been an important natural resource throughout Whatcom County's history. From the men who did the hard labor, to the ties and suits who built their business empires upon it, the Pacific Northwest has always been home to some of the most desired wood on the planet.
While the majority of Whatcom County's old-growth trees were harvested between about 1890 and 1945, patches of enormous Douglas fir, western hemlock, and western red cedar still remain. Some are upright and living, while others have fallen and are now decaying back into the earth from which they emerged several centuries ago.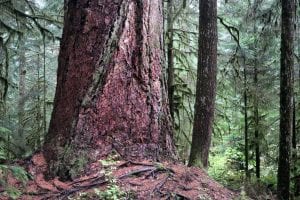 Though there are several places to see such trees, not all of them are accessible by car or on publicly walkable land. Canyon Lake Community Forest, which contains acres of old-growth forest, requires a 5.7-mile hike or bike ride just to reach the trailhead into the forest. The series of old-growth trees located between milepost 43 and 44 of the Mount Baker Highway, however, can be visited by anybody with a car and useable legs.
Getting there is straightforward: Take State Route 542 and continue on it past Glacier. As the road twists and turns, gaining elevation as it continues towards the Mount Baker Ski Area, keep looking at the milepost markers.
Just past milepost 43, a small, unmarked turnout is present on the road's left side. There's not a lot of room to park, but three medium-size vehicles can be reasonably accommodated here. Once you park, you'll immediately notice a giant Douglas fir nearby. Some of the old-growth trees in this area are eight to 10 feet in diameter, well over 100 feet tall, and probably at least 300 years old—though their exact ages can only be guessed at.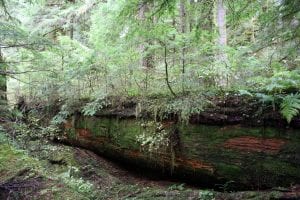 Take the single trail accessible in front of you, and instantly trade the roadway for enveloping forest. Moss hangs from tree branches, mushrooms and other fungi grow liberally, and small wildlife can also be seen skittering through the vegetation.
In wetter times, parts of the small and unmaintained trails can get muddy, so be sure you're wearing shoes meant for hiking or getting dirty. Overgrown brush, or even downed tree limbs, can also block or impede the trails, so be ready for that, as well.
Also important for the navigation-challenged: the main trail branches off to other small paths in plenty of places; some of them end in overgrowth or downed trees, while others continue further into the forest. Do use some caution in going as deep as you can into the tree line, especially if you only have so much time to explore; it's possible to get disoriented and a bit lost.
A short distance down the road at an Adopt-A-Highway sign reading "Baker Made," you'll find an even smaller turnout with another small trail. Taking this will quickly lead you to an enormous fallen tree that is among the largest I've ever personally encountered (visiting the Redwoods of California is still on my bucket list). This location is perfect for pictures of you or your friends posing in front of the tree for scale. And if you're also looking to take in some views of the Nooksack River, the right side of the road in this area offers several turnouts for this.
Spending a little time here, especially with few other people around, represents a great chance to appreciate nature's slow and steady pace. These days, that's an opportunity worth taking.
Many types of fungi can be found throughout the Mt. Baker-Snoqualmie National Forest, including on the trees themselves. Photo credit: Matt Benoit

This enormous fallen tree can be found along a short trail just off the Mt. Baker Highway. Photo credit: Matt Benoit