One of the many things Mount Baker Care Center offers its residents is the chance to be part of a community. The current pandemic—and the social distancing it brings with it—has increased challenges to the people who provide skilled nursing and assisted living services. But staff are determined to rise to the occasion, and have been hard at work making positive changes.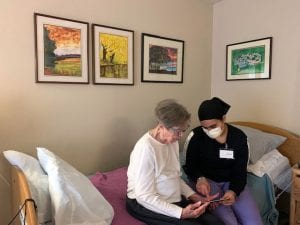 Catherine Reis-El Bara, Mount Baker Care Center's administrator, takes notice of the way these changes have affected the staff. "We're [always] giving 100% to people, but this has made changes in a different way," she says. "We have to make sure that we take care of each other as staff, and take care of the whole person, not just the caregiving piece."
Cat Thomas, the director of nursing, has also seen positive ways of adapting.
"We do an afternoon huddle, with all the staff leaving for the day and those coming on for the day," Thomas says. "It's an informational meeting: where are we at right now; where is the community at right now; these are the things that I'm hearing from the Whatcom County Health Department; these are the thing we can do to keep everyone safe here. It makes a huge difference when the staff are all on board, and they feel invested. I'm really proud of our staff here."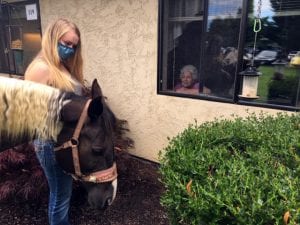 With the caregivers well taken care of, they're able to provide residents with the same sort of connection and communication. "We want our residents to be able to see their family members as much as they can, in whatever capacity we can, without endangering anybody," Thomas says.
There are computers and tablets that allow video chats, and some family members can visit with their loved ones by telephone at their window, allowing some much needed face-to-face communication.
"It's interesting, because different scenarios will arise and we'll think, 'I hadn't thought about that, so let's see how we can work this out,'" says Thomas. "We get creative and make it work for people, because this is their home."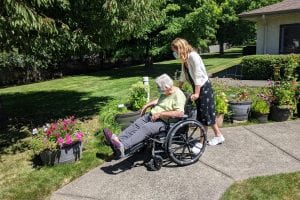 Since folks aren't getting out as much, staff strives to help them feel as comfortable as possible. "Since we've been able to do outdoor visits," Thomas continues, "those have probably been my favorite. It's great that families can get together with flowers on the tables and a little tent out there. It's very cozy."
As the center's life enrichment coordinator, Erin Bean and her team have shown a lot of flexibility in the last few months. "It's been challenging because we can't have group gatherings, but it's provided us a great opportunity to do things one-on-one with residents. We're bringing them activity resources for their specific preferences," she says. For some folks, that might mean sitting down and helping them read a book; others make greeting cards to mail to family members as a way of staying in touch. "We're using technology, as well, but making the cards has been a fun process."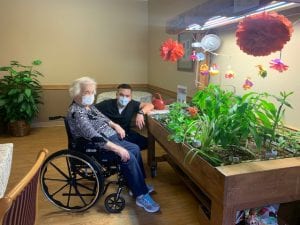 While she might not be able to invite guests inside, Bean and her team have continued to bring visitors around. "We're not able to do pet therapy visits the same way, but pets still bring a lot of therapeutic value," Bean says. They've had a couple horses come to the building and walk around outside to visit residents at their windows.
"We have a staff member who breeds rabbits, and because she's a part of our community, she was able to bring her rabbits in. These little things aren't dramatically different from what we were doing before, but they're certainly more creative."
These changes are a response to specific needs, but there's no reason they can't influence how things are done in the future. "The team and I have talked a lot about some of the strengths we've gained," Bean says. "There have been really great opportunities for connection through all these one-on-one interactions. There are some changes we want to make when we get back to group gatherings. We're still in the brainstorming process of what that might look like, but certainly want to continue working towards a one-on-one model."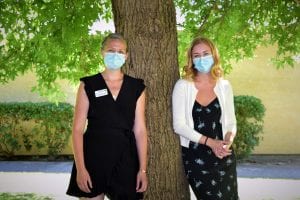 Being so close to the daily lives of so many people has given Bean additional, unique perspective. "I think some people assume that residents of long-term care facilities may be lacking vitality, and that's a misconception I'd like to correct," she says. "There's a lot of opportunity for life and connection within these four walls, and that's the joy that I have in my job. We're not cowering in fear because there's a pandemic, we still have a vibrant community life."
Sponsored