Submitted by Solstice Senior Living
It was a brisk sunny March day in 2019 and Caleb Remington was driving home on Old Fairhaven Parkway when he almost literally ran into Jack Dukes.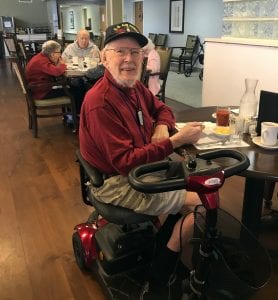 Jack had recently moved into Solstice Senior Living and was taking his dog, Maxie, out for a stroll in his motorized scooter and ran out of battery power right in the middle of the street. Caleb jumped out of his truck and came to Jack's rescue and that began a heartwarming friendship between the two men.
The 50+ years in age difference between them only makes this friendship more touching. Caleb had grown up around elderly people and has a special place in his heart for them. Jack had just recently lost his wife of more than 50 years and was starting a new life in an apartment at Solstice.
The two men began enjoying lunch outings and evening barbeques at Caleb's parents' home. Caleb helped Jack get his finances in order after becoming victim to a couple of internet scams and shopping subscriptions he'd inadvertently signed up for. He also began the process of working with Patriot Angels, an agency recommended by the staff at Solstice, to get Jack qualified for his Aid and Attendance Pension offered to retired Veterans through the VA.
When the pandemic hit, Caleb and his girlfriend, Alex, both out of work, reached out to Solstice to see how they could be of the most help to our seniors. With everything being shut down in the beginning, including the Solstice shuttle bus, the residents needed a way to get their personal essentials from the grocery store. Caleb and Alex stepped up and began a shopping schedule for folks at Solstice.
The residents would fill out a form of the things they needed and every Friday, without fail, Caleb and Alex went shopping for them. They spent their own money and were reimbursed after the shopping trip from the receipts. They take no money for themselves and are doing it out of the kindness of their hearts. 
Every Friday, they roll in and drop off 20 to 30 bags full of essential items for the residents and staff delivers them to the apartments, keeping all safe from possible outside sources of the virus. This arrangement has made all the difference in the lives of the seniors who are most vulnerable to this virus who still need items from the outside world.
"I am so thankful for the service Caleb and Alex are providing," says Aggie. "Not only do they bring my much needed essential items, they've also taken me to a couple of important doctor's appointments, which was a comedy routine at best when Caleb showed up in his lifted truck and we had to get a stepstool so I could get into the passenger seat. Everyone needs a purpose in life and a sense of humor, luckily he was blessed with both."
With the restrictions loosening up, Caleb has taken Jack on a couple of fishing outings and had Jack over for a big thick steak, one of Jack's favorite meals. The world needs more young people like Caleb and Alex and the residents at Solstice are glad to have them as part of their world.