As a memory care facility, The Bellingham at Orchard is always looking for ways to help provide the best possible lives for the patients in their care. Health care, nutrition and exercise take care of the body, but the staff also strive to connect to their clients' hearts and minds. Their creativity recently led to a unique situation: one resident now offers Tai Chi classes.
Joe Liao was born in Taiwan, and has lived in the Pacific Northwest for the last couple of decades. He now resides at The Bellingham at Orchard, where Jan Higman spends most of her time as marketing director—and, now, a little time as a Tai Chi student.
"Joe started learning the martial arts at age six in Taiwan, and then later served in the Taiwanese army," Higman says. "He immigrated to the United States where he opened a studio in Burlington and taught Kung Fu, Tai Chi and Chinese language and culture for 20 years."
Dementia erases short-term memory, but leaves some older memories is place. In Joe's case, he became less and less comfortable speaking his second language, English. "This is true with a lot of people with dementia; they'll revert back to the original language they grew up speaking," says Higman. "We're fortunate that we've just hired a caregiver who speaks fluent Mandarin; she's been doing a lot of communicating with him, which I'm sure has helped the isolation he's been feeling."
People from outside the facility also play a large role in keeping loneliness at bay. Joe's friend Laure used to regularly come visit and take him outside the facility. When COVID hit, they started doing video conferences three times a week. "One of the things he really like to do was Tai Chi, so we would play music and start going through the Tai Chi motions and the movements," says Higman. "So Laure said, 'What if we played music, and he was in the community room and he could see us outside the window?'"
A whole new, one-of-a-kind Tai Chi class was created. At first, it was just Laure, and now as many as four or five people join in. "I can'teven begin to describe how much of a positive impact it's had for Joe," Higman says. "Being able to teach his class and live his purpose again has been so wonderful for him. You can see how much it's had an impact on his mood—he's come alive again."
Higman extends an invitation for anyone in the community to join in. "We do the class two times a week: every Monday and Friday at 2:00 p.m. I think it would be great if anybody from the community wanted to come and participate." The Bellingham at Orchard is easy to find, just north of Cornwall Park, within sight of Guide Meridian.
A lawn outside the large window makes it easy for folks to participate while maintaining a responsible distance, and a very welcoming atmosphere from the regular class members. Although Joe is a master of the form, the focus is on well-being and not perfection, making it a great environment for beginners, as well. "People wear long skirts or shorts or yoga pants—whatever they feel comfortable in," Higman says. "Even if you don't know anyone who lives here or anyone who has dementia—or maybe you do—helping them feel they have purpose is one of the most important things you can do."
Laure Brooks, the woman who helped bring all of this together, first met Joe in 2004, after moving to Anacortes. She'd hurt her back and a physical therapist recommended neck surgery, which she didn't want to go through. She was told to look into Tai Chi or acupressure, and that's how she found Joe. Her appreciation for Joe is evident as she talks about taking his Tai Chi classes and getting to know him. "That's when my life changed," Laure says. "I've never had to have back or neck surgery because I found my proper alignment, and this practice of healing the body through movement and awareness."
It's fitting to see someone who has spent so much of his life teaching can continue to offer classes. And it's also heartwarming to know his students are able to give back to him in such an immediate way. "A lot of people from Skagit County, Whatcom County and even island County know Joe through his teaching," Laure says. During a time when everyone feels isolated and separated, she says, Joe is able to lift their spirits.
"He's doing well because he's expressing himself and helping people," Laure says. "This is his whole mission in life: to help people be healthy and happy, and be kind and do their best. It's helping him, but it's also helping me and my friends, his students from his past, and his new students now."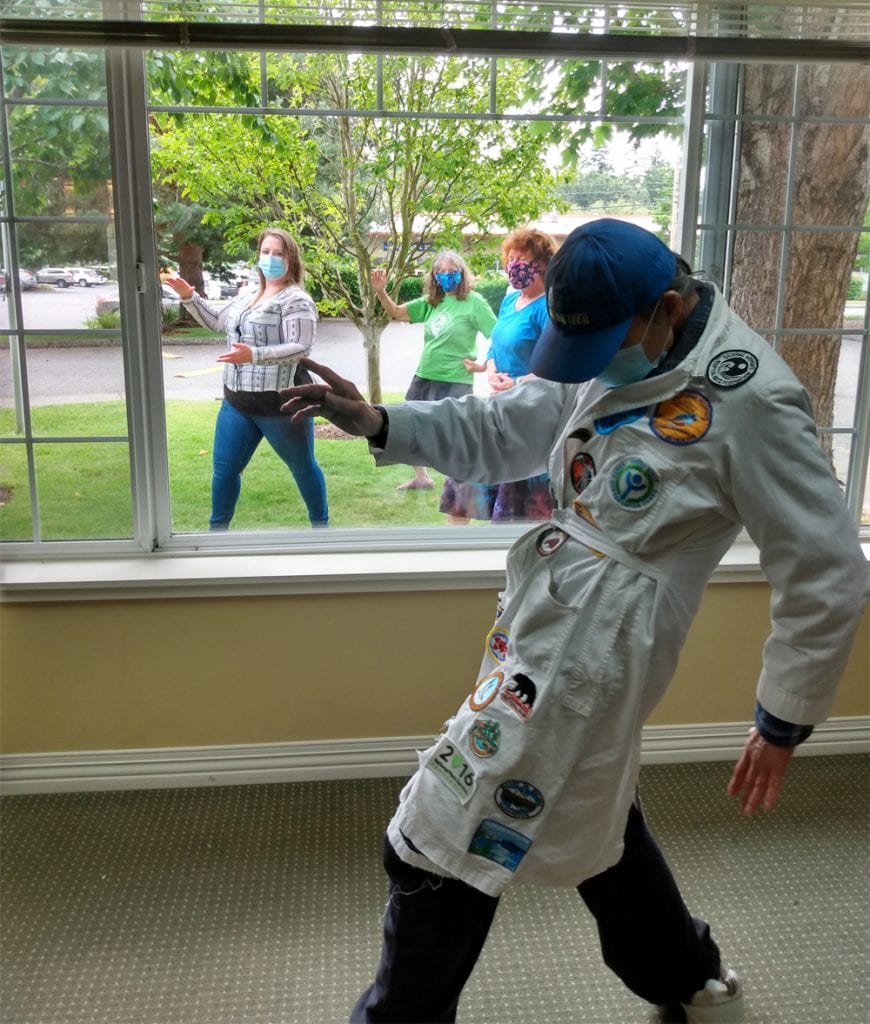 Sponsored