Submitted by EverStrong Therapy
Starting July 20th, EverStrong Therapy will now be offering outdoor physical therapy sessions at their Fitness Evolution location. These open air sessions will be held under a tent to the side of the building entrance and provide an alternative to indoor clinic visits to accommodate those who are nervous about circulated air environments.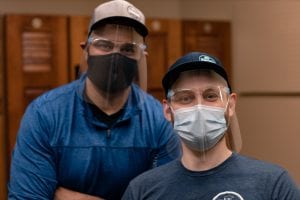 EverStrong Therapy is a small, local clinic based out of four local Bellingham gyms: Fitness Evolution, Anytime Fitness (Barkley Village), Crossfit X, and Training Grounds. After almost 10 years of working in the industry, Owner and Physical Therapist Dr. Amar Parekh wanted to explore new ways to improve patient care and provide a better overall experience to patients without sacrificing quality and expertise. The partnerships with the local gyms allow EverStrong Therapy to provide more options to their patients because each location has its own set of special features.
Dr. Henry Curme is currently the primary on-site Physical Therapist at the Fitness Evolution location. Curme explained that right now people need to be able to exercise their options: "We know everyone has their own level of comfort about resuming activity during this difficult time, and we want to do what we can to meet people where they are."
The location is covered; however, during heavy rain and high winds, outdoor appointments may not be available due to safety concerns. Because weather in Bellingham is predictably unpredictable, should an outdoor appointment need to be cancelled due to inclement weather, EverStrong Therapy will waive any last-minute cancellation penalties.
First-time patients may book an indoor or outdoor New Client Consultation at no cost.
To book an outdoor physical therapy session, call EverStrong Therapy at (360) 389-3581 or reach out via direct message on social media.
To learn more about EverStrong Therapy's services, visit everstrongtherapy.com or email info@everstrongtherapy.com.
To read EverStrong Therapy's COVID-19 Policies and Procedures, visit https://everstrongtherapy.com/covid-19-policies.