Dr. Sawyer and his staff are on a mission. Their hard work and determination are marked by a bright and colorful office where clients are treated as family—and an abundance of smiles. And those smiles are of the utmost importance, because they're the measure of success at Bellingham Pediatric Dentistry.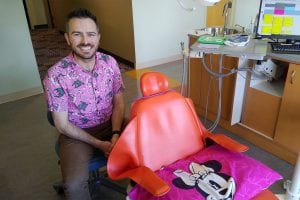 Though he grew up Illinois, Dr. Sawyer long had the Pacific Northwest on his radar. "I grew up in Springfield, visiting family in Alaska, and always knew I wanted to end up in the Pacific Northwest," he says. "I met my wife in undergrad, and her mom has been in Bellingham for 12 years, so she introduced us to the area when we visited her."
Before the couple settled down, though, Dr. Sawyer had more schooling to do. "I graduated dental school in 2014 in Chicago, and early on in my dental training, realized I didn't like working with adults—I liked working with kids," he says. "I'm the third oldest of nine kids, so I've been around kids my entire life, and that's really what pushed me to want to go into pediatrics. I was lucky enough to get into a residency at the University of Washington, at Seattle Children's."
The two-year program led to a certification in pediatric dentistry and a master's degree in dental science, followed by a short break. "My wife and I took two months off and toured Japan, hiked in the back country in Alaska, and then moved up here in late summer of 2016," Dr. Sawyer says. "This practice had been open since 1995, and the dentist was ready to retire; we worked together for about a year, and then I bought the practice in 2017. I've been loving it ever since."
Dr. Sawyer's specialty is very personal to him, and his goals are very clear. "I'm a pediatric dentist and still get nervous in the dental chair." He had a mouth full of cavities as a child and a facial abscess because a tooth died.
"I've been there, I know what that's like, and it's no fun," he says. He's determined to change that paradigm for every patient. "I like to be involved with my families, and that means I get to sit down for 10 minutes and talk to them, really get to know the kid, and make that experience positive."
Early intervention is a large factor in Dr. Sawyer's success and he prefers to see patients at their first birthday or first tooth. "By seeing a dentist before the age of two, there's something like a 40 percent decrease in the chance of cavities," he says. Dr. Sawyer feels so strongly about kids being seen before the age of three, he created a "Free Until Three" program. "I don't care if you don't have insurance. I don't care where you're coming from. We have a set time on a set day where I see a number of patients, and you're free until you turn three."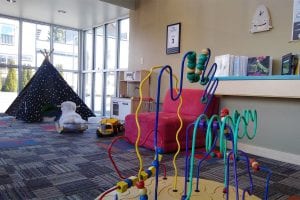 He also specializes in procedure that release tongue ties, or ankyloglossia. This is caused by a band of tissue that tethers the bottom of the tongue to the mouth, and when it's too restrictive, can affect speech and breastfeeding, among other things.
"I work with the Bellingham Center for Healthy Motherhood, and Lisa Follet at Rumina Lactation. She does in-house lactation care, and I see a lot of her families. I'm the only person in the county who does it," Dr. Sawyer says. So rather than driving to Seattle for weekly appointments, they can have the work done here. "It's really satisfying working with the mom and baby, helping them increase their chance of breastfeeding, if that's part of their goals."
Dr. Sawyer has brought yet another service to the area: zirconia crowns for children. "A lot of children will need crowns for cavities that are on multiple surfaces, or too big for a filling," he explains. "Historically, the best treatment was silver, stainless steel crowns. But when I had my daughter, I thought, 'I don't want her walking around with silver teeth,' so I started doing white crowns."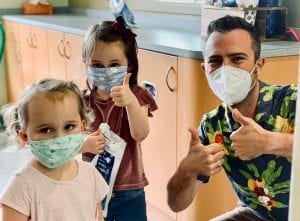 Along with the inspiration from his daughter, his wife, Audrey, has also had an impact on the practice. "When I took over, this office had no online presence; the business cards were different than the letterhead, which were different than the signs," he says. "Audrey did a whole identity overhaul."
She also designed a very specific prescription pad for Dr. Sawyer to use. "I can write a prescription for ice cream at Mallard, for hard appointments or getting a tooth pulled," he says with a smile.
All the hard work pays off when Dr. Sawyer can see his devotion to his patients pay off. "I still have kids who have come to this office for 20 years," he says. "I don't just see them as my kids; I see them as young adults with a healthy smile and no dental fear or anxiety. We focus on that experience, we focus on that relationship."
His pride in the practice—and his staff—is palpable. It's also well deserved. "I love all my families," he says. "I love what I do. I really feel like I lucked out."
---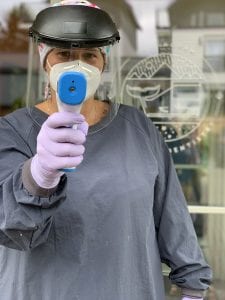 Bellingham Pediatric Dentistry was closed except for emergency services during the earlier phase of the COVID-19 pandemic, but re-opened on May 19th.
Though infection control has always been a top priority for the practice, many changes have been instituted. Please read more here about enhanced precautions, adjustments with scheduling and office procedures put in place to better protect each patient and the Bellingham Pediatric Dentistry team.
Sponsored