The first year the Tumwater Shadies participated as a Ski to Sea team was either 1993 or 1994; there's some (friendly) disagreement about that among its founding members. But an indisputable fact is that they've now traveled to Whatcom County together every May to compete in the storied event for going on 30 years—until 2020, when COVID-19 ground the race to a halt.
Right after the race cancellation, Greg Rabourn thought the team might still be able to get together on Vashon Island, where he and wife/teammate Mary live. "I had an alternate course with seven legs all planned out," he says. "However, as the COVID-19 situation remained grim, it was clear that getting together would be dangerous and irresponsible."
All of the 2020 team members—Greg, Mary and Kira Rabourn; Gregor and Hollie Myhr; Dan and Kati Jones; and Aubrey Nelson—understood that it was necessary to cancel. "Whatcom Events absolutely made the right call cancelling the race," says Greg. "But I can't wait to race next year!"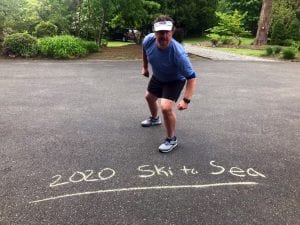 The crew gathered together virtually to plan their 2020 events: four legs would be completed in Olympia, one in Seattle, and two more on Vashon Island.
"We have such a solid group of teammates; when a good idea is thrown out there, everyone is up for the task," says Gregor. Technology made it easy for them to connect virtually, honor the race and carry on with the annual tradition. And it didn't hurt that the team has become adaptable over its many years. "Nearly everyone on the team has performed multiple legs over the years."
"It's become a full-on family and friend history and timeline," says Mary. "People have dated, married, missed being the maid of honor because of race day changes, divorced, had children…" Parents and grandparents have been involved in the annual celebrations, as well.
Some fluctuations in the team have occurred over the decades. "Friends have been recruited and wandered in or out of the race," Mary continues. "But all our kids grew up knowing what they were doing every Memorial Day."
The memories they've created on these holiday weekends spent together are invaluable: a giant flock of herons feeding on the beach, phosphorescent waves at night, sneaking a photo with the trophies to make it look like the Shadies had won the race. "And going from athletic youth to athletic (in our minds) aging parents," Mary says. "I think we're firmly in the masters category now—which is a tough category!"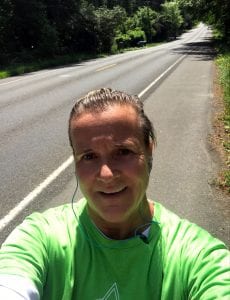 "We had a night-before Zoom meeting to go over everyone's legs and how they mimicked the real course," says Dan.
The team kicked off race day with a group text message. "I think we started a little later than traditional start," says Gregor. "For the first time in 28 years we avoided a 4:30 a.m. wake up!"
Unlike the traditional Ski to Sea events, some legs overlapped. Everyone shared fun photos throughout the day.
"Living on Vashon Island made it pretty convenient to complete the two water legs," says Greg, who kayaked; wife Mary raced the canoe leg, alongside their daughter. "Kira was home from Western Washington University and made her debut in the canoe. This was the first time in her 21 years that she didn't attend the actual Ski to Sea."
Kati Jones completed the run, while her husband Dan took on the cross country ski leg. "While pushing the limits of my cardio abilities," says Dan, "I realized how much harder it is to get into race pace with no other racers there to compete with."
Dan is the only team member to have raced seven individual legs over the years, but Gregor is on track to hit that goal at the 2021 race.
Gregor did the downhill ski, which involved him hiking up a steep logging road to get to the starting line. "My wife peeled out in some loose gravel and left me in a cloud of dust as I was climbing up the hill with skis on my shoulder," he says with a laugh.
Aubrey Nelson completed the road bike leg of the race.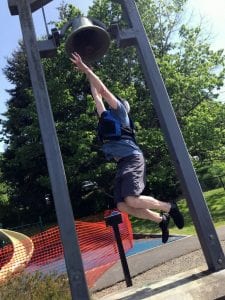 One of the biggest Ski to Sea traditions, of course, is the ringing of the finish line bell. The Tumwater Shadies always gather as a team at the finish to welcome in the kayaker and celebrate. "It's an emotional moment," says 2020 kayaker Greg, "when we're all reunited and can start sharing stories from the race.
Greg and Mary kept the tradition alive, with Greg finishing his kayak leg at Dockton Park on Maury Island, which is connected to Vashon Island. The historic Dockton Bell hangs there and was a suitable replacement for the Ski to Sea bell.
"It felt great to get outside, get the pulse going, cheer on our teammates, and capture the spirit of the race," says Gregor.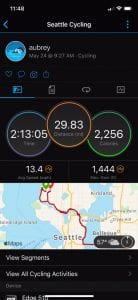 For Mary, a favorite moment was paddling the canoe with daughter Kira—the first Tumwater Shadie offspring to participate in the race. Mary enjoyed paddling for many years with Adam Stocks, Hollie Myhr's brother. "He's a fine and very strategic person to spend 2 hours and 20 minutes steadily paddling with," she says, "but it was cool to spend some time paddling with my daughter—and without chasing down other boats!"
Dan and Kati Jones also envision their kids growing into avid Ski to Sea racers—someday. ""The annual event has become part of our family tradition," Dan says, "and I hope our 8-year-old twins will participate in the future."
Greg admits that the virtual version was no substitute for the real Ski to Sea weekend—but it did keep the longstanding Tumwater Shadies Ski to Sea attendance record going.
"It was still great to virtually get together, break a sweat and share race stories and memories," he says, which they all did in a post-race Zoom session. They shared anecdotes and laughs from their day—and of course discussed 2021 race strategies for when they're all back together in Bellingham.
Featured photo of Hollie Myhr, who completed the cyclocross biking leg
All photos courtesy of the Tumwater Shadies