The continuing COVID-19 pandemic has brought about many changes to daily life, including at the doctor's office. Healthcare providers at Bellingham's PeaceHealth Medical Group Clinic sites are taking steps to keep both themselves and their patients healthy.
Doctor Jim Bochsler, who's worked as a pediatrician in Bellingham since 1998, is also the medical director of PeaceHealth Medical Group Northwest Network. Dr. Bochsler says that perhaps the biggest change to daily healthcare right now is the expanded use of telemedicine appointments, replacing office visits with videoconferencing. Dr. Bochsler says about 10 to 15 percent of his pediatric appointments have gone digital, and about 15 percent of all visits for Bellingham PeaceHealth providers are now virtual. Feedback from providers and their patients, he adds, has been positive.
"We think that, in the future, patients are going to like this enough that we'll be moving up towards 20 percent of visits done virtually," Bochsler says.
Still, virtual visits don't work for everyone. While some patients may struggle with operating the necessary technology, others insist on the traditional reassurance that face-to-face visits bring. And even more importantly, any visits dependent on a physical examination, measurement of vital signs like blood pressure or pulse, or certain lab tests, necessitate a patient be seen in-person. Doing a skin biopsy or listening to a patient's lungs to detect pneumonia, Dr. Bochsler says, can't be done through a screen. The same goes for hemoglobin/A1C testing, or pediatric wellness exams.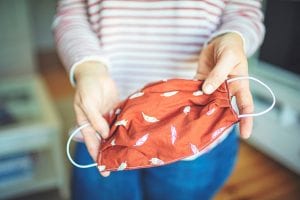 In these cases, PeaceHealth has implemented several steps to reduce the chances of spreading COVID-19. This includes screeners at all clinics to conduct temperature checks and ask patients if they have any COVID-19 symptoms. The screeners are usually either directly inside a building entrance, or possibly outside on a particularly nice day, Bochsler says. They'll also provide visitors with masks if they do not already have them. While wearing a mask, please observe proper etiquette.
The physical layouts of clinics have also been changed, creating separate waiting areas for those without COVID-19 symptoms or concerns, and for those who may have contacted it. In facilities with less than two waiting rooms, anyone with a fever or other COVID-19 symptoms will quickly be taken to a private exam room, ensuring they are confined from others.
"We've worked very hard to decrease the time that anybody would spend in a waiting room," Bochsler says. "We've separated those rooms so that we do not have patients who are sick waiting in a waiting room in our public buildings."
Public areas are also being cleaned and wiped down more frequently, and extra hand sanitizer stations have been set-up. Refills are, as one might imagine, occurring a bit more frequently than normal.
"We feel like we've done a very good job of making our clinic spaces as low-risk as possible," says Bochsler.
Finally, it's important to remember that necessary care—especially of chronic health conditions—shouldn't be put off because of COVID-19 concerns. About a month into the pandemic, Bochsler says PeaceHealth St. Joseph Medical Center had a slight increase in emergency room visitors with chronic heart and liver issues. Many of them had been delaying the normal timing of doctor visits out of fear, which caused them additional problems.
"We don't want anybody to be in the hospital unnecessarily at any time," he says. "Especially now, during a time when COVID is in our community."
Elective surgeries—defined as any procedures that could be put off for 90 days without clinical harm to patients—are now allowed again, having been initially halted by Governor Jay Inslee's statewide Stay Home order. All patients are screened for COVID-19 prior to surgeries, ensuring safety for both medical providers and best care for the patient.
"If a patient needs a procedure for any clinical issue, and is ready and in good shape to have that procedure, whether diagnostic or therapeutic, we can get those done," Dr. Bochsler says.
For those at high-risk of complications if they contract COVID-19, Bochsler says it's best to talk with your provider about the pros and cons of having a specific procedure done now, versus waiting several months. And whether you have questions about COVID-19 or other specific health issues, Dr. Bochsler says that contacting the providers you've come to trust is always a great idea.
Regardless of what's happening with COVID-19, know that PeaceHealth is doing everything they can to ensure you continue getting the medical treatment and services you need to stay healthy during these uncertain times.