In spring, Bellingham abounds with vibrant color and community. Bellingham Parks and Recreation helps cultivate this seasonal reverie with their literal garden variety of green public spaces.

Bellingham's public gardens range from parks to plots. In the neighborhoods, garden parks such as Gossage Garden, Cornwall Rose Garden, and Big Rock Garden Park complement urban and natural surroundings with their intricate designs.
"They offer a little bit more of an organized and curated space within our regular parks system," says Parks Development Manager Nicole Oliver. "But they also require more careful maintenance, and that's why there's often volunteers that help us take care of them."
On the flipside of curation, community gardens allow residents to transform land in the City's care.
"The community gardens are a great way for people to rent a plot of land that's sunny," Oliver says. "They have access to compost and water and fences to prevent the deer from coming in and they can create their own individual and unique garden each year."
Whether you wish to see, smell, or sow gardens, the City of Bellingham provides many meditative yet lively public spaces to enjoy.
Gossage Garden
"Gossage Garden is really an improved right-of-way that was adopted by the Lettered Streets neighborhood," Oliver says, adding, "It's just a pretty little corner that has some flower beds and it just kind of beautifies that main intersection."
Park steward Judy Buchanan established Gossage Garden between Cornwall Avenue, Alabama and F Streets in 1993, commemorating Lettered Streets pharmacist Glen Gossage. The pocket park's flowers, drinking fountain, and donor bricks have made it popular for casual gatherings and the Ski to Sea Parade.
"Gossage Garden is definitely a neighborhood function of the Lettered Streets Neighborhood Association," says Oliver. "We have work parties there, as well, to help with weed control and maintenance."
Gossage Garden volunteers include Girl Scouts, Boy Scouts, and Whatcom Community College service-learning students. It has won first, second, and third in the Whatcom County in Bloom garden contest.
Big Rock Garden Park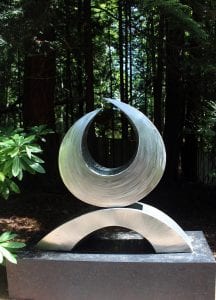 Silver Beach neighborhood's Big Rock Garden Park is Bellingham's largest garden at 2.5 acres. George and Mary Ann Drake started the sculpture garden in 1981, donating it to the City in 1993. Today, Big Rock Garden displays 37 sculptures from locally- and internationally-renowned artists.
"Spring in Big Rock Garden is exceptional because of the rhododendrons and azaleas that are all in bloom," Oliver says, adding, "Due to the sculptures, there's also really a botanical garden experience in that park."
Big Rock visitors can wander winding paths through evergreens, 100 Japanese maple species, and a Wildlife Friendly Garden of native prairie plants. Volunteer organization Friends of Big Rock Garden maintains plants, sculptures, and the park's Mother's Day celebration.
Cornwall Rose Garden
Between Illinois Street and Cornwall Avenue, Cornwall Rose Garden celebrates the United States' national flower. Visitors can see climbers, floribundas, grandifloras, and hybrid teas in bloom. The City of Bellingham encourages visitors to leave roses for others' enjoyment.
Cornwall Rose Garden began in 1916, complementing the former Fairhaven Rose Garden from 1917 to 1998 until deer forced the latter's closure. A longstanding part of Cornwall Park, Cornwall Rose Garden is beloved by the community.
"I think they've rotated down people who maybe live nearby who've helped care for the roses and pruned them," Oliver says. "But I know our staff also has a couple people who are really devoted to that garden."
Community Gardens
For residents interested in growing their own gardens, the City of Bellingham offers 195 community garden plots: 34 in Fairhaven, 97 in Happy Valley, and 64 in Lakeway.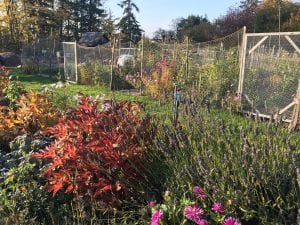 "They either can grow flowers or they can grow vegetables for food," says Oliver. "It's kind of a way to express yourself and connect with the other people who have left plots around you. There's lots of camaraderie. They do joint work parties, and each garden has a garden organizer that helps troubleshoot problems."
The City provides mulch and 10′ x 20′ plots, ideal if you lack space or sunlight to garden at home or simply want company. Registering requires only a waitlist placement and small fee.
Community gardens have grown community bonds. Many have donated to Bellingham Food Bank, near which Northwest Youth Services leases We Grow Garden—teaching gardening to youth from Options High School and other support networks. The City supports many burgeoning gardens as they arise in the dirt.
"They're a really popular community asset," Oliver says, "and it's a pretty affordable way for people to enjoy gardening."
Growing a Brighter Bellingham
Gardens of all kinds flourish with love and care. To help maintain garden parks and others, Bellingham Park Stewards can adopt parkland.
"All over our park system we welcome park stewards, whoever they may be, who are committed to helping us care for the park system," says Oliver. For community gardeners in search of resources, Oliver recommends Washington State Extension for its map and garden list.
By heeding Bellingham Parks and Recreation's rules and regulations, we can all do our part to keep public gardens beautiful.