If you've been feeling a bit overwhelmed by the news lately, you're certainly not alone. COVID-19 has changed headlines and lives in a matter of months, and good news can be harder to come by. However, here in Bellingham, Rosewood Villa has been active and involved in preventing the spread of COVID-19 in their community, as well as ensuring that their residents still enjoy active and socially engaged (yet distant!) lives.
Rosewood Villa provides independent living and assisted living in Fairhaven. Their website states: "Our community has enjoyed decades of serving seniors while providing support to cherished loved ones. We strive to always be kind, serve others with joy, inspire respect, live with honor and continuously improve." They are founded on the belief in the "infinite worth of each individual" and practice that mission in every aspect of that care.
So when the COVID-19 public crisis began to make waves in the United States, their Executive Director Melinda Herrera was prepared. "We had an employee test positive," Herrera says. "The Department of Health came in with an evaluation, we followed all the recommended procedures, and we had zero spread."
Herrera herself reached out to the Health Department to request evaluation and support, and has worked closely with them during the duration of the public health crisis. "We beat the odds by following the guidelines and recommendations," she says. Since that employee's positive diagnosis, not one other person at the facility has tested positive for the coronavirus.
In fact, the Health Department personally commended Herrera and her team for containing and managing what could have potentially been a dangerous situation.
In addition to risks associated with COVID-19, Herrera was also concerned about the way public health guidelines could affect other aspects of residents' health, well-being, and happiness.
"I recognized early on that if we were prepared enough to keep coronavirus out of the facility, it might be something else that would make our residents sick—boredom, lack of mobility, or isolation," she says. "We established a walking list; we get people out for walks once per day. We've been focused on hydration. We have activities to fight boredom, socially distanced activities to maintain distance but still remain engaged. We've been maintaining room checks to touch base with people."
Rosewood Villa Activity Director Dana Currie has been instrumental in helping residents thrive during quarantine, despite the inherent difficulties. Special moments and celebrations throughout the days and weeks go a long way. "Melinda [Herrera] and I go around once a month and bring coffee and donuts to their rooms and they love that! The big thing is daily walks; it's a game-changer for them. And bingo, of course! That goes without saying, if you know anything about an assisted living facility."
One unique feature of life at Rosewood Villa is Rosemary's Corner, a once-a-month store dedicated to a resident who recently passed away. "Her idea was that we have a little pop-up store, so we named it after her. It has things people might normally get from their family, and once a month we open the store for residents," Currie says.
Every other Tuesday, the beauty salon opens; Herrera and Currie give the ladies a wash and set and the gentlemen a little trim. "It gives them some one-on-one special time, and helps keep them feeling pretty and handsome," Currie says.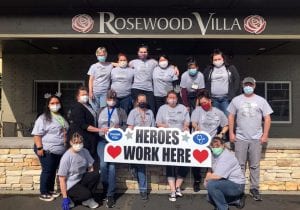 Residents also keep their inner artist going during quarantine. "The residents wanted to say thank you to the staff. So, on Good Friday, we took plastic Easter eggs, put a treat inside each one and sealed them closed with tissue paper and glue. When they were dry, we put them in a basket, with a lovely note from the residents and presented them to the staff."
Postcards are another popular craft. Residents color their postcards, write a note on the back to family or friends, and then they get mailed.
"The first week of May, we had Spirit Week for the employees, with Maui Monday, Tutu Tuesday, Wash Your Hands Wednesday, Tie Dye Thursday and Freedom Friday," says Currie. "While this fun and crazy week was meant for the employees, the residents loved seeing the staff run around in tutus or wearing leis. It's a great day when staff and residents are happy."
The Rosewood Villa team works compassionately and tirelessly to make sure residents feel love and support. "Right now, the employees are their family," Currie says. "We're always their family, but now we're their only family.
Mother's Day was really difficult. "Every lady here did receive a long-stemmed red rose, and we saw a lot of tears and happiness over it," Currie says. "We have a great team here. We work so well together. Our residents are always first. That's what keeps us going."
Rosewood Villa residents and staff are weathering the COVID-19 storm through Health Department recommendations, the belief in the infinite worth of every individual, daily walks—and a good game of bingo.
Sponsored