During "normal times," Bellingham's Gallery Syre bursts with color, energy, and a vibrant hum of conversation as art-lovers stroll amongst David Syre's paintings and sculptures. Everyone who enters the space leaves invigorated and moved by Syre's translation onto canvas of spirituality, travel, and nature.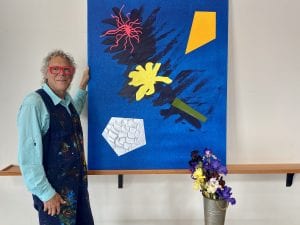 Of course, quarantine has changed the form in which the public can access Syre's art. With the gallery temporarily closed until public health authorities deem it safe to reopen, Syre has taken it to the virtual world to continue sharing his vision and work.
"It's very important to me to share what inspires me," says Syre. "Community building is so important during this time. Therefore, every two weeks, I send out an inspirational newsletter with reading, watching, Google suggestions, and updates about what I am doing. I would love to have more subscribe to it." (You can find the link to subscribe to the newsletter here.)
Syre's daily routine informs much of his art. He goes for a long walk in the morning, followed by an hour of yoga and/or meditation; he then paints for most of the day. Syre has made a significant number of new drawings and paintings in these weeks. Cooking is also an integral part of his routine, and he's always exploring new recipes and finding inspiration in different ingredients and flavors.
Syre's studio is on the farm in Everson where he grew up, where the land and Nooksack River provide a constant source of creative energy. "I am always inspired by landscape," Syre says. "Landscape that surrounds me where I live, as well as those that I discover when I travel." The farm is currently home to a vibrant and flourishing iris plantation, of which Syre is particularly proud.
Syre's appreciation of natural wonders extends beyond his front door. "I did a short trip in an RV through Black Rock Desert, where Burning Man takes place, and was particularly inspired by the vastness of nature and the silence," he says. "That part of the United States really impresses me." Burning Man is a festival that celebrates art, unity, oneness, and spirituality—all hallmarks of Syre's work.
Syre reads extensively on the Black Rock Desert, as well as on other subjects that fascinate him and inform his art, such as biographies of the Dalai Lama and Elton John. His cultural knowledge is further enriched by documentaries and films, including Seven Years in Tibet and the new documentary on Hilma af Klint.
His wide-ranging interests, curiosities, and sources of creativity are summed up in his belief that "We Are One."
"For me, COVID-19 attacked our planet, creating a significant increase in solitude, which provided for additional meditation, and then more living in the present," Syre says. He now has fewer medical appointments, no meetings, less traffic to tangle with, and no public dining experiences. "I create for love, forgiveness and compassion, all of which manifest themselves in We Are One. As all of us globally, through the COVID 19 pandemic experience, are more engaged in prayer/meditation we naturally become more We Are One."
Syre's inner world is a deep well of inspiration for his art, and meditation and mindfulness practices have brought forth an intuitive style of painting that has generated international renown. His art has found a home in Bellingham as well as across the globe. He's shown in Nice, France; Santa Fe, New Mexico; and Buenos Aires, Argentina, New York; Hamburg, Germany; Copenhagen, Denmark; and Miami, Florida.
In this time of physical distancing but increased interconnectivity, Syre's art speaks to the moment in new and profound ways. For those wishing to explore Gallery Syre's current exhibition, it's available for virtual touring here. The images and videos will take the viewer to openings in Copenhagen, Hamburg, the expansive deserts of Nevada and, of course, beautiful Bellingham.
Online gallery-goers can see expressive dynamic images from Syre's extensive body of work in the virtual tour. It's a wonderfully enriching experience that can be enjoyed by art-lovers of any age.
As quarantine goes on, Syre continues to draw and paint—always with the love, compassion, unity, and understanding that are at the heart of his work and life.
Sponsored