Eighty years ago this year, local home appliance retailer Judd & Black Appliance opened its doors.
Since those very first days, their mission has been to give back to the community. In the wake of the coronavirus pandemic, the family-owned store decided to use their 80th anniversary celebration to honor that original mission.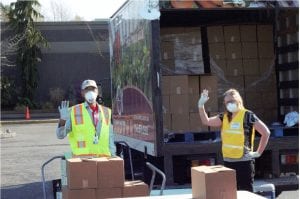 From April 16 to May 10, Judd & Black donated $10 from each appliance order to five area food banks. The donation campaign raised $15,000, which was split evenly between the five locations: Bellingham Food Bank, Volunteers of America Everett Food Bank, Lynnwood Food Bank, Marysville Community Food Bank and Skagit Valley Neighbors in Need.
"It goes along those lines of our history and the spirit of our company," says Rachael Sylte, marketing director for Judd & Black Appliance. "It's very important for us to be good neighbors and practice what we preach."
Judd & Black Appliance is considered an essential business, so they have been able to remain open and keep all their employees throughout the last few months.
Having opened during World War II and weathered numerous economic downturns since, this is not the first time the company has faced hardship. Sylte attributes part of Judd & Black's longevity to continuous support over the generations from the community.
They have customers today that are loyal patrons because their grandparents also bought from Judd & Black, Sylte says.
"That's part of the reason we did this donation, to give back to celebrate our 80th anniversary," says Sylte. "Without community support, we wouldn't be here."
The Bellingham Food Bank, one of Judd & Black's donation recipients, says the same thing.
"Our community really does power us," says Kristin Costanza, communications coordinator for the Bellingham Food Bank. "Not every county, not every city experiencing the pandemic is able to lean on their hunger relief efforts the way Bellingham and Whatcom County can, and it really is because people care and are working hard in risky environments to get people what they need. We are proud and grateful to be a part of our community."
Since the outbreak of the coronavirus, visitors to the Bellingham Food Bank have increased by an average of about 10 percent. They anticipate the longer term increase in visits to be even higher, Costanza says.
Monetary donations like the one they received from Judd & Black Appliance are especially helpful right now in supporting the food bank to continue serving the community. Before the pandemic, the food bank used to get over half of its food supplies from grocery store overflow, regularly picking up extra food from local stores. That's no longer an option, so they're replacing that food by purchasing it, often from the same suppliers that large grocers and chain retail stores use.
"It has always been true that we value monetary donations and that we can use them differently than donated food, but now especially, to try to be a competitive food purchaser in the food flow of our nation—it's such a big deal," Costanza says.
Judd & Black Appliance opened as Judd & Black Electric Company in 1940 in Everett. The founders, Wayne Judd and Don Black spent the first five years or so in the appliance-repair business. Because of World War II, no new appliances were being made.
In 1946, they hired an apprentice named Bob Long, who would go on to purchase the company from Black in 1976. Long's family has owned and operated Judd & Black Appliance ever since, now under the fourth-generation of Long family leadership.
Over the years, the company moved from appliance repair to home electrical work and finally to selling home appliances. By the 1960s, Judd & Black was one of the largest independent appliance sales and service companies in Washington state.
From the generations of Longs who have run the stores, to the broader communities in Western Washington in which they serve, community is the lifeblood of Judd & Black Appliance.
As the world and the country try to find their way out of this pandemic, it's helpful to zoom in to the smaller picture, to see how people are helping each other on a community scale, by supporting local businesses like Judd & Black Appliance who are able to turn that into donations that cycle back through their community.
Sponsored