Submitted by: Whatcom County Community Face Mask Team
Men and women across Whatcom County are turning fabric into face masks to support frontline healthcare workers and emergency responders who've run out of personal protection equipment (PPE).
"We're hoping to fill a gap until supplies of N95 masks can catch up with demand," says Bonnie Southcott, co-founder of the Whatcom County Community Face mask Team Facebook group.
This is the time. We are the ones.
Southcott says the group started with a single Facebook post asking her friends if anyone could help make masks. Four days later that simple request had morphed into a group of 130 members (and counting).
"I think people are desperate to do anything that will support our healthcare workers during this crisis," she says. "It's unthinkable that those on the frontlines of the pandemic won't have what they need. We are all feeling helpless right now. This is a way to make a difference."
While homemade fabric masks can't replace the N95 surgical face masks typically used by healthcare workers, the Centers for Disease Control (CDC) has deemed fabric masks as a crisis response option when other supplies are exhausted. That's why the group, along with a handful of others in Whatcom County, are quickly working to the fill the face mask gap that is already happening.
Reliant on Community Partners
Brio Laundry is partnering with the Whatcom County Community Face Mask Team to ensure that the masks are clean, sanitized, pressed, and bagged prior to delivery to Whatcom County healthcare workers. Ragfinery has also donated materials to the effort. When the group ran short of elastic, one of the volunteers tapped a Los Angeles distributor to provide—at wholesale prices—enough 1/4-inch elastic to make about 20,000 masks. They expect the elastic to arrive by the end of the week.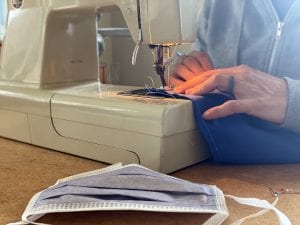 "I hope we won't need 20,000 masks here, but if we do, we'll have them," says Southcott. "And if we don't need them all, fantastic! We'll send the overflow off to the next epicenter. Nobody's time, effort or material will be wasted."
Want to Help?
Whatcom County is already running short on N95 masks. Making a fabric mask is relatively easy and the group's Facebook page has video tutorials to walk you through the process. The best type of fabric to use is tightly woven, 100% cotton. For example, sheets make good masks. For more information, visit the Whatcom County Community Face Mask Team Facebook page at: https://www.facebook.com/groups/557382565184843/.
Photos courtesy of Whatcom County Community Face Mask Team