The Washington Interscholastic Activities Association handed out its academic state championships for the winter sports season, and no school took home more hardware in the 2A classification than Sehome High School.

The Mariners were named state academic champions in dance and drill, gymnastics, and boys wrestling to join Sammamish as the only schools in the 2A ranks with three state titles.
"It shows how dedicated and focused these kids are. They value their academics and their team and keep priorities straight," says Sehome Athletic Director Colin Cushman. "We have incredibly disciplined, hard working student athletes who understand that they need to prioritize academics and doing what is best for their team over social life. I am very proud of all our student athletes here at Sehome."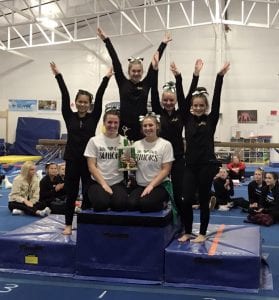 The Sehome gymnastics team, coached by Stephanie Mullins, had a collective grade point average of 3.954 among its six athletes, giving the team the highest GPA among all 2A winter sports teams and the fifth highest in the state regardless of classification.
The Mariners gymnastic team consisted of seniors Blakely Bornstein and Janae Wilson, juniors Janae Karr and Martina Klecka and sophomores Virginia Arthur and Drew Wheeler. Sehome placed sixth overall at the 1A/2A/3A state championships with the squad receiving top 10 performances in individual events from Bornstein (eighth, beam) and Klecka (10th, bars).
It marks the second straight academic state title for the gymnastic team.
Coached by Selena Arciniega-Storey, the 12-member Sehome dance and drill had an average GPA of 3.652.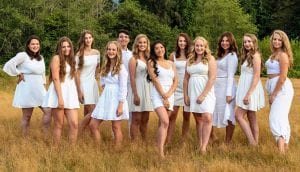 "Their achievement is impressive," Arciniega-Storey says. "This year's team is comprised primarily of third- and fourth-year members, so they have learned, over the years, how to manage their time, get help with academics when needed and be proactive about planning ahead when the practice schedule gets more demanding during competition season."
The Mariners' dance and drill team were led this year by senior captain Madison Dominguez and junior officers Maysee Russell and Rachel Lemmer.
"Another benefit of having many seasoned team members this year is that the team has grown to know and understand how to work well together and support each other," says Arciniega-Storey. "They're a close-knit group and you kind of have to be when you spend so much time together. We have an amazing student leadership team."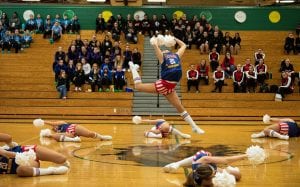 Sehome, which finished second in state academically last year, also featured junior Makena Miller and sophomore Ashlyn Karn, who focus on team culture.
"About twice a month they initiate team discussions or activities on various topics such as responsibility, motivation, time management, respect and positive mindset, to name a few," Selena Arciniega-Storey says. "It's been rewarding to see these students blossom both as individuals, as well as a team."
Rounding out the Mariners competition dance and drill team is senior Fiona Dent, juniors Ashley Nava, Lea Borgesen and Gabriel Colman, sophomore Iris Hicks and freshman Sierra Hawes.
"[We have] a strong foundation and [the seasoned] members set a positive example for the younger members," Selena Arciniega-Storey said. "Everyone is a contributor and supportive of each other."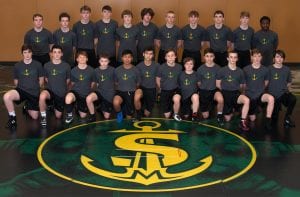 The Sehome boys' wrestling team, coached by Scott Schroyer, finished with a GPA of 3.478. Team members included seniors Quincy Eggert (126 pound) and Patrick Neevel (132); juniors Kale Simpson (113), Roman Schroyer (132), Josh McCuition (145), Jarvin Castillo (145), Max Scofidio (152) and Cameron Morrow (160); sophomores Eli Bridgeforth (106) and Parker Gaggero (126); and freshmen Christian Hernandez (138), Christian Talbert (138), Jack Osterkamp (152) and Zach Mcgiverin (160).
On the mat, Simpson, who was the 2A sub-regional champion, and Roman Schroyer, the 2A Region 1 champ, both advanced to the state tournament with Schroyer placing sixth. The Mariners also had regional participants in Eggert and Morrow.
The scholastic awards program recognizes the team with the highest grade point average among all Washington high schools in their enrollment classification.
The academic state champions for winter include band, basketball, bowling, cheer, choir, dance and drill, drama, forensics, gymnastics, orchestra, boys swimming and wrestling.
The three academic state titles helped Sehome take the lead in the WIAA's 2A Scholastic Cup standings.
Through the winter sports season, the Mariners are first with a combined 825 points. Pullman is second with 755 points followed by Sammamish (645) in third and Bellingham (635) in fourth place.
Sehome is looking to capture the 2A Scholastic Cup championships for a classification record sixth consecutive year and a ninth time overall. Only 1A Kings (10 titles) and 3A Mercer Island (9) have more Scholastic Cups on their resume.
Sponsored by the WIAA, Dairy Farmers of Washington and Les Schwab Tires, the Scholastic Cup recognizes both athletic and academic performances throughout the year with schools receiving points from finishing in the top of their respective classifications in state athletic competition, as well as placing among the top 10 academically.