B-Town Kitchen and Raw Bar's Give Back Program does exactly that—it gives back to the community once a month by donating a portion of the day's sales to a chosen non-profit. Give Back is now in its second year.
This year, we kind of finessed it and improved on the structure that we had," says Matt Lesinski, Marketing Manager for the Four Points by Sheraton Bellingham Hotel and Conference Center. "Fifteen percent of our total sales that day, including alcohol, go towards the non-profit." The event lasts the entire business day, from 11:00 a.m. to 11:00 p.m.
Give Back started as a way to gain more local interest and involvement in non-profits. "Bellingham is a super small town, and Whatcom County has a small-town vibe. You work with who you know," says Lesinski. "If we're able to introduce someone to, say, Animals as Natural Therapy, awesome. It's that kind of ripple effect of doing one little thing and someone will carry that and talk to another person."
The program is the brainchild of the hotel's Food and Beverage Events Manager, Leslie Spurrier. "Four Points hosts a lot of major galas and is active in the community," says Lesinski. "We wanted to support that with B-Town. Leslie was able to curate and cultivate a lot of these relationships and really identify some of the organizations we feel we can really support." Spurrier works on the program in conjunction with David Archer, the hotel's Director of Food and Beverage and B-Town's General Manager, as well as Samantha Freeman, B-Town's Restaurant Manager.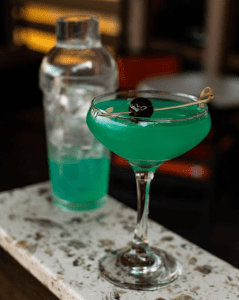 The group confirms which non-profits they'll work with on a quarter-by-quarter basis. February's recipient was Animals as Natural Therapy. Brigid Collins Family Support Center is the chosen non-profit for March 24 and Growing Veterans for April 21. Head to B-Town's website for more details on monthly partners. You can also make a reservation online for that evening, as it tends to get busy at dinner time. The next quarter of non-profits has not yet been announced, so check the website to stay informed of the partners as well as the monthly event date.
"The idea is that we want to have a turn-key fundraiser event that people just show up for—whether it's for the non-profit or if you just happen to stop in to B-Town and grab a cocktail, it will still benefit [the non-profit]," says Lesinski.
Smaller non-profits may not be able to afford galas or events, so fundraisers like this are a great fit those in need. Both B-Town and the Four Points are well-known in the community for their roles in local non-profit and fundraising work, and are proud to offer a regular, casual Tuesday night in Bellingham that also happens to help worthy causes.
Organizations are invited to set up a table in the restaurant to interact with the customers. "We encourage the non-profits to be here on-site for happy hour or the dinner rush," Lesinski says. Allowing the organization to be available to the public to answer questions and engage in conversation creates a personal relationship, and is more likely to be beneficial to both parties.
So whether you're stopping in at B-Town on a typical Tuesday, or if you're a big supporter of local non-profits and already have the dates on your calendar, stop and chat with the people at the table. Learn about the important work they do and their role in your community. You'll learn something, enjoy fabulous food and drinks, all while you help B-Town give back.
Sponsored