In the Pacific Northwest and elsewhere, history lives through both textbook and novel means. That's what award-winning Bellingham author Janet Oakley strives to communicate.

After earning a history degree, Oakley pitched novels to publishers through the Pacific Northwest Writers Association and other conferences as early as 1980. She began self-publishing online through HarperCollins' former Authonomy UK contest.
"I made a lot of friends that way," Oakley says. "We're still friends." Since Tree Soldier made the quarter-finals of Amazon's former Breakthrough Novel contest, Oakley has self-published successfully.
Oakley's first and favorite novel, The Jøssing Affair, features World War II-era Norway. Her Hilo Bay Mysteries (Saddle Road, Coconut Island, Hilina Pali, and Volcano House) are novellas set in Hawaii. Like much of her historical stewardship, Oakley's novels Timber Rose, Tree Soldier, and Mist-Chi-Mas concern life here in the Pacific Northwest.
Curiosity Inspires
"I think I've always been curious; I come from a family of packrats," Oakley says. "My great-grandfather was a Union surgeon at the Battle of Gettysburg, so I had his actual journals."
Growing up in Pennsylvania, Oakley read family histories that date back to 1638 and include women who were homesteaders, missionaries, and teachers.
Oakley's mother introduced her to popular historical fiction such as Rafael Sabatani's Captain Blood and Samuel Shellabarger's Prince of Foxes and Captain from Castile. Oakley's later influences include Louis L'amour, James Clavell's Sh?gun, and M.M. Kaye's Shadow of the Moon. Kaye's "believable" protagonist and military background helped her develop some of her own heroes and stories.
Oakley starts novels with key ideas, and then lets research guide the plots.
"I have a lot of family stories that made me curious about what it might be like to live back then," Oakley says. "But in choosing stories, it's weird about Jøssing, this Norwegian novel. I had a dream. I knew nothing about Norway. I just had a guy in the snow, and a bunch of German soldiers."
Oakley spent three years researching Norway: visiting, consulting books such as Blood on the Midnight Sun, and interviewing people who lived in occupied Norway.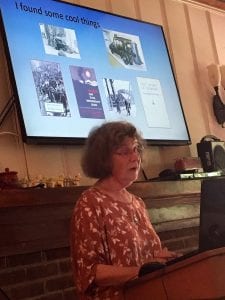 Her Hawaiian and Pacific Northwestern novels draw from closer-to-home histories that fascinate her. Mist-Chi-Mas involves both in discussing Hawaiians on San Juan Island, while Tree Soldier and Timber Rose discuss conservation in Glacier and mountaineering women, respectively.
"I was curious, what would it have been like to be a married couple in that time period?" she asks. "You have the beginning of family planning, you have women going for the vote, and then you have these amazing mountaineering clubs that were trying to create, eventually, a national park at Mount Baker."
Oakley says the fictional aspect emerges from her curiosity. "I think, 'What if?' or 'Why did that happen?' or 'Why doesn't anyone ever talk about this?'"
Living Among History
"What I like about historical fiction is that you can tell a story and bring to life something that, if you read it in a textbook, it'd probably be pretty darn boring," Oakley says. She's approached historical reenactments with the same mindset.
Oakley wrote American Camp's Pig War curriculum in 1985. She has demonstrated nineteenth century cooking and teaching there and at Bellingham Public Schools' Gordon Carter Conservation Site. "I went and looked up what a nineteenth century teacher would teach," Oakley says.
As a Whatcom County Historical Society member, Oakley helped restore Bellingham's Territorial Courthouse. She wrote HistoryLink articles and a grant for The History Channel's former Save Our History Grant Program, helping Sehome High School students write their own HistoryLink articles on court cases.
The Territorial Courthouse endeavor reminded Oakley that sometimes "you get a story, and it might be not all there." When engineer and fellow writer John Hoyte analyzed the building's bricks, they matched clay from San Francisco. Yet Oakley discovered a misspelling of Ann Parry, the ship that brought the bricks, and visited New Hampshire to read the logs. The group finally matched the bricks to San Francisco brick maker Nagel, elaborating on local history. "That's the part that's really rewarding about historical preservation," Oakley says.
Oakley is also involved with Coupeville's Haller House and American Camp's Adam Brown House, made from Fort Bellingham's planks.
Novelist Networking
Research and writing has involved Oakley in many local communities. She's part of the Circle of Friends and Pulpwood Queen book clubs, and her awards include the 2013 Chanticleer Grand Prize, 2013 Bellingham Mayor's Arts Award, and 2014 First Place Chaucer Award.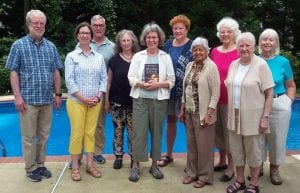 "Book clubs are very important for the face-to-face," Oakley says. "You've got to talk to readers and find out what they're thinking about your work."
Oakley holds talks with Sons of Norway and conservation groups because of her books. The Jøssing Affair, Tree Soldier, and Timber Rose have featured in historic sites' gift shops.
Oakley plans more novels and projects. "I just love history, and I love to write, so that's who I am."
Featured photo by Anna Diehl