Max Higbee Center first and foremost is a place for friends, but, with so many friends wanting to be part of the fun, the center has been in need of a new home for quite some time.
The center is a place for teens and adults with developmental disabilities to gather, socialize and take part in recreational activities. It offers day programs Monday through Friday, and a weekend program on Friday and Saturday evenings. Max Higbee Center also offers 50 hours per week of one-on-one support to individuals with higher needs or specific goals. The weekend program is by far the highest attended, with an average of 50 center members attending each weekend, says Max Higbee Center Director Kait Whiteside.
More than 400 individuals use the center's service every year, and because their Bay Street home, next to the Upfront Theatre, has just 1,500 square feet of program space, the center is at capacity. Currently, 50 community members are on a waitlist to participate in center activities.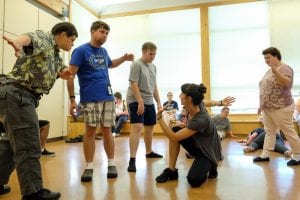 By this spring, Max Higbee Center (MHC) will remodel and move to a larger space to serve these additional community members. The organization recently entered into a contract to lease the former Alicia's Bridal location on North State Street. With 5,000 square feet, the center will more than triple its space for programs as well as provide staff with some much-needed room to grow.
The Bay Street location "was intended to be a quick pitstop for the organization, but it's been eight years now," Whiteside says. "We're thrilled to finally be able to say yes to more people."
In looking for the right place to relocate, Whiteside ant the Max Higbee Center's board of directors were committed to keeping the center downtown, so they would be close to the bus depot and venues such as the library, museums and bowling alley. The Center requires a fully accessible space to welcome its members and accommodate diverse needs and goals. They also wanted a large, open space for group activities. For all of these elements to come together took some time, and required adequate funding.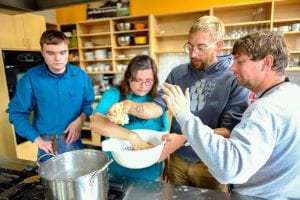 "We had to be financially ready to take on this substantial leap in our growth as an organization," Whiteside says. "This project goes beyond the remodel phase."
Not only will the organization's rent increase significantly, but the staff, and the accompanying payroll, will also need to grow to accommodate the new, larger space.
The community has stepped up in countless ways, large and small, to help fund the $500,000 capital campaign for the relocation, Whiteside says. They have received a City of Bellingham Public Facilities Grant as well as grants from Whatcom County, the First Federal Community Foundation, Chuckanut Health Foundation, Superfeet Worldwide Inc. and the Foster Family Foundation. Individuals and businesses have also contributed to the project via its GoFundMe page.
Zervas Architects is working with Max Higbee Center on the floor plans and RAM Construction will do the build out. The interior of the building will be completely gutted and built to suit the center's needs. The new location will include a full kitchen for meals and for cooking classes, a quiet craft/activity room, four ADA bathrooms, a large recreation room, plus staff office and meeting space. 
"It's exciting to see MHC entering into a long-term lease, in a building right in the center of their own Bellingham community," says Andrea Shenton, whose son, Ian, has attended activities at the center for more than three years.
Ian began attending programs at the center after he aged out of the public school system at age 21. This is a precarious time for young adults with developmental disabilities as they leave behind the social support network they had at school. Whiteside calls this the "service cliff," and says MHC plays a vital role in picking up where the school system leaves off.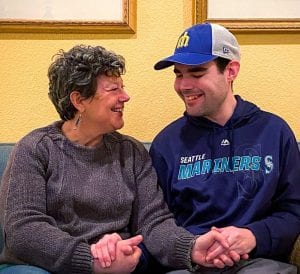 Shenton says her son was hesitant to go at first, but with the support of the staff, it's now become his "home away from home."
"With the encouragement of staff and the support of his friends, Ian has made strides in his willingness to try new things and venture beyond his comfort zone," Shenton says. "He's recently started taking the WTA Paratransit to and from the MHC independently, which is another big accomplishment."
Transportation can be a barrier for individuals with developmental disabilities and staff at MHC work to support and empower members in navigating public transportation. Accessibility can be another hurdle—think of an establishment where it would be difficult to maneuver a wheelchair because furniture or displays are too closely placed together in a small space, as an example.
But one of the biggest barriers, Whiteside says, can be people's attitudes. By actively engaging with the community at large, MHC staff hope to encourage inclusivity for their members within the community.
"Ultimately, we'd like to work ourselves out of a job as the community becomes organically inclusive and welcoming to all of its community members," says Alyssa Jones, program director for the center.
That kind of organic inclusivity is easier to achieve with the center as part of the downtown mix. It's one of the reasons Whiteside wanted to keep the center downtown instead of sequestering it in a far corner of the city where rent would have been less expensive.
Andrea Shenton agrees.
"The Max Higbee Center is a vibrant part of the downtown Bellingham scene and this new location ensures that this will continue for years to come," she says. "The members are proud to belong to such an amazing organization and the pride they have in the MHC is palpable. The MHC family is strong in their commitment to each other and their place in the Bellingham community."
Get Involved
Whiteside says the organization will rely on continued donations to help fund the center's operations as it grows. One way it will accomplish its funding goals is by continuing to build on its incredibly popular fundraiser, April Brews Day. The event features 65 craft breweries, food trucks and music. Whiteside says the organization receives about 40% of its funding from this one event. This year's event takes place on Saturday, April 25.
Community members can also help Max Higbee Center by volunteering their time either in the center assisting the staff or with one of the upcoming work parties in preparation for the center's move to the new location. Visit the Max Higbee Center website for more information.