Submitted by: Bellingham Art Academy for Youth
Bellingham Arts Academy for Youth presents The Hobbit on February 28 – March 1 and March 6-8 at the BAAY Theatre. It's unusual for a modern work to become a classic so quickly, but Tolkien's "ring" stories, which began with The Hobbit, are in this very special category. They stir the imagination of everyone they touch.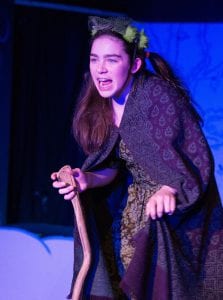 Bilbo, one of the most conservative of all Hobbits, is asked to leave his large, roomy, and very dry home in order to set off as chief robber in an attempt to recover an important treasure. BAAY's production of The Hobbit is performed by a delightful cast of students ages 9-12! Tickets and more information at baay.org.
Location: The BAAY Theatre1059 N State St. Bellingham, WA 98225

Date/TimesFriday, February 28 at 7:00 PMSaturday, February 29 at 2:00 PM & 7:00 PMSunday, March 1 at 2:00 PM
Friday, March 6 at 7:00 PMSaturday, March 7 at 2:00 PM & 7:00 PMSunday, March 8 at 2:00 PM

Tickets: $12 at the door or online at baay.org

About BAAY: Founded in 2006, Bellingham Arts Academy for Youth is a nonprofit arts education organization that offers quality instruction in theater, choir, dance, music, and visual arts to youth, ages 3-17. A beloved fixture in Bellingham's thriving arts community, the organization has produced over 100 musicals to date. In addition, BAAY strives to reach new members of the community through its other two branches: the BAAY Preschool (baay.org/preschool) and the BAAY EduArts enrichment program (baay.org/eduarts), which offers over 20 arts classes per quarter to elementary students throughout Whatcom County.