I sit down with Michele Sanger, owner of Living Earth Herbs, as we sip cups of perfectly-steeped Cinnamon Rooibos Chai. The conversation and the warming spices of the tea make me forget the cold winds and rains just outside the door. Taking a tea break can be an intentional way of integrating self-care and nourishment into your day, especially during the winter season.
Living Earth Herbs crafts teas for both health and pleasure. "We focus on medicinal formulations," Sanger tells me, "which is something unique to our shop."
These medicinal benefits range from improved digestion, a stronger immune system, relaxation, and stress relief. She recommends a variety of herbs that offer support during the winter, including echinacea, elderberry, cinnamon, ginger, and eleuthero.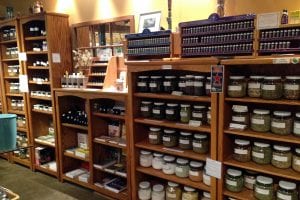 Eleuthero, also known as Siberian ginseng, is an adaptogenic herb (an herb that helps support the body's response to stress) that strengthens one's resistance to disease. Another adaptogen is tulsi, or holy basil. "Tulsi tastes good and is well tolerated by people young and old," Sanger says. "Tulsi is a single herb that I'll recommend to people who want to boost the immune system of their whole household; kids like it, too!"
Sanger also makes custom tea blends for people who just walk in off the street and want help with a particular ailment. "Often we have just the thing," she says. "We have a Lung Tone tea that's really popular, an Ease the Blues tea, and a Dreamweaver tea, but we'll often change a blend up for an individual."
Sanger draws on her lifetime's worth of herbal knowledge to prepare local and wild-crafted tea blends that infuse dreary days with moments of connection, calm, and self-reflection. "Sometimes people will feel an internal draw or craving to drink a certain tea," she says. "People could crave a minty tea if their digestion is off, or a spicy tea if they want to warm up. There's often an internal knowing."
That internal knowing brought me to the perfect brew for an afternoon in mid-January: warm, slightly spicy, and earthy. Each sip embodied Sanger's philosophy: "Every time we make a cup of tea, it's an opportunity to build our health and still have something that's tasty at the same time."
11th Hour Tea and Coffee Bar is owned and operated by Bridget Gallagher. Every time her team lovingly prepares a cup of tea, the sipper reaps the benefits of the herbs that are infused in the variety of tea lattes, tea, elixirs, and superfood lattes (as well as all espresso drinks) that the bar serves. Merrideth McDowell, 11th Hour's social media manager, says that "teas like chamomile can help limit anxiety and depression. Teas like matcha offer a high amount of nutrients and antioxidants because it's the whole plant rather than just loose leaf tea."
The practice of simply drinking tea can be a balm for an especially gray day. McDowell describes tea as "a traditional process that can involve meditation, mindfulness, and practice, which a handful of our customers come to experience in our space."
11th Hour serves more than 40 different teas, including black, green, white, herbal, rooibos, puerh, and more. They blend their own teas as well, and are known for their Immune Cacao concoction (currently in Merrideth's cup), which features raw cacao, reishi, chaga, and lion's mane mushrooms, coconut milk powder, vanilla bean, and pink Himalayan sea salt. It's a grounding drink that supports immune health and is a delicious way to incorporate adaptogens into one's diet.
On any given morning at 11th Hour, even when the rain is pouring down and the clouds haven't parted within recent memory, people cup their hands around steaming mugs of delicious elixirs and share laughter, conversation, and the uplifting power of teas like Mystic Mint, which contains tulsi, or Evening in Missoula, which conjures Big Sky Country with a blend of rosehips, wintergreen, lavender, and more.
Tea is so much more than a drink. It's a ritual, a means of connection with self and others, and a chance to understand more about what our bodies need and enjoy. As the quieter days of winter invite into a place of more internal awareness, it can be a natural time to develop your own tea routine. Whether it's at Living Earth Herbs, 11th Hour Tea and Coffee Bar, or the comfort of your own home—get to steeping!