Of Whatcom County's many varsity boys basketball programs, it's hard finding one that's been more consistently successful than Squalicum High School's.

Entering the 2019-2020 season, Squalicum had won 226 of its last 312 games—a winning percentage of nearly 73 percent. During a three-year run from 2008 to 2010, the team went 77-4, winning back-to-back 2A state championships in '09 and '10 with consecutive 26-1 records.
But there's something more than wins and losses that head coach Dave Dickson wants his players to take away from the game: he wants them learning lessons they can apply to their lives, well beyond the confines of the school's gym.
"Athletics is a vehicle to teach lessons that are sometimes difficult to teach in the classroom," says Dickson, who began coaching varsity basketball in 1986. "It provides the opportunity to teach the same lessons you might talk about in the classroom, but you really experience as a player."
This year, the team has gotten off to a bumpy start, with a 6-6 overall/3-2 district record as of January 12. But Dickson is excited by the continual challenge of shaping his team into not only better basketball players, but into young men of great character.
"Adversity comes in so many ways, in life and in basketball," he says. "It might come from the scoreboard, it might come from an officials' decision. It might come from the coach who's on you about what you're doing and how you need to improve. How do you handle difficulty?"
The Game of Life
Over the years, Dickson has taught thousands of students. Thirty-nine years into teaching, he is one of the few remaining instructors who've been at Squalicum since it opened in 1998. Dickson coached the varsity team that inaugural season, then stepped away to focus on raising his three children and continuing to teach classes, primarily United States history and comparative religions.
His lifelong association with basketball began even earlier, as a fourth grader growing up in Everett.
"I made a shot in the first game," he says, "and I was hooked."
Dickson was a team captain for his Mariner High School basketball squad, and then left his playing days behind at Whitman College in Walla Walla. He began coaching while at Whitworth, helping out a middle school team in Walla-Walla.
When Mike McKee took over head coaching duties at Squalicum in 1999, Dickson had no plans to coach again. But after his daughter graduated from high school and his two younger sons got a bit older, he became McKee's assistant coach in 2004. When McKee stepped down in 2006, he offered the position to Dickson. By then, his son Adam was a senior at Squalicum. He never wanted to coach his own sons, he says, for fear of being too hard on them. But when his son gave him the okay, Dickson again became a head basketball coach. His sons, both fellow Squalicum grads, even came back to help him coach for a while. In Dickson's 13 seasons since 2006, Squalicum has only had two losing campaigns.
Regardless of their place in the standings, Dickson hopes his players learn to be part of something bigger than themselves. Ben Peterson, a former star football player who also played basketball at Squalicum, is now a junior at the U.S. Air Force Academy in Colorado. Continuing his football career, Peterson made a pivotal late game block to help Air Force defeat Washington State University in the December 2019 Cheez-It Bowl.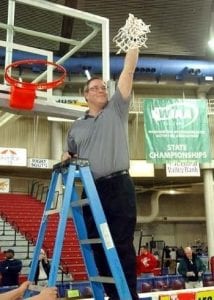 Speaking to Dickson recently, Peterson told him that Squalicum basketball taught him the true meaning of playing a team role, even when that role isn't one everybody notices. Often, Dickson says, it is hard work and commitment that make the biggest differences in both sports and life.
"If you want something really badly, how hard are you willing to work for it?" he asks. While many students may not feel that way towards their academics, many feel that way towards athletics. At some point, a student's athletic career will end. But the character qualities of learning to grind, commit and bring joy to what they do, Dickson says, are lessons that will hopefully stay with them.
Looking Forward
With his sons and former members of his championship teams, Dickson takes pride in his players' lasting successes. Many have gone on to have great adult relationships and careers. The fact they were also great basketball players, he says, just enriches the memories.
It's another lesson Dickson never wants to overlook: ensuring his players make some fun memories. While in Southern California for a recent tournament, Dickson's team was able to attend a Lakers game, visit Medieval Times, and spend time at the beach.
"It was awesome," he says.
This year's team has four outgoing seniors, leading a number of sophomores and juniors who show great progress for the future.
"We're working to find ourselves right now," Dickson says. The goal is to find momentum by season's end, setting the team up to make a run when district play begins February 13.
Aside from the varsity team's progress, Dickson is proud that Squalicum has more players than any other Whatcom County basketball program: the school actually has four basketball teams instead of three. Squalicum's "Silver" team, comprised of freshman and sophomores who didn't make the other rosters, plays other local JV teams throughout the season.
"The hardest thing about my job is cutting kids from the roster," Dickson says. "Now, these kids also have a chance to be part of something bigger than themselves."
As Squalicum continues another season of high school basketball, it's clear that its players' biggest wins —on the court and off—are yet to come.