Laughter and joy fill the gym as young kids practice throwing a ball and catching it. They smile proudly to their family members as everyone shares in the child's success. All children, with or without intellectual disabilities, want a chance to experience this joy, fun, and discovery of skills. The Young Athletes program, under Special Olympics Washington, provides children ages 2 to 7 with this opportunity as it returns to Bellingham for its second year.
The eight-week program is a mix of sports and play for kids to grow in their motor, social, emotional, and learning skills. Young Athletes is an opportunity for kids with intellectual disabilities to experience sports before they're old enough to participate in the sports programs through Special Olympics. Kids of all abilities run, kick, throw, and certainly giggle, smile, and benefit from the activities.
Chloé Rosenfield, a 22 year-old Western Washington University senior and local Special Olympics expert, brought the Youth Athletes program back to Whatcom County. Rosenfield is the president of the Unified Club at Western and organizes Unified Sports Programs at WWU.
Rosenfield explains that kids can start participating in Special Olympics Sports when they're eight years old, but Young Athletes now provides a chance for younger kids to get involved.
"It's to prep them before going into sports," Rosenfield says about one of Young Athlete's main goals. "It's another aspect of being unified so kids with intellectual disabilities get to start socializing with kids without, and kids without get to experience and be next to children who do. At a young age, they learn that other kids are different and have different abilities."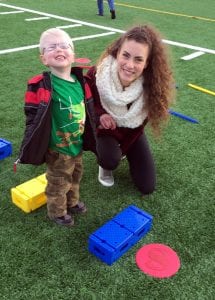 With curriculum built by physical therapists, each week focuses on a different motor skill. The activities can be completed at home or with a group in the community, which is what Rosenfield helps facilitate. Bellingham's Young Athletes community program starts on January 15th at the Larrabee Gym from 3:15 p.m. to 4:00 p.m. with weekly Wednesday practices. The program is free for all families and kids to participate in, with student volunteers from Western helping to facilitate the activities.
Rosenfield's enthusiasm for Special Olympics and love for Unified comes from her own life story. Her experience growing up in Special Education classrooms and feeling isolated from other kids without disabilities inspires her to bring together kids with and without intellectual disabilities to prevent isolation and instead foster a sense of unity.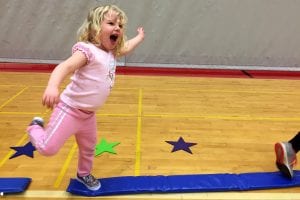 "The root of it all comes down to me knowing how segregated people with intellectual disabilities are from the community and trying to get everybody to come together," Rosenfield says. The Young Athletes program helps creates spaces of unity and inclusion for children at a young age.
Dominique Lantagne is another key individual working to bring inclusivity and unity to the school districts and the community. She's been with the Bellingham Public Schools as a special education teacher for 19 years and involved with Special Olympics for 26. Prior to 10 years ago, the opportunities for people with and without disabilities to compete alongside each other were extremely limited. Today, the local league includes all school districts within Whatcom County, along with Mount Vernon, Sedro-Woolley and Burlington.
In a previous Whatcom Talk article, Lantagne said that she "attributes her success in the growth of the program to strong communication and keeping a positive intent."
The Bellingham School District Special Olympics Program has expanded to now include Unified Robotics, Bowling, Volleyball, and Cheer at certain schools. Last year brought the return of the Young Athletes program for younger children in Whatcom County.
Rosenfield's vision for Young Athletes is that the program keeps expanding as more families learn about it and get involved. She hopes that Young Athletes becomes established in the community so every time the new year rolls around, families can expect that the program will start up again. Ultimately, she says the goal for the program is to introduce kids to the unified aspect of being with children who are different than them at a really young age and, while having fun and building skills at the same time.
The first Young Athletes practice is on January 15th from 3:15 p.m. to 4:00 p.m. at the Larrabee Gym in Bellingham Family Partnership Program building at 1409 18th Street. Families can sign up at the first practice or by emailing Chloé at chloerosenfield2@gmail.com.