We've entered that most wonderful time of the year—and Bellewood Farms has celebrations planned that will enchant holiday visitors of all ages. Carols and sleigh-bells will ring, while the aromas of sugar and spice mingle with wood smoke from the surrounding farmland. This cozy farmstead offers hours of festive family fun.
Holiday events Bellewood Farms will be introduced in two stages: seasonal goods will appear and activities begin the day after Thanksgiving at the country market, distillery, and café; then it's time for Bellewood Farms' Christmas Festival, the first three weekends of December where, in addition to other activities, you can ride in a horse-drawn trolley and meet Santa Claus himself.
Opening Festivities
Bellewood Farms' holiday events begin on November 29 as they sell beautiful locally grown wreaths and Christmas trees from Alpine Meadows. Bellewood Farms co-owner Eric Abel recommends that visitors shop early for the best selection of noble firs, Fraser firs, and Douglas firs, all available in various heights. Weather permitting, folks can also roast s'mores on a roaring bonfire outside.
Bellewood Café offers other sweet treats from 8:00 a.m. to 2:30 p.m. every weekday and 8:00 a.m. to 5:00 p.m. on weekends. Enjoy a slice of Bellewood's signature pies served hot, buy a whole pie frozen to take home, or order a baked pie for pickup before 3:00 p.m. on December 24. These flaky delights come in apple, Dutch apple, pumpkin, blueberry, raspberry, blackberry, chocolate silk, and honey-roasted peanut butter flavors.
For the adults, award-winning Bellewood Craft Distillery is making spirits bright by showcasing its holiday cinnamon vodka. This bold new creation is distilled and bottled onsite. "We have tastings in our tasting room for Bellewood's farm-to-glass vodka, whiskey, gin, brandy, and 'Bruce'—a sweet, low-proof brandy-juice mix," says Abel.
Bellewood's pumpkin spice liqueur is also popular this time of year and made fresh from their own pumpkins. "We're in a unique position because we actually grow all of the ingredients that go into the bottle," Abel says. Other seasonal drinks at the distillery, café, and country market include apple brandy, hot toddies, and mulled cider—available while supplies last. "Our spirits make great gifts and add that extra special touch to your holiday celebration."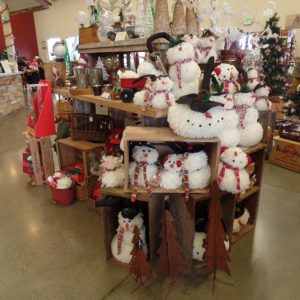 Bellewood Farms' country market offers yet more local gifts, from artisan crafts to edibles. You can find homegrown specialties such as Honeycrisp apples, jellies, jams, honey-roasted peanut butter, and gourmet cheeses, plus treats from Woods Coffee and other local companies.
Every day of the week, children 12 and under can decorate Christmas cookies and adults can craft gift baskets from the store's assorted goodies. Bellewood Farms staff will help you arrange and ship an elegant basket.
Christmas Festival
Bellewood Farms' Christmas Festival runs through December 7-8, 14-15, and 21-22. Live carolers, including the Nonstop Carolers, Harmony Northwest, and Kulshan Chorus, will fill the air with sleighing songs from 1:00 p.m. to 5:00 p.m. starting December 7. From 1:00 p.m. to 4:00 p.m. December 7 and onward, you can enjoy a horse-drawn trolley ride around the farm, complete with on-board caroler. A leisurely stroll around the orchard and conservation area provides lovely views of Mount Baker and the woods around Ten-Mile Creek.
"The real Santa," Abel stresses, comes to town (and the Christmas Festival) on December 7 from 12:00 p.m. to 4:00 p.m. Bellewood Farms lets families take pictures with the big man in red for free, complete with a rustic backdrop. "Remember to bring your camera to capture the special moment," says Abel.
The Christmas Festival continues Bellewood Farms' decades'-long tradition of charming Whatcom County with delicious food, a welcoming farm venue, and a sense of community that stays warm throughout the winter. The family-operated farm is proud to share the sights, sounds, and smells of the holidays with families and friends who visit.
Bellewood Farms is open from 8:00 a.m. to 5:00 p.m. daily. They will close at 3:00 p.m. on Christmas Eve and New Year's Eve, and remain closed on the holidays.
Don't Miss These Special Bellewood Events:
November 29 – December 24
8:00 a.m. – 5:00 p.m.
Bellewood Farms rings in the holiday season with Christmas trees and wreaths. Children can decorate Christmas cookies and adults can make gift baskets from country store presents. Savor the taste of bonfire s'mores, the café's holiday specialties, and fine liqueurs.
Bellewood Café is open 8:00 a.m. to 2:30 p.m. on weekdays and 8:00 a.m. to 5:00 p.m. on weekends.
December 7-8, 14-15, 21-22
12:00 p.m. – 5:00 p.m.
The Christmas Festival features live caroling, horse-drawn trolley rides and pictures with Santa from 1:00 p.m. to 4:00 p.m. starting December 7. All other holiday events continue.
Sponsored