Submitted by: Jansen Art Center
The Jansen Art Center, a place that creates opportunities for the community to engage in the arts, invites you to the Opening Reception for our 2019 – 2020 Winter Juried Exhibit! Along with the Juried Exhibit, there will be three other Winter Exhibits available to view: Nests and Landscapes: New Work by Kris Ektrand, Kaleidoscopic by Christen Mattix, and Trish Harding, Separated from Normal.
The Opening Reception will be free for the public and will take place on Thursday, December 5 from 6:00 PM – 8:00 PM. The exhibits will be on display until Friday, February 28, 2020. Come enjoy live music with Walt Burkett, refreshments from the Firehall Café, meet the artists, explore all of our Winter Exhibits and tour our 6 creative art studios! Our Ceramics Studio will be having a beer stein sale; buy a handmade stein for $30 and you will get a free beer fill. All proceeds will give back to the studio!
In the Fine Arts Gallery will be Nests and Landscapes: New Work by Kris Ekstrand. The exhibit focuses on "the lines drawn between land and water, past and present, memory and intuition: my territory." Kris Ekstrand is a painter and printmaker who lives in the Skagit Valley of northwest Washington and works out of her studio in Edison. Her work has been featured in one-person shows at Skagit Valley College, Moses Lake Museum, Smith & Vallee Gallery (Edison), MUSEO (Langley), Roby King Gallery (Bainbridge), Jansen Art Center (Lynden) and juried shows at Bainbridge Island Museum of Art, Art at the Port Focus Gallery (Anacortes), Schack Art Center (Everett), Cascadia College and other galleries throughout the Northwest.
Featured in the Chamber Hall will be Christen Mattix, who grew up in Thailand and moved to Bellingham in 1995. She received a BFA from Western Washington University; an MFA from the San Francisco Art Institute. Her work exists in private and public collections. Exhibitions: The Whatcom Museum in Bellingham, WA; SAM Gallery in Seattle, WA; and nationally. Christen teaches at WWU and the Jansen Art Center. Her Exhibit, Kaleidoscopic, in her own words, "I create kaleidoscopic landscapes probing the boundaries between realism and abstraction, the self and the environment. Each artwork reveals inner and outer landscapes simultaneously as if presenting reality strained through poetry."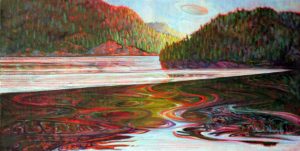 Across the hall from Christen Mattix's exhibit will be Trish Harding's work in the Library. Trish Harding was born in Washington State and grew up on Lummi Island within feet from the water's edge. Her formal art training includes Western Washington State College (now WWU), and The Academy of Art College, San Francisco. Her Exhibit, Separated from Normal dives into her life on Lummi Island. In her artist statement she says, "My studio work begins with plein air sketches and thumbnails. Then a painting becomes a composite of images of being on the edge at sea level. A place that was wild, free, liquid and bohemian. Lummi Island was separated from normal."
Thank you to our annual sponsor, Enfield Farms, and our quarterly sponsor, Daylight Properties.
Come see this beautiful work in person!
Jansen Art Center
321 Front Street, Lynden WA
360-354-3600
www.jansenartcenter.org