The results are in, and the winner is…our beautiful Pacific Northwest.
All jokes aside, it's true that the natural majesty of this region inspired all of the winners of First Federal Savings and Loan's photography contest. The contest was open to First Federal's community members, a region that spans Bellingham, Seattle, Silverdale, Bainbridge Island, Port Townsend, Sequim, Port Angeles, and Forks. Winners will be featured in a desk calendar available in late 2019.
What does First Federal Marketing Director Karen Lewis like best about the annual contest? "Like all photography, my favorite part is viewing different perspectives," she says. "When you view a photo, you're really seeing a moment in time through someone else's eyes. It's beautiful to share in that. Whether you're just starting out with photography or have many years of experience, it's amazing that we can share our experiences with each other in this way."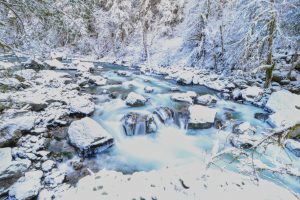 Though the photography contest had typically been open only to bank employees, this year it was open to community members—and the response was overwhelming, with over 1,000 entries from across the state. "We had fantastic engagement," says Lewis. "I think people really had a lot of fun with it and the response was just unbelievable." Of course, Whatcom County was strongly represented, being an area with a high concentration of artistic, adventurous folks.
Bellingham School District's own Aaron Tiger, whose photo of Horseshoe Bend was selected as a winning entry, describes himself as a "Northwesterner through and through." Though aside from photography classes in high school he has no professional training, Tiger's desire to share his love of the Pacific Northwest drew him back to the medium.
He's an avid hiker, and notes that much of his inspiration is found in the mountains. "I think what draws me in the most and inspires me are the vistas," Tiger says. "I love hiking to a viewpoint where I can look out over the beautiful place we live and soak in the valleys, the changing mists on the hillsides, the mountain peaks covered in glaciers and snow, or the fall colors dotting a nearby valley."
Tiger also likes hiking in the forest, where the trees loom above. "It makes me feel like I just walked right onto the set of a fantasy movie."
Becky Stinnett's shot of Mount Shuksan also garnered positive reviews. She describes the moment she captured as "too perfect to pass up. Picture Lake was truly picturesque." Stinnett circled the lake until she found a frame through the trees that drew her eye, and took several photos that she later stacked/combined to get the most detail from both the brightly lit and darkly shadowed areas. "I want the viewer to see what I saw, as I saw it," she says. "I want my photo to do the landscape justice."
Jason Nyhus' photo of K9 dog, Hyde, taking a break at work was also popular with the community. "I like to get scenic photos and photos of our dogs out in our community to show citizens their dogs and how much of an asset they are to our community," Nyhus says. "I want people to know they are regular dogs with extensive training and love their jobs of keeping citizens safe." This is a picture with dual inspiration: the beauty of the Pacific Northwest and the admiration for the hard work of our K9s.
Also inspired by the natural beauty of the area, Willadee Worthington-King hopes that the images she captures will "inspire people to get outside and enjoy the Pacific Northwest." Worthington-King frequently shares her lovely local photographs on social media using the hashtag #whatcomtalk—be sure to check it out for images of breathtaking vistas, wildlife, and more. "We are so blessed to have the best of both worlds," Worthington-King says. "Water and mountains are my favorite things."
If water and mountains are also favorites of yours, you'll find plenty of inspiration in First Federal's upcoming 2019 wall and desk calendar. Photography is the perfect way to bring the majesty of the Pacific Northwest into your home. "I think what I try to do with the pictures I take is to show people that there is real beauty in this world," Tiger says. "That just a walk across the street or a ten-minute drive can help put us in position to explore a new landscape. There's always beauty, we just have to go find it."
Sponsored