The holidays are a time when we're often reminded about those less fortunate than ourselves, and how we can reach out to help them. For families struggling to afford gifts for their loved ones, the assistance of organizations like the Salvation Army is essential to providing them with Christmas presents.
But the Salvation Army can't do it alone, which is why Bob Wallin Insurance employees participate in several of the Salvation Army's annual gift-giving programs. With the Adopt-A-Family program, Bob Wallin employees join together to buy a holiday wish list full of presents for a designated low-income family or senior.
Bob Wallin's Suzanne Taylor says they've been participating in the Adopt-A-Family program for five years now, and are always overjoyed to help.
"Our staff really gets into it," she says. "This is one of my favorite things that we do."
The Adopt-A-Family program pairs local individuals or businesses with a senior or family in-need. Last year, 56 pairings were made. Ruairi Ward, corps officer captain at Bellingham Salvation Army, says they're always looking to increase participation.
Adopt-A-Family recipients are identified through the Salvation Army's social services, food bank, and youth programs, Ward says. Through these services, they get to know people—including those who are homeless or have recently lost an income source—and invite them to sign up for the program.
"For us, it's not just a transaction, it's an interaction," he says. "We want to know how they're doing in their lives. And sometimes you pick up on things and go, 'Okay, this is a family that maybe needs some extra support this year.'"
If potential candidates for the program want to apply and meet the guideline of being within 125 percent of the federal poverty line, they're selected. Families can only participate once every five or so years, Ward says. After families develop a wish list of both wants and needs, the lists are delivered to sponsors like Bob Wallin Insurance.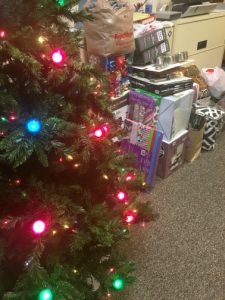 Taylor says that she's often saddened at what some participants consider extravagances. While needs often consist of underwear, socks, bedding, or a winter coat, the "wants" are often basic items like new shoes and jeans for teenagers, or pots and pants and a vacuum for parents.
"I'd say 98 percent of the time, these are things that people who aren't struggling would consider necessary," she says. "It just breaks your heart."
Once Bob Wallin Insurance receives its list, staff members meet to decide who'll buy what. Those with the least amount of disposable income, she says, opt to buy smaller items like stocking stuffers. For staff who don't want to do the shopping themselves, Taylor offers to pick up their gifts during her Black Friday shopping.
"I take my 16-year-old daughter out on Black Friday, and we're shopping for these families instead of our family," she says. "For me, that's a neat thing to do."
Occasionally, another business will partner with Bob Wallin Insurance to help purchase a bigger ticket item, like a small appliance. One year, their partnering business bought a full box of new place settings for a family of five.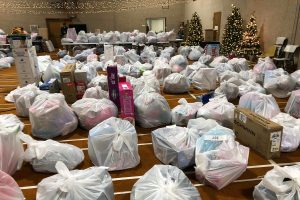 Bob Wallin Insurance also provides their sponsor family with gift cards, especially to grocery stores, which lets them buy Christmas dinner items or gas for their car. Employees also like to write notes or Christmas cards to their families, of which they're only given ages and first names.
A list of any leftover items, or items that can be doubled up on like socks, are sent to Bob Wallin Insurance clients in an email. The response is always great, Taylor says.
"Not one year have we not had everything off their want and need lists," she says. "We've always been able to get everything."
Bob Wallin Insurance delivers their gifts to the Salvation Army during the first two weeks of December, giving the Army time to get the presents to families. When requested, gifts aren't wrapped, allowing parents to wrap the presents they'll give to their children.
"It's a wonderful program that helps out families, and it's just really quite life-changing for them to have a wonderful Christmas like that," says Ward.
The Salvation Army's Gifting Tree program is also popular. The Salvation Army provides ornamental tags that are put on more than three dozen Christmas trees in various locations, including at banks and public places like Bellis Fair Mall. An individual takes a tag, sees the age and wish list of the recipient, and buys them those gifts. These gifts are then brought to the Salvation Army's Northwest Avenue location and later gifted to recipients. Last year, more than 1,200 gifts were provided for those in Whatcom County, providing presents for more than 300 households with children and over 100 seniors.
Taylor says seniors often request things like no-slip socks or blankets, and also notes that tags for teenagers shouldn't be overlooked, as many people like buying things for babies instead. Sign-ups for both programs are ongoing during the month of November. Those interested can call the Bellingham location at 360-733-1410, or visit a Salvation Army location in person.
In all, Taylor and the rest of the Bob Wallin Insurance team are happy to be able to give back to those in the community who need it most.
"I believe that's what makes a community, a community; what people in the community do for each other," Taylor says. "The biggest thing for me, personally, is making a difference in someone's life."
Sponsored