As the weather gets colder and the days get shorter, some of us can be tempted to think it's time to crawl under the covers and hibernate. But life goes on, and the Bellingham Farmers Market is doing its fair share to make sure that you are fed—and even entertained—through the colder months.
"After summer tomatoes have disappeared, there's still plenty of fall produce to be found," says Bellingham Farmers Market Director Lora Liegel. "In fact, vegetables like kale, broccoli and carrots actually get sweeter after the first frost." In addition, many fall veggies are easier to keep on hand for longer periods of time. "Think winter squash, garlic, onions and potatoes—fall crops can be bought and stored for several weeks."
But anyone familiar with the market knows they don't stop at just being a place where food is available. "We're also dedicated to making the Bellingham Farmers Market look and feel lively, even in the fall and winter months," Liegel says.
Their Spooktacular event on Saturday, October 26th will not only feature fall produce, but also pumpkin painting and a fall harvest photo booth. Small "toy" pumpkins will be hidden around the market and can be redeemed for special "treats," such as Market Bucks, stickers, vendor gift certificates, and more. Cider samples will be on offer from Bellewood Farms, along with the promise of market giveaways.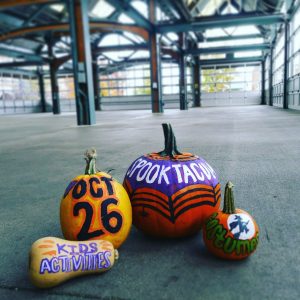 Saturday, November 23rd brings an event they're calling 'Thanks Day,' with an emphasis on things you'll need to make your Thanksgiving feast a success. "Stock up on all the essentials like potatoes, cabbage, carrots, onions, garlic, poultry, pork and beef," says Liegel, "and swing by and say thank you to all the hardworking vendors."
They've set aside Saturday, December 7th for an Artisan Demo Day. "Artisans will be showcasing their crafts during the market—think wool spinning, knitting, block carving and knife sharpening," Liegel says. And it's a great opportunity to support the local economy as you shop for holiday gifts. "Celebrate the season by investing in your friends, neighbors and community."
On December 14, kids will have a chance to visit with one of their favorite characters with a fun, farmers market twist. "Get ready for a special appearance from Farmer Santa! Bring the kiddos and a camera," Liegel says.
The final market of 2019 is two weeks later, on Saturday, December 21st, and offers a perfect spot to do some local last-minute shopping.
And while a visit from Santa might keep the kids happy and excited, it also reminds us of snow and cold temperatures. The market has a plan for that, ready to accommodate its vendors and their customers inside the Depot Market Square pavilion. "Our unique indoor and outdoor shopping space allows customers an experience, not just a sales interaction," says Liegel. And that experience is one of the things that characterizes the market year-round. "I am continually impressed with the positive interactions I see: vendors helping one another, customers bringing treats to their favorite vendor, or vendor support of the community. For example, Bellingham Farmers Market vendors donated over five tons of high quality produce to the Bellingham Food Bank in 2019."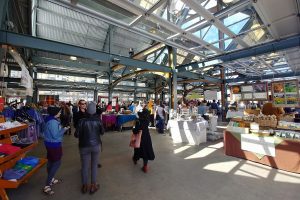 Details that will keep the market fresh and exciting for customers through the colder months include fresh flowers on tables to liven up the space, family-friendly activities, and lively music being played through the pavilion speakers. In addition, the market recently partnered with a local senior woodworking group that built 13 new benches to ensure plenty of visitor seating. "The benches provide a spot to chat with friends, find a quiet place to breastfeed children, or simply listen to the sounds of our busking musicians," says Liegel.
And just because the calendar year is coming to a close, don't think that the market is going anywhere. The Winter Market will take place at the Depot Market Square pavilion on January 18th, February 15th, and March 21st with plenty of produce, food, and crafts for all to enjoy.
Sponsored