Dining for Women is a nation-wide nonprofit organization that raises funds for grassroots projects in developing countries, with the goal of gaining gender equality. Kathy Young, Ferndale's Dining for Women chapter president, has been with the organization for nearly 10 years. She first got involved in Vancouver, Washington, but when she moved to Ferndale was dismayed that no chapter existed in the area. Her solution: Start one. Since the 2017 founding of the Ferndale chapter, member size has increased from three to 20—and their impact has grown even greater.
Dining for Women was founded in 2003 in South Carolina, and in the years since, has raised a cumulative $6 million. In 2016, presidential candidate Hilary Clinton said, "The efforts that Dining for Women have taken…all across the country over the past 13 years provide a powerful example of how individual acts of giving, when aggregated, can make a deep and transformational impact."
Grantees
Each month, Dining for Women chooses one featured grantee and one sustained grantee. Twice each year, the group accepts proposals from potential grantees. These applicants go through an extreme screening by the Grant Selection Committee. Grants range from $35,000 to $50,000. All grantees and approved projects must meet at least one of the United Nations Sustainable Development Goals—though often they meet three or more. There is a long list of criteria for approval on the Dining for Women website that illustrates how rigorous their review process is.
A featured grantee is a new project that Dining for Women has not previously worked with. A sustained grantee is a cause that was previously funded and has earned secondary action. These grantees receive three-year grants which total $75,000. Sustained grantees are by invitation only, and are selected by the Grant Selection Committee.
This October, the featured Grantee is Street Child US and its project Breaking the Bonds in Nepal. This project helps young girls earn a proper education in reading and math, helps lead them to employment, develop self-confidence, and raises awareness of their rights against prejudice and sexual assault.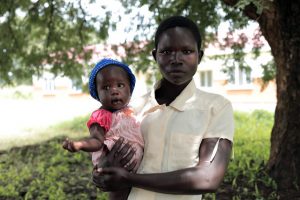 The sustained grantee for October is HealthRight International, Inc., and its program concerning maternal mental health in Uganda. The hope is that with this sustained grant the on-the-ground team can expand the program to strategically target a new population of perinatal women.
During a recent visit with Young, she pulled out a stack of papers inches high, full of information about the organization. She adds up the numbers for featured and sustain grantees, direct and indirect impact, helped by Dining for Women so far this year. "[It] adds up to 403,713 individuals whose lives, livelihood, family, education, and daily routine are changed just in the first eight months of 2019."
Meetings
Dining for Women chapters meet monthly. In Ferndale, Young runs her meetings out of her home. Every chapter is different; her Vancouver chapter met in a church. Each member brings a dish as part of a potluck in accordance with a monthly theme. For example, if a featured grantee is located in India, Young's meeting is bursting at the seams with Indian food.
She views it simply: Donate the money that would have been spent at a restaurant to fighting the good fight.
Culture
Celebrating the culture of the grantee is a large part of being a member of Dining for Women. "It humanizes it," Young says. On the main Dining for Women website, you can find a whole portal of recipes under the "Learn" tab. Once you click on "Recipes," you can search by country, keyword, or top picks.
At Young's house, she starts every meeting with the same speech, which includes the phrase, "By eating together as women, we remember and honor those women who also have favorite foods and family recipes." The speech concludes with, "May we all be able to feast together some day."
"You may think they're far away, or they've got different lives, but the more you learn about people and cultures, you know, we all want the best for our kids," says Young. "And to me, these couple little sentences really sum up how they've got favorite foods and recipes and traditions. It's not 'those people over there.'"
Get Involved
Young encourages Ferndale chapter members to invite friends, neighbors, and coworkers. "For all of the good that it does in our world, hardly anybody has heard of Dining for Women," Young says.
Getting involved is easy. Simply check out diningforwomen.org for more information. If you'd like to connect with Young and the Ferndale chapter, you can do so here.