As any Whatcom County resident knows, October heralds the return of longer nights, cooler weather, and those infamous rains. It's the time of year that calls for cozy beverages, evenings by the fire, a return to sweater weather and…sequins and corsets? Mount Baker Theatre fully embraces the season's creative and spooky potential with interactive shows—and guests can dress up for three upcoming events this fall and winter.
These aren't just any events. They're an invitation to embrace your inner diva and dive into that costume box gathering dust in the attic. Or, if you're like Aubrey Kornelis, Mount Baker Theatre events manager and costume maker extraordinaire, beeline to the trusty Internet. I ask her how one might get inspiration for costumes. "Google!" she says. "It's simple, but it works."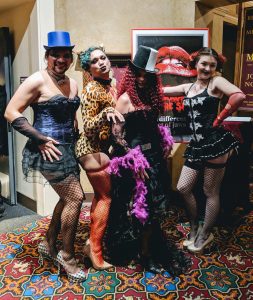 Your first dress-up chance comes with The Rocky Horror Picture Show at Mount Baker Theatre on October 25, 26, and 31, with two shows each night.
Don't know where to start when it comes to donning dress-up to play along with the classic film – the longest-running in history? "It's all about how comfortable you are," Kornelis says. "Janet [a Rocky Horror character] starts off soft and shy, wearing sweaters and skirts, and then she ends up super confident in a slip and bra." Or, if you're feeling particularly daring, why not emulate Dr. Frank-n-Furter and don garters and some sparkly briefs?
Renee Gaumond, Mount Baker Theatre's program director, suggests buying tickets early. "All six shows sell out every year."
If you're feeling more classic glam than campy hedonism, you might choose to attend Halloween Spooktacular: The Phantom of the Opera—the "super creepy" 1925 silent film version—on October 27. "Wear your theatre best," Kornelis says. "Tux and tails, gowns. There are ballerinas, too!" For a more mysterious vibe, go as the Phantom himself, complete with mask and dramatic cape.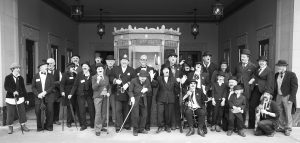 If you have any formalwear languishing in the back of your closet, this event is the time to bring it out. Alternatively, local thrift stores, such as Labels and Buffalo Exchange, may have hidden gems waiting for you. Kornelis recommends Party City in Mount Vernon for more typical Halloween fare.
No matter where your costume comes from, this will be a show to remember. "Dennis James will be playing the original pipe organ while the film is showing," says Gaumond. "Very few people know how to play them. He talks about the history of the film and the musical scores—he's super knowledgeable." There will also be a costume contest, so don't hold back.
Your final chance to flex your creative costuming muscles comes on January 25, when Mount Baker Theatre hosts the Sing-a-Long-a Sound of Music. "You could make a costume for the entire family with old tapestries," Kornelis says.
"I've been to a couple of these sing-a-longs, and they're hysterical," Gaumond adds. "People dress up and go overboard, wearing everything from lederhosen to something that looks like curtains. We'll show the film with the lyrics imprinted on it." The screen will include a bouncing ball to follow the words and the Mount Baker Theatre team wants everybody to sing as loudly as possible.
Prizes will be given for the best and most original costume, as well as a goody bag for people as they enter. The hills will be alive with the sound of laughter and song, so bring the whole family.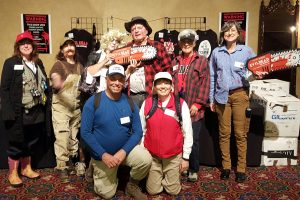 "They're fun community events," Gaumond says of these three shows, "and there's something for everybody. It's representative of the wide variety of stuff that we're doing for this current season. We want people to come in and experience the theatre, so we try to keep ticket prices affordable."
The Mount Baker Theatre experience brings a spirit of fun and festivity that lasts long past summer's end. These events are a perfect opportunity to come out of fall or winter hibernation and try something new. "Participate in the fantasy," says Kornelis.
Will you immortalize your costume and dramatic makeup in one of the photobooths? Will your kids take photos with the ushers, who are always dressed to the nines? Maybe you'll catch a glimpse of the ghost of a vaudevillian panther who supposedly haunts the balcony. Whether you dress as a rebellious nun and belt out "My Favorite Things" or break out those fishnets for The Rocky Horror Picture Show, you're guaranteed to support a beloved local institution while having a grand old time.
Sponsored