Only two programs in the 3A classification have made the state high school volleyball tournament in each of the last six years. One is perennial power Prairie of Vancouver—the second is Ferndale.

The Golden Eagles have certainly made the most of their recent state playoff berths as they've brought home hardware on three consecutive trips. After finishing eighth in 2016 and fifth in 2017, Ferndale capped its stellar 2018 campaign by picking up the fourth-place trophy.
This year they will be looking for consecutive state trip No. 7 and trophy No. 4.
Over the last four seasons the Golden Eagles have posted an impressive 72-16 record with half of their losses coming at the state tournament.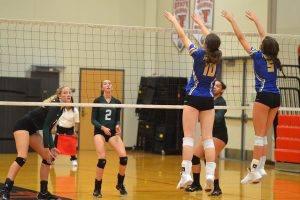 The squad opened last year by winning its first 20 matches—15 coming in shutouts. They claimed 3A/2A Northwest Conference and district championships before marching into the state semifinals undefeated.
"For the last four years we've had this crazy rare group of athletes who have been on varsity since they were freshman or sophomores, and that really raised the bar," says Patti Hoelzle, who enters her 15th season with the program; the last 13 serving as head coach. "This year we have a different crew, but the same expectations."
The Golden Eagles graduated five senior starters from last year's team, including current Western Washington University player Kylie Honrud, who was the 2018 Northwest Conference MVP, and University of Idaho setter Hailey Pelton, who paced Ferndale's offense in assists last season.
Despite the losses, Ferndale hardly lacks experience on their roster as they welcome back five seniors in 5-foot-11 outside hitter Nicole Headrick, 5'7" libero Brianna Byrnes, 5'11" right side hitter Morgan Joseph, 6-foot setter Malia Honrud and 5'4" Megan Miller, who joins sister, Liberty Miller, a junior, as the team's defensive specialists.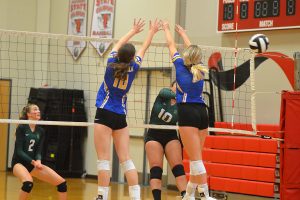 "We're still really figuring out our lineup," says Hoelzle, last year's Coach of the Year in the Northwest Conference. "We have this awesome consistent crew of leaders that came back, but we have this new group of players, too. We have three sophomores who are starting for us."
That group includes 6-foot middle blocker Avery Schneider, 5'10" middle blocker/outside hitter Alyvia Semu and 5'7" outside hitter Kaelee Bungard.
"I just like to think they were in the shadows last year and now they're coming out and trying to make a name for themselves this year," Hoelzle says about her new starters. "It's fun to see that fight and intensity in them. They know what they want to achieve, they know what the postseason feels like and they're fighting tooth-and-nail to get there."
While Hoelzle still plans to tinker with her lineup, the Golden Eagles already have one impressive win on their resume in 2019 as they shutout defending 1A state champion Lynden Christian on September 17.
To better prepare for the 3A state level competition it will see in the postseason, Ferndale made appearances in several high-profile early season tournaments, including the Yelm Tourney, which featured last year's 3A state champion Mount Spokane and 4A state participant Puyallup, and the Kent Classic, which featured powerhouse programs like Capital, Tumwater, Camas, Olympia, Lynden, Ridgefield and Lakeside—the team the defeated the Golden Eagles at last year's state semifinals.
"We need to see these teams and see that level before we go to postseason," Hoelzle says. "We have a really scrappy defensive crew this year. They're super scrappy. We just have to figure what we do after those ups."
However, just as important as the on-the-court product for Hoelzle and her players is the team's character and values, traits she believes the Golden Eagles have excelled at under her watch.
"We've created a really strong culture first, and then the wins and all the glory moments, like we call them, come after that," Hoelzle says. "So, we're pretty hardcore on our character and our choices and how we treat each other, and then after that, through their own personal growth, the volleyball side of it comes naturally."
Ferndale will play its home opener on September 24 against Blaine. The Golden Eagles defeated the Borderites, who were a 2A state participant last year, 3-0.
"I am so blessed and grateful for my like to work out the way it did and to be back working in district," says Hoelzle, a Ferndale graduate who works in the school district as a counselor. "I love the community and it made me who I am. I had a really positive experience there and being able to give back this way in the coaching role—but also go out and show that pride—is really exciting."