As it enters its 15th year in business, local physical therapy company CorePhysio is making moves.
The company is set to open a new flagship location in downtown Bellingham in 2020, offering ample parking, level building access, increased appointment availability, a much larger open-floor exercise space, and a variety of treatment rooms, including a pod of dedicated quiet treatment rooms for relaxing one-to-one care.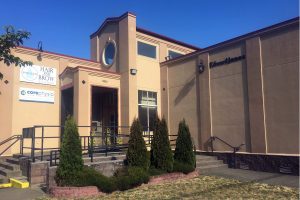 Real estate changes in Fairhaven as well as growth within the company prompted the expansion. CorePhysio's second clinic, located within Pacific Northwest Urology Specialists, exclusively treats pelvic health and expanded its hours in September 2019. Even with this growth, they continue to have more client demand than the current space can accommodate.
"We love being in Fairhaven and will remain a presence here," says Elizabeth Hampton, CEO, physical therapist and clinic director of CorePhysio. "We're maxing out our current space and have a great opportunity to grow to meet the demand for CorePhysio's signature services—in a gorgeous space with lots of parking."
The new space
The new space at 1825 Grant Street, the former site of Stampadoodle, is centrally located on State and Grant Streets along several bus lines and will undergo a significant remodel by Chuckanut Builders, starting in September 2019.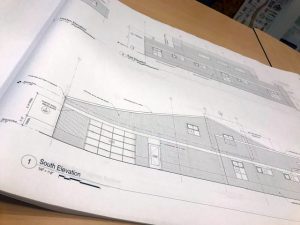 The expansion will allow the company to serve more clients while protecting CorePhysio's high quality, one-to-one care. Hampton plans to expand clinical staffing to accommodate company growth, establishing innovative sustainability programs and financial systems to best serve their clients and employees.
The expansion also offers easier building access for clients coming in for physical therapy care. The new space has 35 parking spots and a level entrance, so clients traveling from Mount Vernon or Vancouver will always be able to find an accessible parking spot. As a bike-friendly workplace, it will also have bike parking and staff showers.
"When people are hurting, it's essential to provide plenty of parking," Hampton says. "We looked at other sites and our top requirements were ease of parking for our clients and bike commuting for our staff. We're thrilled that our 2020 site meets both goals."
Because she purchased the building, Hampton is able to take her sustainability innovations even further. In the future, she hopes to add solar panels as well as a gray-water system to capture rainfall from downspouts to water the trees they plan to plant on the property.
The building also has a separate 950-square-foot suite available, which CorePhysio will rent to a business that complements physical therapy well. "I've got about 20 number-one things that I'm excited about, but I do tend to be exuberant," Hampton says with a smile. "There's nothing about this project that isn't awesome and collaborative when it comes to everyone who works here and our vision for what we want to be able to provide this community."
Some things about the new space will remain the same: CorePhysio's signature style ensures that clients feel welcomed and comfortable in a warm and inviting space. With the skilled guidance of Neil McCarthy and Lexie Costic of RMC Architects, as well as Michelle Banks of Spiral Design Studios, the entire CorePhysio team has been involved in detailed design planning of the new space to maintain the ambiance, efficiency and level of care they are proud to provide.
To that end, they will completely redesign the interior and exterior of their new building, add many more windows, and change the interior space to fit the needs of the company.
Maintaining a Fairhaven presence
Having CorePhysio's flagship clinic at Grant Street will enable the company to use their Fairhaven space more effectively, returning to their original 2,200-square-foot suite.
"Our flagship clinic is only three miles away from Fairhaven and very convenient for all of our Southside clients who drive to PT. Parking will be plentiful," Hampton says. "At the same time, CorePhysio was born and raised in Fairhaven and we will continue to offer physical therapy here, exploring innovative models to create affordable access to exceptional care."
Along with the geographic changes, CorePhysio is looking to tackle the limitations imposed by different health insurance companies. Insurance contracts highly control the care for which they will pay, limiting treatment plans as well as the amount of time clients can see their providers. Most insurance companies contract with third-party administrators who read each chart note and decide if a visit was necessary according to company regulations.
Hampton is working on innovations so clients have affordable and compliant choices depending on if they'd like their insurance to pay for care, or if they want to pay out-of-pocket and keep their insurance out of it altogether. "Consumers want health care pricing transparency, but insurance contracts forbid health care providers from offering all clients the choice between a cash price versus billing through insurance," Hampton says. CorePhysio is in-network with most insurance companies and also offers cash-based services for out-of-network clients.
More health care providers are getting out of insurance altogether, but CorePhysio is committed to continuing to offer insurance-based treatment. "It is essential to make it easy to do business with us. CorePhysio has billing experts so clients don't have to deal with that hassle on their own. That is simply high-quality customer service."
Hampton is committed to maintaining high-quality care for her customers and employees, while also remaining 100% in compliance with state laws and regulations. That's where Hampton's creative problem solving comes in.
I'm a rule follower and a rebel," she says. "What do you do with that? You wildly follow the rules, and you figure out how to continue to innovate. I think that has always been our cornerstone."
Sponsored